Ariana Grande's 'SNL' Episode Will Be A Winner
Since it was announced that Ariana Grande would be hosting Saturday Night Live , fans of the show have probably been wondering: "Is Ariana Grande funny?" It's a good question for those who only know Grande as a singer — but for all the other people out there who have been with her since her Nickelodeon days, the question seems rather rhetorical. Of course Grande is funny — she's a natural comedian who's been making people laugh since she starred in Victorious in 2009.
This becomes even clearer once you've seen Grande's SNL promos, which have her riffing with cast member Taran Killam about coffee sizes (she prefers to order venti), cumulus clouds, and her short stature. What all of this really shows though is that Grande is game for whatever the show throws her way — an attitude that usually makes for a good episode.
But, in case you still need a little more proof that Grande is funny, I've come up with a few moments that show off her comedy chops and her range. As these videos prove, she doesn't mind picking on herself, or getting awkward with the likes of Justin Bieber. She likes doing celebrity impressions — specifically Celine Dion's — and she always gets a good laugh in the end.
1. That Time She Showed Off Her Celine Dion Impression
For her first time speaking on a talk show, Grande pulled out all the stops — specifically, her spot-on Celine Dion impression, which had her smacking her chest and leaving host Jimmy Fallon with a case of the giggles.
2. That Time She Almost Got Touched By An Angel
A Victoria's Secret angel, that is. While performing at the Victoria's Secret Fashion Show in 2014, one of the models wings got a little too close to Grande, and she freaked out — and so did the Internet. Luckily, she was a good sport about it, even tweeting, "a Victoria's Secret angel accidentally smacked me in the face with her wings and it was awesome #goals #bangbangintomyface."
3. That Time She Did Some Guy's Makeup Very Badly
How she kept a straight face while doing this, we'll never know, but it may bode well for her SNL appearance. After choosing the completely wrong foundation for this poor guy, she continues to treat it like a real tutorial, telling him numerous times it looks great and that she went to school for this. The contouring definitely makes the look. Not better, so much... but definitely make it something.
4. That Time She Played A Pint Size She-Ra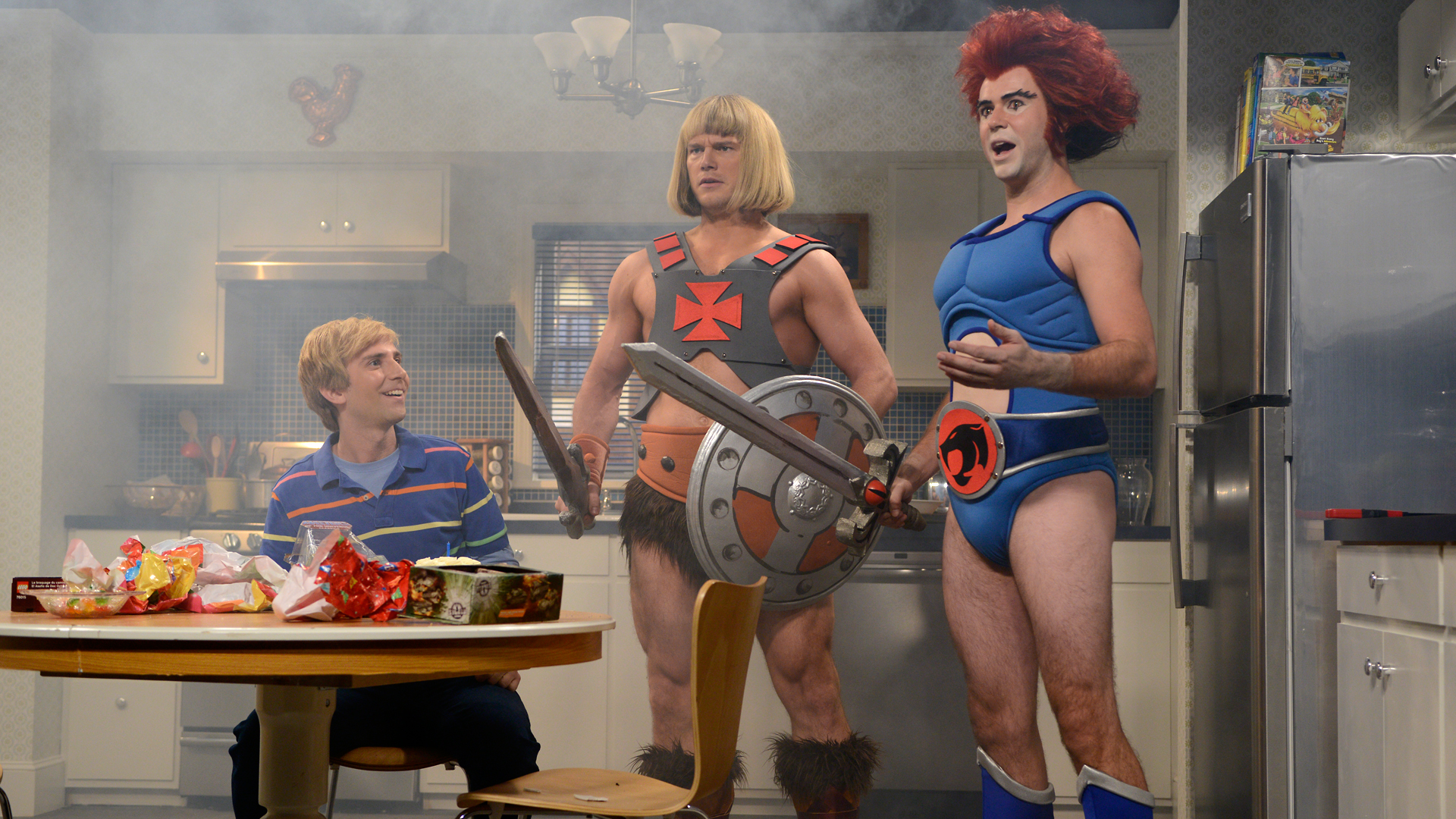 The last time she appeared on SNL as the musical guest, she also got a chance to play a She-Ra action figure that came to life.
5. That Time She Had Way Too Much Fun With The Helium App
Oh, Grande posted so many Instagram videos of her playing around with an app that let you talk like you were on helium — but her best by far is the one where she turned Nicki Minaj's rap on "Bang Bang" into a Shakespearian monologue. Add the high-pitched helium voice and you understand why Grande can't compose herself.
6. That Time She Died On Scream Queens
Death isn't usually funny, but Grande was able to make her death scene — which is completely silent except for the sounds of her iPhone sending a text — seem like a comedy routine. Seriously, try and tell me you didn't chuckle when she tries to send one last tweet before her last dying breath instead of just running away, and I wouldn't even believe you. Pure comedy gold right there.
7. That Time She Got All "Ew!"
When Grande appeared on The Tonight Show With Jimmy Fallon, she also got a chance to throwback to her Nickelodeon days on Fallon's fake Teen Nick show Ew!, in which she chewed a lot of gum and talked about how she was literally dying because her Insta only got three likes. That really isn't very many likes.
8. That Time She Added The Word "Tits" To Every Christmas Song She Knows
With a little help from her brother Frankie Grande, Grande turned the holidays into a celebration of breasts. Who knows why she did it, but bless her heart for doing it. The best has to be her take on "Baby It's Cold Outside," which now includes a line about holding someone's tits in the snow. (But, don't worry, their hair still looks swell.)
9. That Time She & Justin Bieber Did A Very Awkward "What Do You Mean?" Skit
Considering the two lean into the fact that this skit is punny and awkward, it's one of the best. I at least have to give it up for Grande's ability to speak to act with a brick wall.
Now, this list doesn't prove Grande will be funny when she hosts Saturday Night Live for the first time this weekend, but it does prove she has been funny before — so, paired with some good writing, it'll very likely equal a great show.
Need more proof? Rewatch Grande's SNL promos. Those are definitely funny.