8 Signs Your Partner Slut Shames You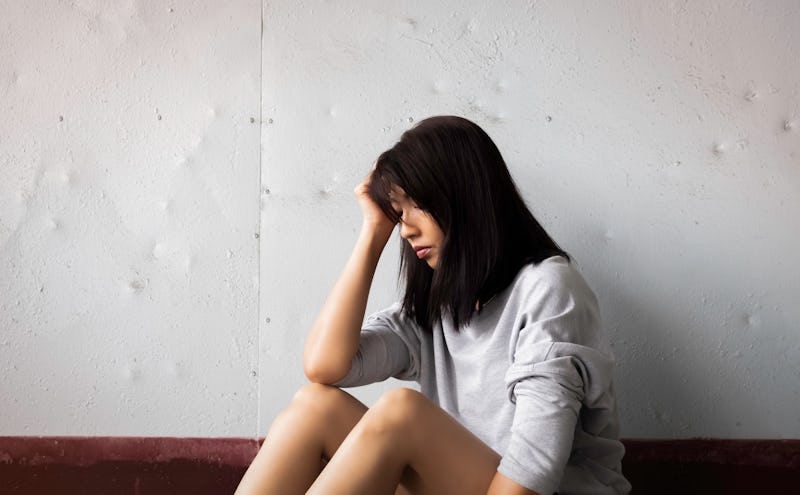 Watcharin Panyawutso / EyeEm/EyeEm/Getty Images
The strongest memory I have of a partner slut shaming me is when a guy I loved in college called me a "slut" as I lay naked in his bed. I remember gathering the sheets around me to cover my nakedness, feeling like my entire body was collapsing in on itself, as I tried to make myself so small that he couldn't hurt me anymore. I cried, I yelled a little — I even forgave him, ultimately — but the one thing I didn't do was get out of that bed, put my clothing back on, and hitch a ride back to campus. When I think about that night, even a full decade later, my heart starts to race and I feel blood rushing to my face in shame. Why didn't I leave then? Why did I stay with him for another six months, taking his abuse?
Slut shaming is damaging no matter who does it, but there's something particularly shattering about being slut shamed by a partner. It's easier (although definitely not easy) to write off obnoxious slut shaming peers or judgy older relatives who have different generational ideas about sexuality, but when it's someone you love, it really makes you doubt yourself. Even I — a woman who has at certain times in her life proudly reclaimed the word "slut" — still feel the impact of that boyfriend's words even though I know he was abusive and I know he was wrong and I know my sexual choices don't make me less than anyone else.
While my experience was a very clear, direct instance of partner slut shaming, the unfortunate reality is that our culture is so steeped in sex negativity and the double standard of slut/stud is still so alive and well that there are many other, less obvious ways that a partner can slut shame you.
1. Getting Mad About Your Sexual History
Whether you've had sex with one person or 86 people, your partner never has a right to make you feel bad about your sexual history. While talking explicitly about past sexual experiences may make your partner uncomfortable, unless your partner gets turned on by that, don't stand for someone who gets mad when an ex's name comes up or who tries to make you feel bad for your number. Everything in your past has made you who you are today and it's totally fine for you to own it as hard as you want.
2. Calling You Names
It is never, ever OK for a partner to call you a slut, a bitch, a ho, a whore, or any other derogatory name that's directly linked to your sexuality. (Or any derogatory name in general, but I'm talking specifically about slut shaming words here.) If you want to reclaim some of those words for yourself, that's one thing but we all know the difference between a word said in hate and disdain and one said in empowerment. I still feel fear and pain when I remember my college boyfriend calling me a slut, 10 years later. No one will ever do that to me again.
3. Making You Feel Bad About Wanting To Have Sex
Nope. Uh uh. Dump 'em. I'm not saying your partner should want to have sex every time you want to have sex but there are ways to turn down sexual advances that are polite and ways that are hurtful. If your partner is making you feel ashamed of simply wanting to have sex with them or wanting to have sex "too much," show them the door.
4. Telling You That You Shouldn't "Need" To Masturbate
Masturbation is a healthy part of human sexuality, whether you currently have a partner or not. There's nothing wrong with masturbating when you're in a relationship and it's definitely worth schooling your partner about the difference between solo sex and partnered sex — including what you get out of each — if they think they have the right to tell you that you can't or shouldn't need to masturbate.
5. Getting Mad About Porn Or Erotica
Porn and erotica are two ways that we get sexual stimulation. They don't take away from our partners and there's nothing to be ashamed about when it comes to enjoying them, so don't let your partner try to tell you that you shouldn't. However, if your partner doesn't personally like porn or erotica, there's nothing wrong with respecting that preference and only indulging when they're not around. Relationships are about compromise, after all.
6. Disapproving Of Your Sex Toys
Look, some of us have very long-term relationships with our Hitachis. They've been around since before our current partners and, for many, will be around long after. If you like playing with sex toys to get yourself off, then don't let anyone — your partner included — slut shame you for it.
7. Telling You Your Desires Are "Weird"
A lot people have sexual desires that are outside doing it in missionary position in a married, monogamous, heterosexual relationship. (Because that's "normal" sex, right?) Your partner might not be into the same things as you are or maybe they've never heard of your particular interest but they don't have right to tell you that you're weird for wanting what you want. Smack down that slut shaming talk down as soon as it shows up!
8. Chastising You For Your Clothing Choices
If you're feeling fly in that skin tight dress or low cut top, then feel fly! Don't let anyone — not even your partner — tell you that what you're wearing makes you look "slutty."
Want more of Bustle's Sex and Relationships coverage? Check out our new podcast, I Want It That Way, which delves into the difficult and downright dirty parts of a relationship, and find more on our Soundcloud page.
Images: Giphy (7); Watcharin Panyawutso / EyeEm/EyeEm/Getty Images