12 Common Bridesmaid Mistakes To Avoid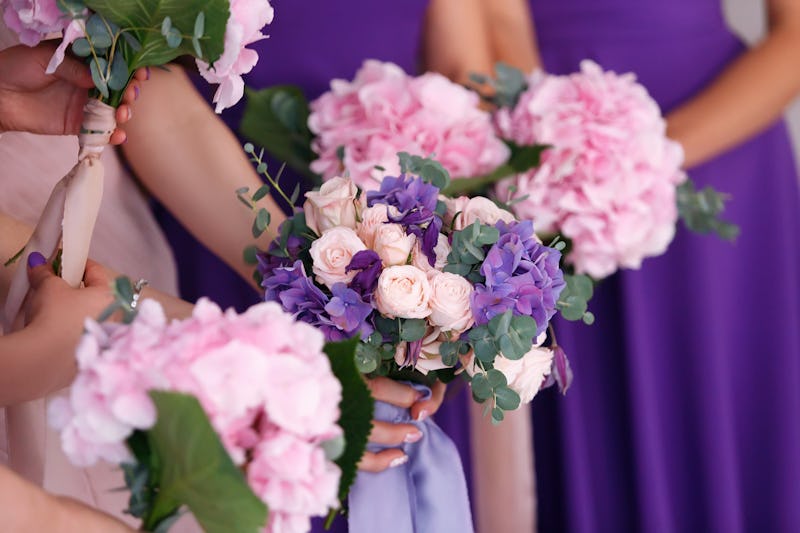 Whether you are a rookie bridesmaid or an MVP bridesmaid, you may find yourself making the same mistakes over and over again at the weddings you find yourself walking down the aisle at. More than that, you may not even know you're making these common bridesmaid mistakes. Being in someone's wedding definitely comes with a certain degree of stress, and of course you want to make sure the day goes off without a hitch. But, while you may think the role of being a bridesmaid is a whole lot of work, remember — it can (and should!) be a whole lot of fun, too.
As a bridesmaid, your main focus is usually trying to make sure the bride is stress free and feeling confident on her wedding day. But that task alone may be enough to crowd your personal to-do list and make this role of a lifetime feel as though it is the only thing you have time to do. It doesn't and it shouldn't be that way!
So the next time you're asked to zip on a pastel polyester dress and stand up straight behind the bride up at that altar, here are the top 12 bridesmaid mistakes to keep in mind. Consider it as your own personal checklist of things to avoid doing the next time you say "I do" to being a bridesmaid.
1. Turning Your Bridesmaid Role into a Full-Time Job
The excitement of being a bridesmaid will, at first, make you want to do everything you possibly can to help the bride out with her wedding planning and to be there for her 24/7. But after finding your personal to-do list overwhelmed with wedding tasks and answering panicked phone calls from the bride at 3 a.m. on a Sunday, you'll start to realize you need to be a bridesmaid with boundaries. Set certain days or hours every week to handle your bridesmaid duties and make sure you have a work, life, wedding balance throughout your bridesmaid adventure.
2. Taking Full Advantage of the Open Bar
The idea of free shots, shots, shots at the wedding reception may sound quite appetizing, especially after a rough and tough couple of months as a bridesmaid. But be careful! Even though you've successfully walked down the aisle and the bride's said "I do," doesn't mean your job as a bridesmaid is complete. It's OK to have a few drinks, but try to stay alert and present, in case the bride needs you for a last-minute wedding emergency.
3. Forgetting to Plan Ahead for Emergencies
Try to not assume that there will be a surplus of Band-Aids or bottle of Advil on the day of the wedding or at the bachelorette party. Instead, pack wisely. Bring your own mini-survival kit with you when you're on the go. The bridal party and the bride will thank you dearly for this.
Try: Pinch Provisions Mini-mergency Kit for Bridesmaids, $35, Amazon
4. Begging for a Plus One
It may seem like a total drag to be the only single bridesmaid in the wedding party, and you may even think about asking the bride if you can bring a plus one with you. But unless you're seriously dating anyone, avoid bringing "just a friend" or a person you recently started crushing on to the wedding. You won't have much free time or even pre-wedding time to spend with them. So unless they can easily mingle with a crowd of people they don't know, embrace being the solo bridesmaid.
5. Ordering Your Bridesmaid Dress Too Late
When the bride gives you the OK on the bridesmaid dress she wants you to buy and wear to her wedding, order right then and there. Waiting too long may result in you having a full-blown panic attack the week before your wedding wondering when, and if, your dress will arrive on time.
6. Not Trying on Your Bridesmaid Dress
Try it on ASAP and make sure it fits you well. You may need alterations, a supportive bra, or even a higher pair of shoes to make the dress work. Give yourself some time with the dress, just in case anything on it needs to be altered or improved.
Try: Wacoal Red Carpet Strapless Bra, $60, Amazon
7. Asking the Bride a Long List of Questions
When you have a who, what, where, why, or when question, save it for another member of the bridal party or the maid-of-honor. Hitting the bride up with questions the week before her wedding may stress her out. Remember, she's dealing with a ton of pressure, people, and places that week. So save your questions for somebody, anybody, else.
Being a bridesmaid can be very expensive, so don't feel as though you have to spend even more money on an elaborate and expensive wedding gift. But do show up at the wedding with at least a card or a DIY gift — something to show your congratulations to the couple.
Check Out Our Guide to Wedding Gifts on a Budget
9. Not Bringing a Change of Clothes
Whether you love or hate your bridesmaid dress, be sure to bring a change of clothes with you for before the wedding begins and for after the wedding is over. You'll want to change into something a little bit more comfortable during those moments.
10. Making the Wedding All About You
Sure, you're walking down the aisle and everything, but it's important to remember whose wedding it is. There may be things you have to do that make you roll your eyes, or even moments where you wish this experience as a bridesmaid was over, but either way, being a bridesmaid means that you are there to support the bride.
11. Leaving the Party Early
One of the main roles you will have as a bridesmaid is to be a party starter, which means keeping the party going all throughout the night. Even if your feet hurt and your eyes are starting to shut, try to stick it out at the wedding until the very end.
12. Forgetting to Have the Time of Your Life
In the end, weddings should be nothing but a ton of fun. So make sure that you let yourself have a good time, and celebrate the love between the happy couple.
For more ideas, check out Bustle on YouTube.
Images: Fotolia; Unsplash (2); Pexels