Are Millennials Replacing Traveling With Dating?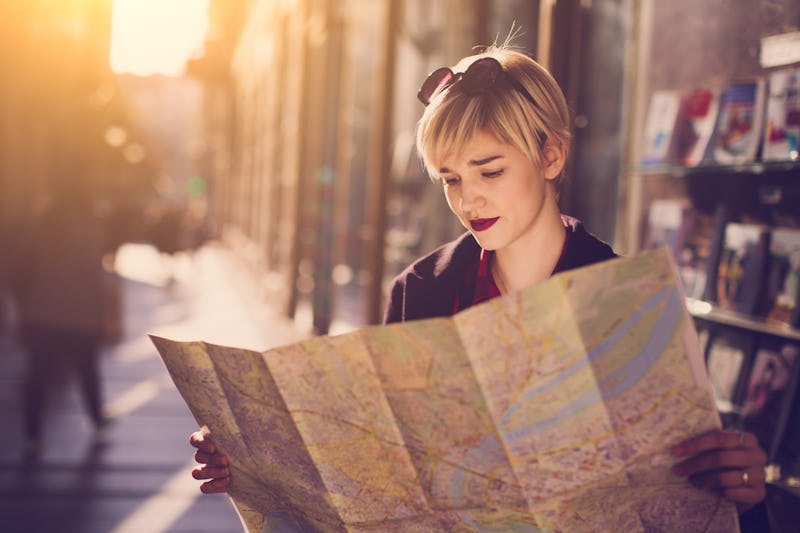 People are traveling more than ever before in history. And, according to a 2013 study, Millennials travel the most, with young travelers in their 20s and 30s having dropped $217 billion on traveling in 2012. Not only did this study find that these Millennials want to enrich their lives with new cultures, but research by Topdeck Travel found that on these excursions people are looking for love on vacation, too.
Topdeck Travel, a company that provides trips for Millennials, teamed up with YouGov to survey not just who hopes to find love while traveling, but how important traveling is to Millennials. Of the 1,158 American Millennials surveyed, one in eight men hope to meet their mate out there in the world, faraway from dating apps, maybe during a backpacking excursion to Machu Picchu. For those with wanderlust, there's nothing more romantic than the idea of meeting someone while traveling — and there are even dating sites for singles want to travel. It does make for a great story to tell your future kids and grandkids.
Because traveling and exploring different corners of the world has become a large part of our lives, Topdeck and YouGov put together a comprehensive press release of their data. From those who love to travel to those who travel looking for love, here at five things about Millennials and their traveling habits and expectations.
1. More Than A Third Of Millennials Would Rather Travel Than Date
According to the findings, 37 percent of Millennials are willing to give up dating all together just so they can save money to travel. For them, life experience is more important than love, especially since the chance of meeting someone while traveling exists and is far more romantic than, say, Tinder.
2. Women Are Less Hopeful Of Finding Romance While Traveling
While one in eight men have the hope of finding a partner while on vacation, only one in 20 women feel the same way. Why is this, women of the world? Do you not realize how charming your accent (yes, even the American accent) is to people from other countries? I realize we think we don't have an accent, but to a European it's adorable, especially when we try to speak their language.
3. More Women Than Men Would Give Up Dating To Travel
Although women are less likely to hope for finding love during their travels, they are more likely to sacrifice their dating life to travel than men. According to the findings, 41 percent of women are content to toss their dating life to curb to see other lands, while only 32 percent of men can say the same.
4. Southerners Have An Easier Time Finding Love Abroad
The data revealed that while one in 11 Millennials are hoping to find an S.O. in another country while traveling, the Americans that are actually experiencing this the most are Southerners. Apparently one in 12 Millennials from that part of the country end up meeting a significant other abroad. See? I bet it's that accent thing again.
5. Millennials Are Seeking More 'Authentic' Ways To Meet People
According to Sarah Clark, Global Brand Director for Topdeck Travel, despite technology and online dating prevalence, many Millennials want to branch out and meet people in IRL, in more "authentic, unique ways." As Clark explained in the press release, "We have actually seen a huge increase in couples meeting on Topdeck trips… In fact, our Trip Leaders have witnessed countless proposals in Paris more than anywhere else and we've even seen a few Topdeck marriages happen… proving that love really can be found on the road."
So make sure your passport is up to date, scour the Internet for the cheapest flights, and get out of town. I'm sure your boss will understand when you tell them you're leaving tomorrow to find your soul mate in the Ngong Hills of Nairobi.
Want more of Bustle's Sex and Relationships coverage? Check out our new podcast, I Want It That Way, which delves into the difficult and downright dirty parts of a relationship, and find more on our Soundcloud page.
Images: Fotolia; Giphy(5)