Everything We Know About 'PLL' Season 7 So Far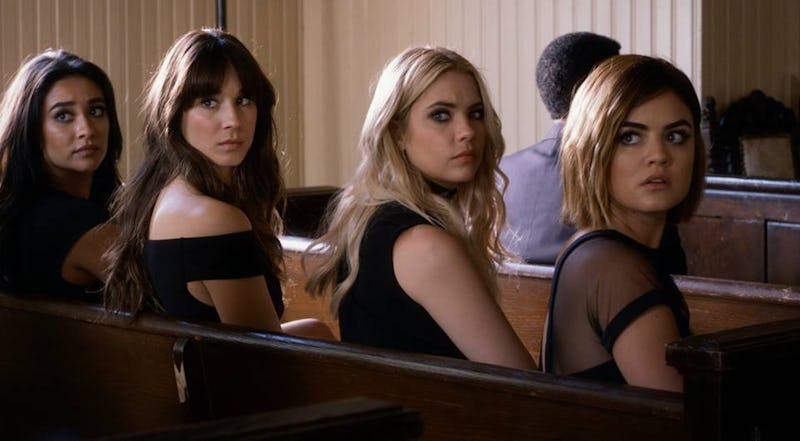 Pretty Little Liars pressed the reset button with Season 6B. The series not only jumped five years into the future after the reveal that Alison's long-lost sister Charlotte was Big A, it also set into motion a series of events that changed the show forever. Someone murdered Charlotte, and now a new villain has reared their head to seek revenge on her currently anonymous killer. With the Season 6B finale, "Hush, Hush Sweet Liars" airing on Tuesday, it's anybody's guess as to what could go down. Whatever happens in the Season 6B finale, what we do know is that it will set up the show to be even more explosive when Pretty Little Liars returns for Season 7.
Though a premiere date has not yet been announced, every other season of PLL has premiered in June, usually in the first two weeks of the month, so Season 7 will most likely debut on either June 7 or June 14, 2016. Obviously, the events of Season 6B will change the course of Pretty Little Liars history forever, so we can't predict exactly what will go down when Season 7 does hit Freeform. However, some pieces of information about the upcoming season have been revealed, which should be enough to have you counting the days until June. Here's everything we know about PLL Season 7 so far. And for more on Pretty Little Liars, check out Bustle's podcast Taking This One To The Grave.
It Could Be The Final Season
Currently, Pretty Little Liars is only renewed through Season 7, and Lucy Hale hinted in an interview with E! News that Season 7 would be the end of PLL back in October 2014. However, showrunner I. Marlene King did take to Twitter in December of 2015 to say that Pretty Little Liars might continue past Season 7 — so, seemingly, a Season 8 is possible, it's just not definite.
It Will End The Uber A Storyline
The same tweet from King said that while the show might not necessarily end with Season 7, the Uber A storyline will definitely reach its conclusion. That means we might not actually see this person unmasked until the end another whole season of Pretty Little Liars, so prepare to play a waiting game.
Paige Will Make A Comeback
It's been forever since we've seen Paige, but good news: Paige is heading back to Rosewood, according to King's above tweet. Though it's possible for Paige to return in the Season 6B finale, it's more likely that she will make her five years forward debut in Season 7.
Wren Could Return Too
It's not set in stone yet (so you can put your Wren-is-Uber-A theories on hold for now) but King told Twitter that the "goal" is for Wren to return to Rosewood at some point in Season 7.
The Big A Story Will Be Over
King tweeted in March of 2015 that the Big A storyline — aka Charlotte's story — will be "history" when Season 7 rolls around. That might hint that whatever happens at the end of Season 6 will tie everything together and get us ready for a fresh start.
While we'll have to wait to see what the Season 6B finale holds, here's hoping that Season 7 is just as crazy as PLL has always been. This is one ride I'm content to stay on for a while.
Images: Freeform; Giphy (3)