Shondaland Shows Support For Hillary Clinton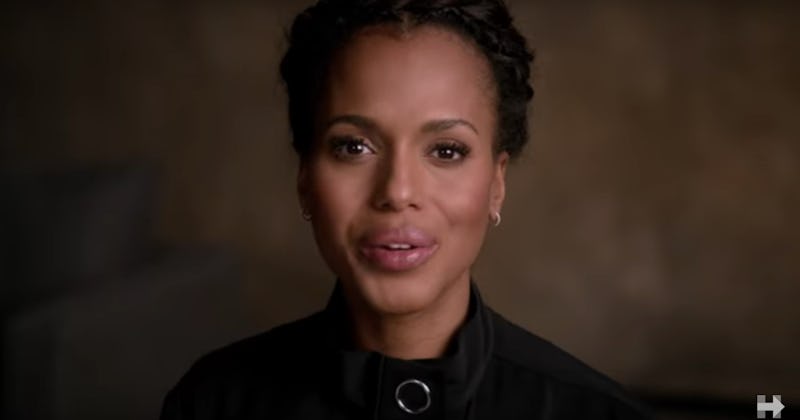 Grey's Anatomy fans might have noticed something different about one commercial break during Thursday's episode. During its "Thank God It's Thursday Lineup" (or T.G.I.T.), an endorsement ad for Hillary Clinton featuring Shonda Rhimes and the women of Shondaland aired — and it was totally inspiring. Scandal star Kerry Washington, Grey's Anatomy star Ellen Pompeo, and How To Get Away With Murder star Viola Davis all appeared with Rhimes in the video to voice their support for Clinton: All powerful woman, delivering a powerful message.
The ad — which, according to PEOPLE was directed by Scandal's other star, Tony Goldywn — features the woman discussing how Clinton represents the kind of woman they all play on TV. That is, a "brilliant, complex, overqualified, get-it-done woman who obsessively fights for justice, who care, who gives a voice to the voiceless, who gets knocked down and always gets back up." The memo becomes even more moving when Rhimes chimes in, saying that she writes the kind of characters she imagines we all can be — "strong but flawed, human but extraordinary."
The actresses continue to explain that though the characters they play on TV are extraordinary, they are just that — characters. But "the real world has Hillary Clinton — a bonafide, rolls-up-her-sleeves, fights-for-what's-right, in-it-for-you, won't-back-down, champion for us all." One by one, they all look into the camera and declare "I'm with Hillary." Watch the endorsement below.
The message rings loud, and the support for Clinton comes at a crucial time in the presidential race. Hopefully this will inspire more influential celebrities to come forward and share their own viewpoints on the election. And if they can do so with such grace and eloquence as these ladies, more power to them.
Images: Hillary Clinton/ YouTube