9 Books To Travel With This Spring Break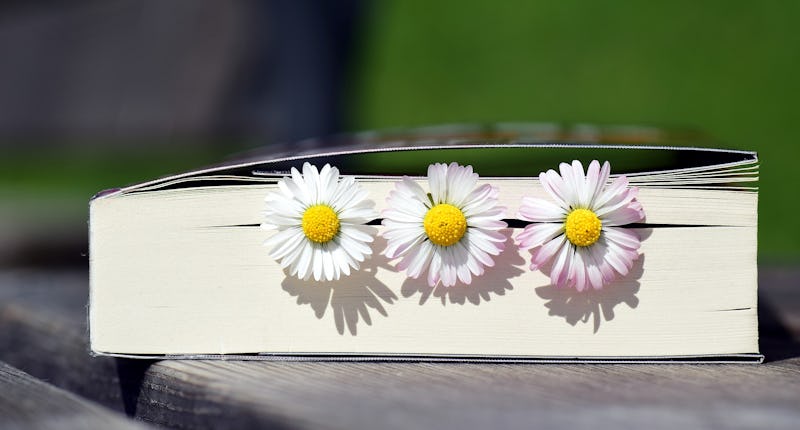 Even though I'm no longer in school, I well remember the tantalizing allure of spring break. Sure, I wasn't always the first one to don a bikini and head to the nearest beach with all my best friends, but I did relish the uninterrupted, homework-free time to read whatever I wanted, whenever I wanted, for an entire week before having to think about all those professor-assigned books again. (OK, so I didn't make it look quite as cool as Rory Gilmore, but let's face it: nobody does.)
A lot goes into finding the perfect list of spring break books. Sure, personal literary taste plays an important role, but overall there are some essential guidelines to take into account: you want to be transported into a totally different place, you want a book that'll give you something to think about (after all, you do have to go back to school in a week — keep those thinking muscles toned until summer) and above all, you want something that would probably never, ever be assigned by your 18th Century Lit professor (unless you just love 18th century literature, in which case you let your freaky, book-loving flag fly, girl.)
Here are nine books to take with you on your spring break travels this year.
1. Ways to Disappear by Idra Novey
For anyone who's ever contemplated extending their spring break travels from a week to, well, forever, Idra Novey's Ways to Disappear is the spring break read for you. Sure, the on-the-run Brazilian writer at the center of this novel — Beatriz — is running from a bit more than her mid-March midterms (gambling debt) but you've still probably desired your own sudden disappearance at least once in your life, amirite? This novel follows Beatriz's American translator, Emma, as she flies to Brazil to search for Beatriz and to clean up a bit of the mess she left behind along the way.
2. Land of Love and Drowning by Tiphanie Yanique
What are the Virgin Islands if not a place for love, and maybe a little bit of magic as well? If you agree, definitely throw Tiphanie Yanique's debut novel Land of Love and Drowning into your carry-on this spring break. The novel takes place in early 1900s Virgin Islands, in the wake of a shipwreck that left three beautiful, enchanted siblings stranded on St. Thomas, where they're going to have to learn how to best utilize each's own unique strengths in order to survive.
3. Cities I've Never Lived In: Stories by Sara Majka
Ah, the lure of the city never lived in. For anyone who has ever been changed by a city they've traveled to (hello: Paris) Sara Majka's collection of stories, Cities I've Never Lived In, will definitely speak to you. This collection is all about the ways places transform their visitors — the places you hold close to your heart, and the places you've left behind, and the places you should have left sooner, and the places you wish you'd never left at all. At the heart of this collection is a recently-divorced narrator who is taking inventory of the different ways distance has played a role in her own life.
4. Where'd You Go, Bernadette by Maria Semple
Another novel about a woman who seems to have vanished entirely into thin air (it really does make for a great story) Maria Semple's Where'd You Go, Bernadette will take you from Seattle to Antarctica, as the suburban-stifled mother, Bernadette, escapes her life out a small, second-story bathroom window, and finds herself a job in Antarctica — of all places. This novel follows her daughter, Bee, as she tries to locate her mother and bring her back home.
5. I Will Always Write Back: How One Letter Changed Two Lives by Caitlin Alifirenka and Martin Ganda
You'd never expect someone across the world to change your life, especially through something as simple as a school-sponsored pen pal program. But change lives it did — two in this case, that of Caitlin Alifirenka, a student in the United States, and Martin Ganda, a student in Zimbabwe — who wouldn't ever have expected their correspondence would last six years and span continents. I Will Always Write Back tells the story of these friends and their letters, and how their growing friendship eventually afforded Martin the opportunity to study in the United States — a once-in-a-lifetime opportunity that not only changed his own life, but helped change the lives of his entire family as well. Touching and inspiring, this memoir will remind you to take those relationships you make while traveling seriously: you never know where they might lead.
6. The High Mountains of Portugal by Yann Martel
If you were totally obsessed with The Life of Pi (I know I was) then you've probably been counting down the days until Yann Martel might find a space on your bookshelf again. The High Mountains of Portugal is the perfect lose-yourself-in-a-story read, one of adventure, intrigue, a little danger, and a few ghosts for good measure. The novel tells the story of Tomás, a man who discovers an old journal that leads him on a quest filled with treasure, politics, and mystery.
7. Every Anxious Wave by Mo Daviau
After discovering a traveling wormhole in the back of his closet, Karl Bender did the only thing anyone who'd discovered a traveling wormhole in the back of their closet would do — he started a business. (Just kidding, everyone knows you'd figure out a way to use it to buy long-lost vintage shoes.) His plan to send people back in time to hear their favorite bands play live works pretty well — until he accidentally sends someone to the year 980, instead of 1980. Oops. Sure, you probably won't be traveling by wormhole this spring break, but you can still enjoy reading Every Anxious Wave, a fabulous, ridiculous, hugely entertaining novel.
8. Kabu Kabu by Nnedi Okorafor
The only thing better than an unregistered, illegal Nigerian taxi that will take you where you need to go for cheap (aka: a kabu kabu) is an unregistered, illegal Nigerian taxi that has magical powers, and will take you on adventures you'd never expect. Such is the premise for the short story collection Kabu Kabu, by novelist Nnedi Okorafor. Filled with absurd thrills, a few dangers, and a lot of laughs, this short story collection will have you searching every corner of your spring break locale for a kabu kabu of your own. (Please tweet me if you find one.)
9. The Lost Time Accidents by John Wray
In the wake of a disastrous affair, Waldy Tolliver wakes up one morning to discover that the rules of conventional time no longer apply to him (shouldn't we all be so lucky.) From World War II concentration camps to the days when Albert Einstein was just a crackpot scientist, The Lost Time Accidents follows Waldy as he attempts to find his way back into the normal flow of time. Along the way he'll have to deal with his failed relationship, lost love, and the family legacy that may have led Waldy into this mess in the first place. Spring break is the perfect time for a little pause and reflection, after all.
Image: Pixabay