The One Book All Harry Potter Fans Should Read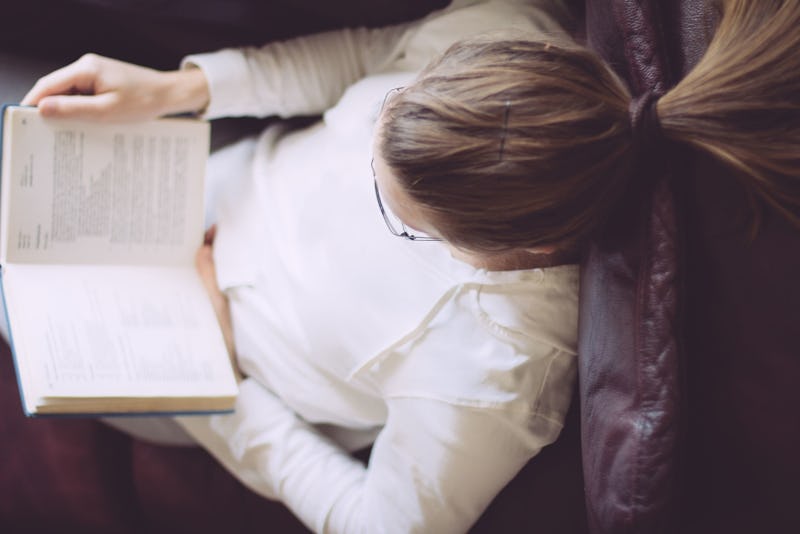 I'll never forget the magical feeling the first time I opened up Harry Potter and the Sorcerer's Stone. Every page was filled with wonder, magic, and mystery, and I couldn't wait to finish one chapter just so I could dive into the next. Those books made me fall in love with reading fantasy, but since I closed Harry Potter and the Deathly Hallows, I had never gotten that same intense rush of childish excitement from a book — that is, until I found Erin Morgenstern's The Night Circus . Within the first few pages of this genre-bending bestseller, I got that old familiar feeling of awe and wonder, and I knew that this was the one book every Harry Potter fan should read.
The Night Circus is unlike any other book I've come across, a truly unique and imaginative story that grabs you from the first page and leaves you breathless by the last. Originally written for the NaNoWriMo competition, The Night Circus is a part fairy tale, part mystery, part love story, that expertly blends genres together to create a captivating story of two young magicians pitted against one another in a fierce magical battle that spans nearly their entire lives.
With Le Cirque des R ê ves , the Circus of Dreams, as their playing field, Celia and Marco, two talented magicians, use their gifts to engage in a magical duel disguised as a traveling circus, one that comes without warning and is only open at night, a rare and unique spectacle with cloud mazes, ice gardens, and a bright white bonfire that never goes out. But their competition is more than a simple game, and only their instructors — Celia's father, the great Prospero the Enchanter, and Marco's teacher, the mysterious man in grey, Mr. A.H — know the true stakes.
An intriguing mystery that slowly unfolds with each new chapter, The Night Circus draws you into its magic, wonder, and, of course, its love story, because Celia and Marco are connected by more than just their competition. Their romance is original and inspiring, but their desire to be together might unravel everything around them, including the other members of the circus they've grown to love.
Told through artful writing that engages all of your senses, Erin Morgenstern's The Night Circus is a dazzling story perfect for fans of Harry Potter, and here are six reasons why:
1. It's Truly Magical
From the story to the characters to the composition of the book itself, The Nigh Circus is a truly magical read. It is at once suspenseful, romantic, thrilling, and heartwarming. A captivating novel from the first sentence, there are few books who cast a spell over you quite like this one does.
2. You'll Fall In Love With The Entire Cast
Just like in the Harry Potter series, The Nigh Circus isn't just a good read because of it's main protagonist, but rather because of it's incredibly rich supporting characters, too. The two protagonists, Celia and Marco, are charming and intriguing, and you can't help but root for their happy ending. Even more interesting than the two main players, each member of the circus, from the mysterious contortionist to the lovable circus twins, Poppet and Widget, is more fascinating and endearing than the last. Everyone will find a favorite in this unforgettable crew.
3. The Writing Will Ignite All Of Your Senses
With each descriptive passage in The Night Circus , you'll begin to feel more and more like you're in the most fantastical dream. You'll be able to smell the sweet caramel popcorn, taste the tart apple cider, feel the smooth edges of the ice flowers, and see every beautiful detail of the most magical circus on earth. One of Morgenstern's biggest accomplishments in this novel is her lyrical and eloquent prose. The writing is as enchanting as the story itself, the kind you'll want enjoy one perfect word at a time.
4. It Will Make You Want To Run Away To An Imaginary World
Remember all those times you wished wished for your own Hogwarts letter to come? You'll be overcome with the same feelings when you read Morgenstern's book, only this time, you'll want to run away and join the imaginary circus. The acts sound so incredible, the food so delectable, and the people so intriguing, you'll wish you could be part of it, too. Instead of checking your mailbox obsessively, you'll start looking toward to horizon for the black-and-white striped circus tents to appear so you can have your chance to join in the fun.
5. There's A Kickass Heroine
Sure, Harry Potter is a pretty cool protagonist, but my favorite character from the series will always be Hermione Granger. She's strong, smart, and unbelievably inspiring — just like Celia Bowen. Celia is not only a fierce and powerful magician, but a remarkable and independent young woman. Her fearlessness, selflessness, and courageousness make her the kind of heroine you want to keep reading about, just like a certain Ms. Granger.
6. It Proves That Love Really Is The Strongest Magic Of All
The spells in Harry Potter may not be real, but one for of magic is: love. One of the greatest messages from J. K. Rowling's series can be found in The Night Circus , too, which is that nothing is stronger than true love — not hate, not spite, not fear. This imaginative fantasy is, at it's core, a beautiful and timeless love story, one that any fan of Harry Potter will completely fall head over heels for.
Bonus: There Is A Movie In The Works By A Harry Potter Producer
That's right, the magic behind bringing Harry Potter to life will be trying his hand at The Night Circus . Summit Entertainment bought the rights to the book back in January 2011, Harry Potter producer David Heyman, along with Jeff Clifford, will be producing the adaptation, and Jane Eyre screenwriter Moira Buffini signed on to write. Though there has been no major news since, we can all cross our fingers that the movie will happen, and will be just as magical as the Harry Potter ones are.
Images: Fotolia; Giphy (7)