14 Beautifully Written First Novels By Women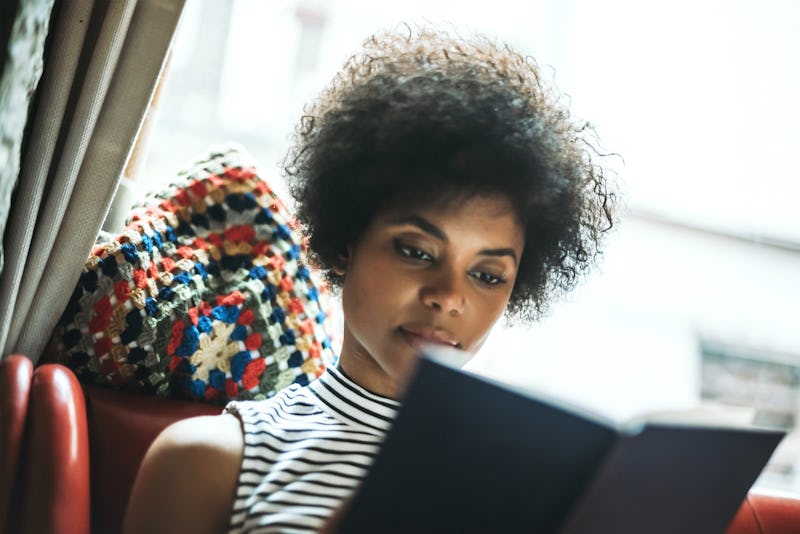 A little secret I've learned after years of browsing bookshelves is that some of the best books are found in the debut section. Right on that table as you walk in with books piled up of all different sizes and looks. The first novels. The new names. The stories without an overwhelming list of public opinions. They're like blind dates, and it's exciting.
It's well known that writers tend to only get better over the years because practice makes perfect. A first novel isn't always the best. For some, like Harper Lee, Sylvia Plath, and Mary Shelley, it happened to work out in their favor. Either way, whether a first novel is the golden era of an author's career, there's a certain style all debut books have that second, third, and even 20th books can't touch. First novels are written with complete freedom, full of risks and odd ideas. There's a sense of surprise all over, because odds are, the author was probably surprised while writing it.
There are plenty of reasons you should read more debut novels, just as there are millions of reasons to read more books written by women. So to put those two together, here are 14 beautifully written debut novels by some inspiring women:
1. The Anatomy of Dreams by Chloe Krug Benjamin
As I scanned the Barnes and Noble table of debut novels last year, this one jumped out at me. And I'm pretty positive it was the words, lucid dreaming, that made me buy it. This is the story of two young scientists, their love story, and their professor who staked his career in studying the therapeutic and questionable potential of lucid dreaming. This story is beautifully complex, one that you'll probably even start to dream about.
2. To Kill A Mockingbird by Harper Lee
It still astounds me that Harper Lee's first novel was one of the first books that made me into a lifelong reader. Scout, a young girl living in the South during the depression begins to question the world around her as she watches her father, Atticus Finch, take on the issue of racism in a profound way. Lee's story of human behavior, innocence, and acts of kindness will forever make it an American masterpiece.
3. Miles from Nowhere by Nami Mun
Taking place in the Bronx during the 1980s, the story follows 13-year-old Korean immigrant Joon who runs away from home. From living out of a homeless shelter to working in an escort club, Joon defies all odds of addiction and tragedies in order to survive. Every single line in this book is a stroke of art, so much so that I continually underlined passages as I read through for the first time. On top of it being an emotional whirlwind, this is one book that'll forever change the way you see struggle.
4. The Sky is Everywhere by Jandy Nelson
Jandy Nelson surprised the world with her debut novel, The Sky is Everywhere, because of her incredibly artistic and colorful way of capturing a story. This is the story of Lennie Walker, a band geek and bookworm just trying to hide in the shadows of her outgoing older sister, Bailey. That is, until Bailey suddenly dies and Lennie is now trying to balance two boys — one that brings her out of her grief, and the other that comforts her in it. It's a completely gorgeous YA novel you won't want to miss out on.
5. The Lovely Bones by Alice Sebold
The story of Susie Salmon isn't an easy one to read about with rape, murder, and injustice — yet Seabold makes it one of the most remarkable stories I've ever experienced. After her death, Susie narrates from an in-between of Heaven and Earth as her family desperately searches for her, and as she comes to terms with the life that is now over for her. It's heart wrenching and it'll definitely make you cry, and for a debut novel to succeed in doing that, then you know it's well done.
6. The Star Side of Bird Hill by Naomi Jackson
When Phaedra and her older sister Dionne are exiled from living in Brooklyn with their mother, they're shipped off to Bird Hill in Barbados to live with their grandmother. While Dionne spends her summer there in search of love, Phaedra accompanies their grandmother in her midwife practices and looks into their mother's mysterious past. Just when the two are beginning to feel at home, their father shows up, forcing them to choose between the Brooklyn they once knew and Bird Hill, where generations of their family has grown up. This debut is a beautiful look at how complicated but magical family can be.
7. The Last Leaves Falling by Sarah Benwell
Diagnosed with Lou Gehrig's disease, Japanese teenager Sora, turns to a wise samurai for guidance. Looking also to the Internet for help, Sora finds people with similar situations and makes friends that help him begin to to accept this unfair and heartbreaking illness he has. Beautifully written, The Last Leaves Falling will stick with you well after you've finished it.
8. The Sleepwalker's Guide to Dancing by Mira Jacob
This story is all about connections, and it ties together characters from different eras and places. From India, New Mexico, and even Seattle, Jacob's stunning first novel captures how one decision can haunt you, and the rest of your family, for years. A family's painful, and secret-filled past becomes an unforgettable story in this first novel.
9. The Night Circus by Erin Morgenstern
When I first read this I was completely unaware that this multi-generational, complex circus affair, and emotional love story was written by a first-time author. This novel will bring out that magical spark you hope to find in every book you read. Filled with fascinating characters and a high stakes duel between two magicians, this is one big novel you won't be able to put down.
10. 2 A.M. at The Cat's Pajamas by Marie-Helene Bertino
This hilarious debut is the story of three different characters all tied to one place: a jazz club known as The Cat's Pajamas. Nine-year-old Madeleine Altimari is determined to set her jazz career into motion after her mother dies. Her fifth grade teacher, Sarina Greene, just moved back into town and is looking forward to reigniting old sparks. Lastly, the club owner, Lorca, is doing everything she can to keep The Cat's Pajamas from closing forever. It's fun, fast-paced, and a novel you'll simply adore reading.
11. Frankenstein by Mary Shelley
Mary Shelley began writing this classic and hauntingly beautiful tale at the age of 18. Capturing the dangers and curiosities of science, Frankenstein is the story of a committed science student, Victor Frankenstein, as he discovers a way to put life into lifeless body parts, creating a hideous, but innocent creature. Isolated and angered, the once sweet monster takes revenge on its creator and turns the story into the horror tale we all know well.
12. The Tiger's Wife by Téa Obreht
Natalia, a young doctor, sets out on a missionary trip to Balkan country where she helps inoculate children at an orphanage. But soon after arriving, she begins to feel old superstitions and cultural secrets swarm around her. She's also trying to solve the mystery behind her beloved grandfather's death — a doctor like herself who lied about his travels and knew his sickness wouldn't get him far. Riddled with grief and confusion, Natalia looks back at her past and tries to solve this complicated but intriguing story.
13. Between the Notes by Sharon Huss Roat
Ivy Emerson's life flips upside down when her family loses their home, her piano, and are forced to move into a cramped and "bad side" of town. Attempting to hide this from her friends at school, Ivy struggles with keeping up with her secrets and eventually turns to the music that has always helped guide her in the right direction. This might sound like a angst ridden teenage story, but it's a gorgeous tale of accepting the things life throws at you and remaining yourself through it all.
14. Nobody Is Ever Missing by Catherine Lacey
Catherine Lacey took big risks in her debut novel, Nobody is Ever Missing, and it paid off. It's the story of grief-stricken Elyria who, after losing her sister, leaves her life in Manhattan without telling anyone, even her concerned husband, and sets off for New Zealand. Masking her true feelings but slowly slipping into insanity, Elyria meets new strangers along her journey as she continually searches for herself. For every twentysomething currently in a state of uncertainty, this is a book that'll hook you in immediately.
Image: Fotolia