'Supergirl' Season 2 Is "Unofficial," But Likely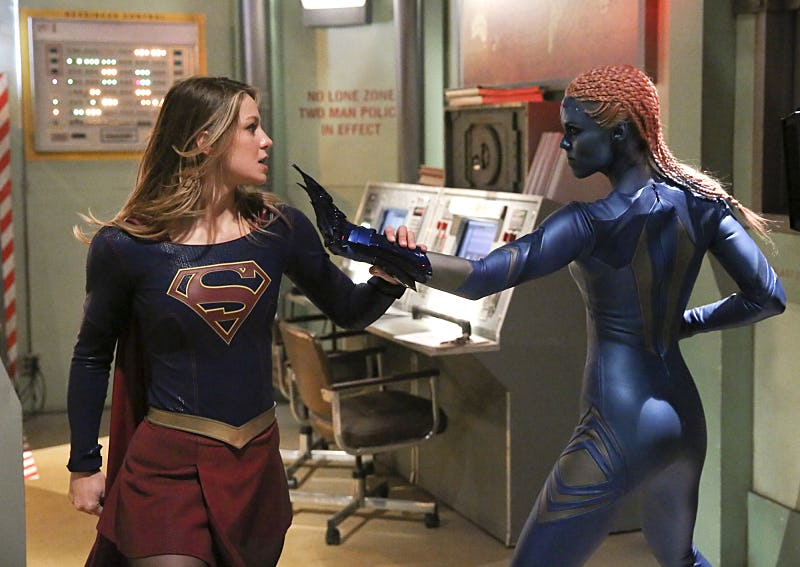 Recently, CBS CEO Leslie Moonves told the Deutsche Bank Media, Internet & Telecom Conference that he plans to renew five shows, which would include Supergirl Season 2. Well, now that everyone reported it and got my hopes up, that renewal may not be for sure. On the red carpet for Supergirl's PaleyFest panel, producer Ali Adler was careful to clarify to reporters that CBS hasn't officially confirmed Supergirl Season 2... yet.
"It's unofficial, actually, but we are very hopeful as is Mr. Moonves, so we are thrilled," Adler says. "Les [Moonves] talked about how he's excited about his pickups but I think as of now it's not technically official, but we are all very excited."
Supergirl herself, actor Melissa Benoist, is already back to rocking her brunette hair (as opposed to Supergirl's lighter locks), as she finished filming the first season of the show a week prior to the PaleyFest panel. Luckily, she says she can't wait to go blonde again to continue the adventures of Kara Zor-El. "I just can't wait to see how much more she discovers her womanhood," Benoist says. "I want to see her become even stronger and even more invincible, not just through her powers. She's sensitive. She's emotional and she's had such a traumatic past and I just want to see her overcome even more."
Of course, the crew already completed the finale before the writers could have adjusted for Moonves' statement, but it wouldn't have mattered. Supergirl producers already left the season open and they would have done that anyway, per producer Greg Berlanti.
"The season finale we have planned, we always had planned," Berlanti says. "I think we always try to wrap up elements of the story so that our seasons play closed-ended on all the shows, but there's still a bit of a twist that we were going to do anyway just because we thought it was cool. Hopefully, it'll play as such and still be very satisfying if you've been patient and watched the whole season."
Supergirl has already faced many different villains, including some of her own family from Krypton. Whatever the final threat of the season turns out to be, Benoist hinted that it's more than just physical.
"There's so much action coming and a lot of ethical questions that we're posing," Benoist says. "It was really, really fun to be able to play and discover the way that Supergirl handles such a dangerous and difficult situation."
But Benoist and Berlanti aren't the only people who are thrilled about Supergirl's big finale. Mehcad Brooks, who plays James Olsen, shared a few more hints about where the first season leaves Supergirl and her friends. "The world almost ends again, and it doesn't, but it's really exciting," Brooks said. "Our common theme being 'stronger together' works again."
And while the minds behind Supergirl won't confirm the official Season 2 renewal yet, from the sound of this finale, CBS' hands might be tied to a second season after all.
Image: Michael Yarish/CBS