Here's When You Can Buy Becca's New Blush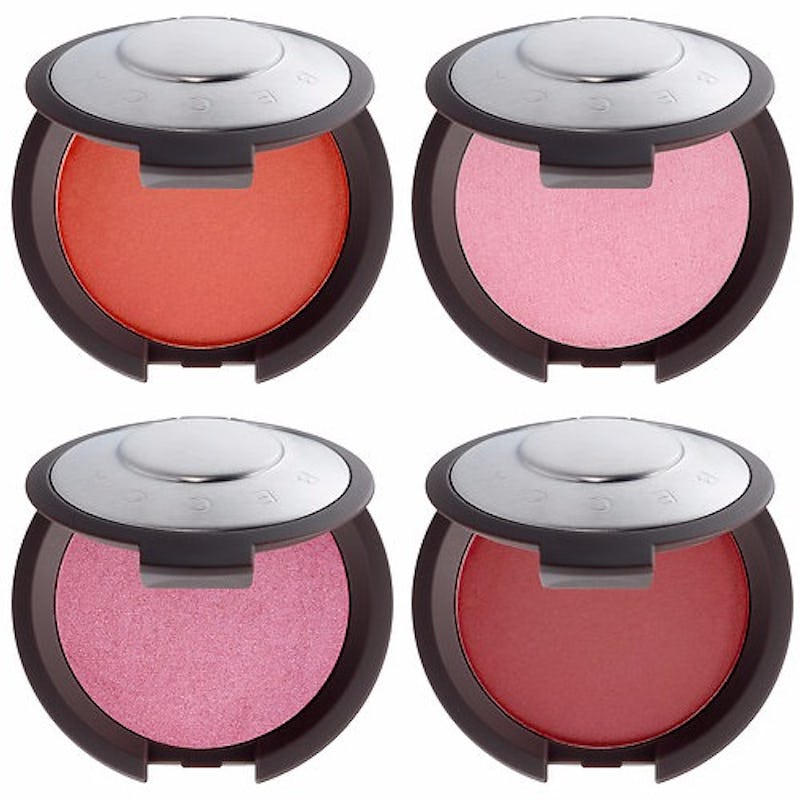 If you're a fan of Becca's fabulous highlighters, then just wait until you see what the company has up its sleeve. Just in time for spring, the brand is launching new Luminous Blushes to give you the perfect amount of color and shine. Let's just say that these blushes pack way more of a punch than your average cheek color. When are the Becca Luminous Blushes coming out? Well, VIB Rouge Members at Sephora can start shopping today.
What's better than gorgeous blush paired with a stunning highlight? A product that combines both at once! Becca's new Luminous Blushes are changing the cheek game. Not only can they be used alone for some stunning summer sparkle, but they can also be layered overtop of other blushes to add a bit more glow to your look. The six new shades were inspired by the fan-favorite Shimmering Skin Perfector range as well as feminine florals, giving makeup lovers the perfect balance between color and luminosity. Basically, this is what would happen if the brand's highlight and blush ranges had a baby.
Although the full collection won't be available until Apr. 7, there's still good news if you're an avid Sephora shopper. Those of you with VIB Rouge status have access to an early release of two of the stunning shades beginning Mar. 15. Snapdragon and Tigerlily can be yours before spring has officially sprung. Just when you thought you're beauty addiction wouldn't pay off!
Each of the six colors — Snapdragon, Tigerlily, Blushed Copper, Camellia, Foxglove, and Dahlia — are perfect for spring. They range from bright pink to deep coral, and complement a wide variety of skin types as well.
I don't know about you, but I'm wishing I was a VIB Rouge Member right about now. Thankfully Sephora made all the colors available to preview on their site, so the rest of us can sit and drool over the products they wish they had in the meantime. Here's a preview of all the shades that will be available at Sephora and the Becca Cosmetics site on April 7.
1. Snapdragon
Shimmering Skin Perfector Luminous Blush in Snapdragon, $34, Sephora.com
This is the first of two shades available in March. It's the perfect way to transition those cheeks from winter to spring.
2. Tigerlily
Shimmering Skin Perfector Luminous Blush in Tigerlily, $34, Sephora.com
If you're looking for something a little lighter, this is the color for you. The tangerine hue can easily work throughout the summer as well.
3. Blushed Copper
Shimmering Skin Perfector Luminous Blush in Blushed Copper, $34, Sephora.com
A little bit deeper than Tigerlily, this is perfect for ladies with darker complexions looking to get the same copper-y glow. Paler makeup lovers can use a light sweep of this shade over a blush for added sparkle.
4. Camellia
Shimmering Skin Perfector Luminous Blush in Camellia, $34, Sephora.com
It wouldn't be spring without a bright pop of color. This powder pink will have you ready for the sunshine and warm weather in no time.
5. Foxglove
Shimmering Skin Perfector Luminous Blush in Foxglove, $34, Sephora.com
Or maybe you're looking to ease into the bright colors instead. Either way, Becca's got you covered.
6. Dahlia
Shimmering Skin Perfector Luminous Blush in Dahlia, $34, Sephora.com
I bet you didn't expect to see the cabernet hue for spring. I'm dying to see what this actually looks like on the skin.
If this doesn't get you excited for warm weather, then I don't know what will!
Want more fashion and beauty tips? Check out the video below and subscribe to Bustle on YouTube!
Images: Courtesy Becca Cosmetics (6)