Ben Thought Twice About Proposing On 'Bachelor'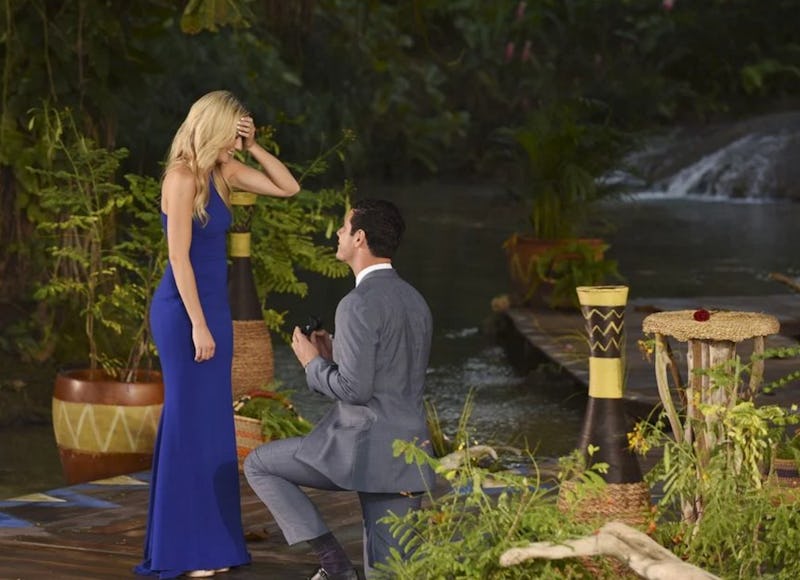 In the penultimate episode of The Bachelor Season 20, Bachelor Ben Higgins ruffled a lot of chicken feathers (heeeeey, Sheila!) when he told not one, but two contenders that he was in love with them. The shocking pre-finale double declaration almost knocked Bachelor Nation right off its axis; the moment Ben said he was in love with Lauren Bushnell and JoJo Fletcher, the season was anyone's game. And in a new interview with Wetpaint, Ben admitted he thought about not proposing to anyone on the finale after he dropped two L-bombs. "It was something that did cross my mind, if [the proposal] is the best option now," the Bachelor told Wetpaint. "Like, is it better to get out of this, and then come back and re-propose at some point?"
While he was certain he wanted to ask Lauren B. to marry him, he wasn't sure if the timing was right. But rather than hit the pause button on the proposal until the "I love you" fire cooled, Ben decided it was better to make the big move right then and there. He continued:
I didn't want to walk away from this experience without Lauren. I wanted her to know what I felt for her and that those feelings were real, no matter how weird it is … I'm also really happy that I proposed to her on that day … Because it's a commitment now that's going to last us forever.
Just when the dueling "I love you"s almost steered the finale ship over to No Proposal Land, Ben grabbed ahold of the wheel and guided the show back to Neil Lane Island.
Image: Matt Dunn/ABC