'Miss Peregrine' Trailer Is As Spooky As You Hoped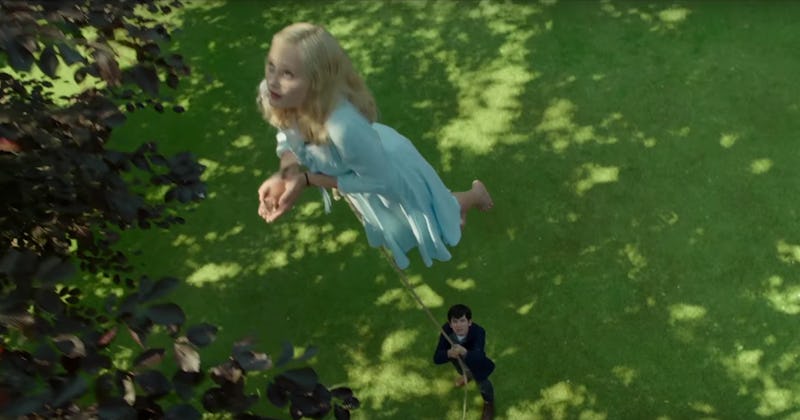 Yesterday I finally got to see one of my most highly-anticipated videos of the year so far: the Miss Peregrine's Home for Peculiar Children trailer. Fans of Ransom Riggs' spooky children's book series have been waiting for almost two years for this — ever since rumors of the Tim Burton film adaptation were first heard on the grapevine. And if the trailer's anything to go by, it looks like we're not going to be disappointed by the film.
This story was always going to lend itself well to film. The original novel is told through a combination of traditional narrative and eerie vintage photographs, so that visual aspect is really key to the story. This innovative storytelling method kept readers so hooked that Miss Peregrine's Home for Peculiar Children spent over 100 weeks on the New York Times bestseller list, and it spawned two wildly successful sequels: Hollow City and Library of Souls. A fourth book, Tales of the Peculiar , will be published later this year.
So it's safe to say this book series had a lot of devoted readers. And those devoted readers are bound to notice a few small differences in the movie trailer — Emma's peculiar power is air rather than fire, for example — but the skin-tingling magic is still very much the same.
And can we talk about how fierce Eva Green looks as Miss Peregrine herself? The trailer gives us a brief glimpse of Samuel L. Jackson's character as well, but we have yet to set eyes on the rest of the star-studded cast, such as Allison Janney, Rupert Everett and Judi Dench. Of course the younger actors, particularly the leads Ella Purnell and Asa Butterfield, look brilliant, but having seen them respectively in Never Let Me Go and The Boy in the Striped Pajamas, we always knew they would be.
The Miss Peregrine movie is set for a September 2016 release — so I imagine we'll be getting a fair few more teasers of this movie in the months to come.