This App Helps You Find The Closest Burrito, STAT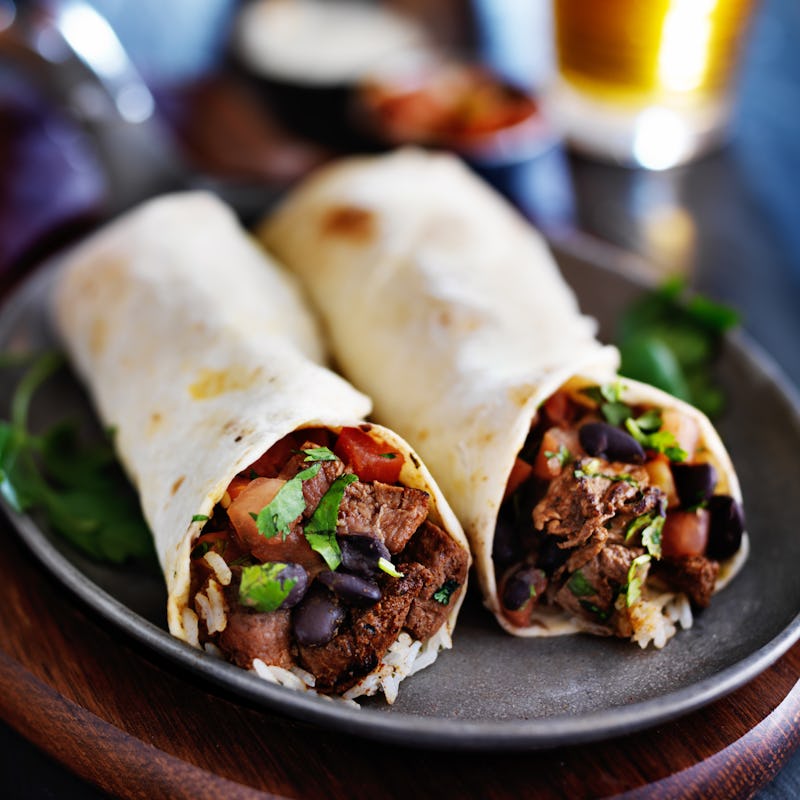 If you're looking for the answer to life you'll need look no further than this app that helps you find the closest burrito. Because who isn't looking for a burrito? My Burrito Finder is like the Google Maps of burritos. The app is actually powered by Google Maps and Yelp, so there's everything you need to know about how reliable it is (very). All you do is type in your zip code and the map will be populated with all the burritos you can dream of in proximity to you. A list even comes up in the sidebar with a picture, one line description of the burrito venue, and a star review (which is where Yelp comes in). I've just tried it, and there are so many burritos near me I'm really questioning what I've been doing with my life so far.
In some respects, I'm sorry I've done this to you. I'm sorry that all your food babies going forward will consist of delicious warm flour tortillas, shredded chicken, extra guac (if your pockets are lined enough, of course) and all manner of spicy spices. Because I believe there's no going back from this. This is the burrito revolution we never saw coming.
Meanwhile, if burritos aren't your thing, there's a whole range of food specific apps out there to help you locate exactly what it is you're craving, or get good reviews so the little foodie inside you isn't disappointed. Here are some more food apps for you to try:
1. Chef's Feed
If you're looking for sage recommendations from those in the know, the Chef's Feed app includes reviews and recommendations from actual chefs. And chefs know food, so you likely won't be let down if you take their advice. It even has a "Feed Me Now" option which will find the recommended restaurants closest to you.
2. Tweat.it
Tweat.it for finding food trucks is the ultimate location based app for finding food when you're so hangry you can't make a decision. The app works a lot like My Burrito Finder and will quickly point you in the direction of all the closest food trucks.
3. Locavore
If you're someone who likes to cook at home, Locavore will help you find produce from markets. The app locates Farmer's Markets close to you and will let you know what in season produce they have, based on what you're looking for. Even if you've got no idea about what's in season or not, the app gives you specific in season recipes to help get you started.
4. Dine
Sometimes searching on Yelp can be really overwhelming, because the results are specific to "dinner" but not to "fun girl's night with glorious cocktails". That's where the Dine app comes in. Dine lets you search by location and occasion and tailors its recommendations based on your input of location, cuisine, and event.