Tess Holliday Is One Of The Most Influential Peeps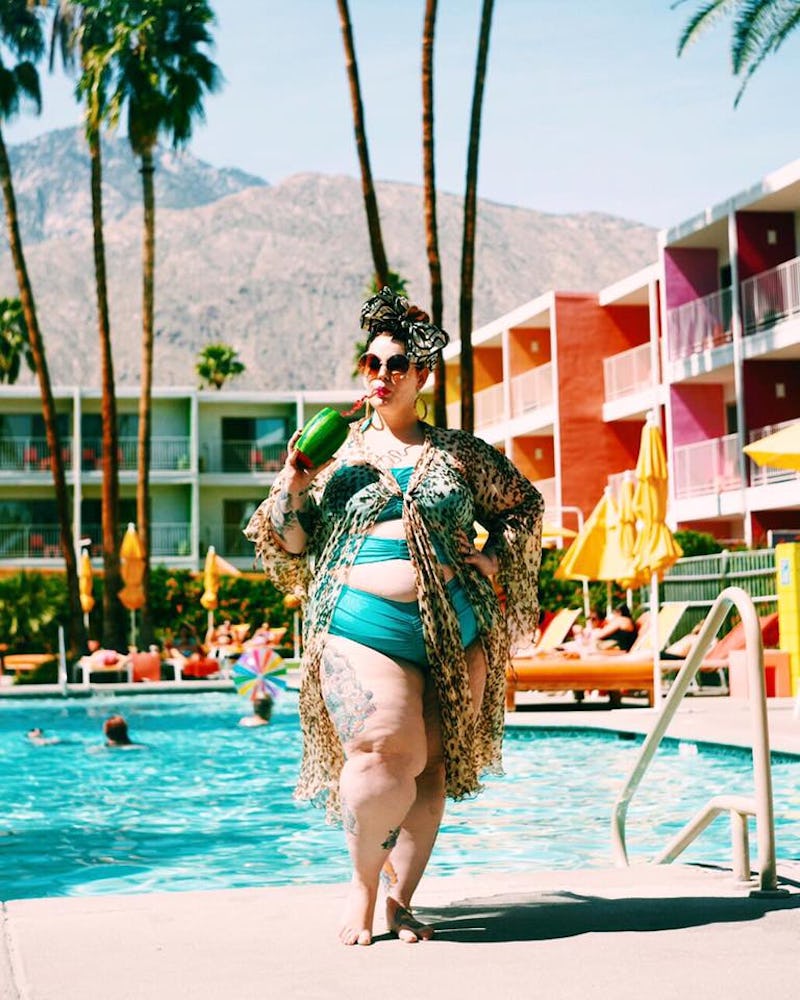 Since plus size model Tess Holliday signed with MiLK modeling agency in Jan. 2015, her influence has affected the plus size community greatly. Although she's linked to a fair share of controversy, Holliday is a realistic representation of many plus women — something we haven't historically seen much of in media or fashion. And as of March 16, Tess Holliday made TIME's Most Influential People On The Internet list. It's clear that her influence is being recognized as something that not only makes an impact for plus size communities, but for the rest of the Webosphere as well.
After all, representation and inclusion don't just benefit those who are being represented. These things lead to steps forward for diversity overall, opening doors for more people like Holliday and other marginalized identities to be seen, admired, and respected in the public eye.
Holliday's Internet presence is a key component of her popularity. From documenting every aspect of her life — not just the successful modeling career — on social media sites like Instagram, Facebook, Twitter, and Snapchat, she makes many fans feel like they know her on a personal level. Thanks to her responses and constant activity on such sites, the #EffYourBeautyStandards founder gets to impact individuals as much as she affects the media and society at large.
It's no shock to me that Holliday has made this list. This isn't just about her legions of followers on almost every platform, but about the ripple effect her presence in media can have as we strive towards more inclusivity in all facets of entertainment and popular culture.
Personally, I think Holliday's witty responses to the people who body shame her are a key component of her Internet influence as well. She has no qualms with calling out those who voice cruel opinions against her or the fatshion community — proving to others that no matter your size, shape, or appearance, you can and should stand up for yourself.
My own enjoyment and analysis of Holliday's Internet presence aside, TIME's explanation of why she made the publication's iconic list is a perfect summary of her success.
"The average American woman is a size 14 — which is why many people on the Internet find it so maddening when the fashion industry applies the label 'plus size' to models who appear to weigh less than a normal woman. Among them: Tess Holliday, who created the hashtag #EffYourBeautyStandards for social media users to express dissatisfaction with societal norms and pride in their bodies. The model, who has 1.1 million Instagram followers, is now the living embodiment of her mantra: She's the first size 22 model to be signed with a major agency, she covered People magazine in May 2015, and recently, she shared a photo of herself in a bikini at '6 months preggo… & still slayin.'"
Whether or not you are a Holliday fan, it's difficult not to admit that since she hit the scene, we've been seeing substantial changes in fashion and media. Body positive dialogue has come a long way in the mainstream since the start of 2015, and I cannot help but feel that Holliday has been part of bringing the movement into the public consciousness.
Want more body positivity in your life? Check out this video and subscribe to Bustle's YouTube page for more inspo!
Image: TessHolliday/Instagram