This Plus Size Model Just Landed A Major Agency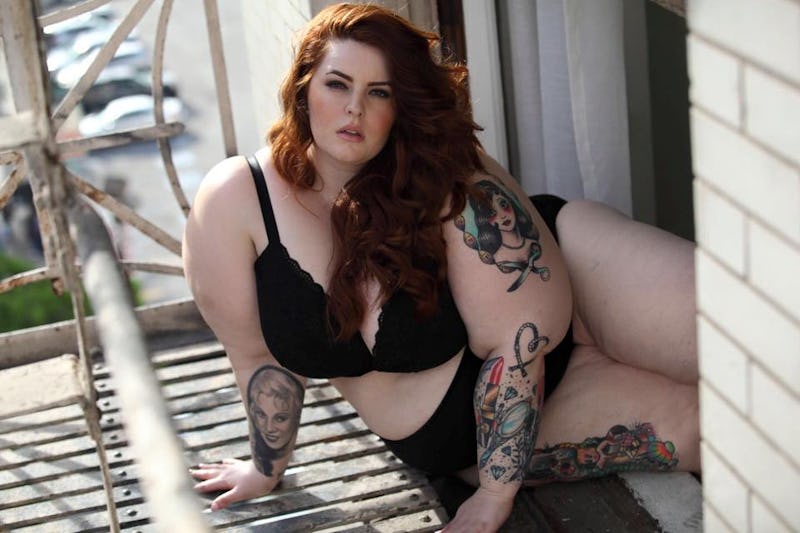 When I think about my "turning point" — the moment in which I truly decided to take steps forward in becoming a more self-loving, confident human — there is one face that comes to mind: Tess Munster's. The plus-size model, blogger and body positivity activist is the founder of the #effyourbeautystandards movement, and has been a vocal proponent of size acceptance since 2010. I stumbled upon the hash tag at 21 years old — fresh from study abroad and ready to take the lessons I'd learned in body image and do something with them in the homeland. And there she was: A woman dedicating so much of her life to showing the beauty in every size. To fighting weight discrimination, bullying, hateful trolling, sizeism and the stigmatization against fat men and women as a whole. Today, Tess has announced that she has been signed to Milk Management, the London-based agency that has worked with the likes of plus-size models like Felicity Hayward and Hayley Hasselhoff. But unlike Milk's other "Curve" models, Tess is above a size 20. And my heart is just swimming.
When it comes to the world of plus-size modeling (and in reality, all modeling), criticism is never far behind. Exclusive to plus modeling is often the critique that the women at the forefront of the movement are all relatively thin. By industry standards, "plus" can often start as low as an 8, and range up to a 16. But by industry standards, plus models are also frequently tall. And ultimately, pretty much the size of your average person.
Whilst I adore the plus models turning heads and being heard — like Ashley Graham, Tara Lynn and Marquita Pring — I also understand the cry for more plus models like Courtney Mina and Tess Munster to receive the visibility they, too, deserve. But up until this point, major globally-renowned agencies haven't really been listening. Perhaps for fear of "encouraging obesity," or whatever other faux concern is often used to justify the discrimination of large amounts of people. Perhaps because there still remains one predominant aspirational vision of beauty in the media — and deviating from it will always be controversial. And, in the words of Tavi Gevinson, "It's always more convenient to not be someone with controversial opinions."
Haters will say what they will about women like Tess being "unhealthy" role models. They will continue to claim that size acceptance is ultimately detrimental to girls growing up, for it will make them believe that it's "OK" to be fat. But the thing is, size acceptance has never really been about health. Or at least it shouldn't be. Because the way we treat other human beings should have nothing to do with their BMI. Just as the way in which we appreciate beauty and art shouldn't have to do with the subject's number on that digital bathroom scale.
When I look at the work that Tess Munster has achieved — be it through her mega campaign that has gained millions of followers worldwide, or by remaking Beyoncé's "Flawless" video with fellow bloggers Gabi Gregg and Nadia Aboulhosn — all I see is beauty. It isn't just that she is aesthetically enchanting, although she indisputably is. It's that she's bold in everything she does. Fearless and unapologetic. An "IDGAF" is never far behind when people dare try to bring her down, or find fault in the wonders she has achieved for the betterment of positive body image. That Milk has recognized the importance of all Tess has done is simply stupendous, and I cannot wait to see what's in store for the sure-to-be-dynamic duo.
Images: Tess Munster/Anthony Evans; Instagram/ TessHolliday