How To Wait For 'Downton Abbey' Season 6 On Amazon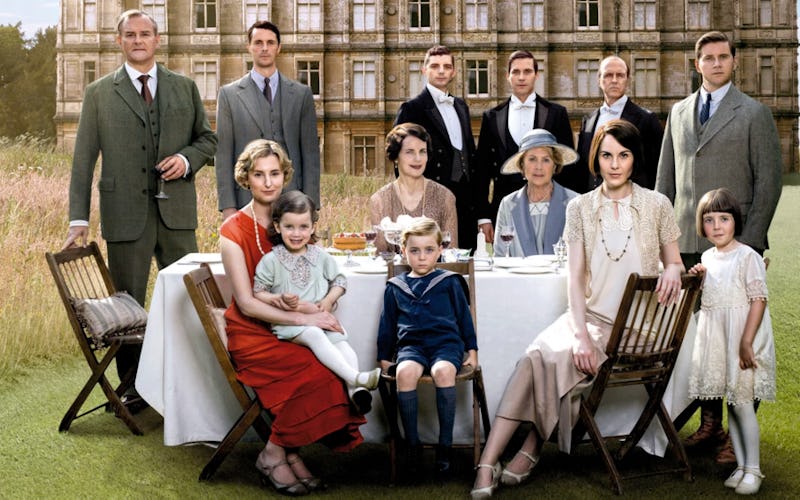 While Downton Abbey ended in December in the United Kingdom (the Christmas Special actually airs there on Christmas), the series finale just recently aired in the United States on March 6. There are likely many American fans who haven't even seen the finale yet, because they're waiting to be able to stream Downton Abbey Season 6. As those fans know, the BBC series is always made available on a specific platform, so anyone who's behind will be able to catch up when Downton Abbey is released on Amazon Prime.
Currently, the series finale is available on the PBS website for those who subscribe to THIRTEEN Passport, but the entire sixth season should be available to stream soon for Amazon Prime users. AmazonAdviser.com speculates that the farewell season will be available no sooner than July 2016, as previous seasons of Downton Abbey hit Amazon Prime in July. Of course, you can already buy episodes or the entire sixth season on Amazon at $2.99 per episode or $19.99 for the season, which may be an attractive model for fans desperate to see how the series ends. But if you're going to wait to stream it for free on Amazon Prime, you'll have about three months' worth of time to kill, and I have a suggestion of just how to do that.
The series took place between 1912 and Dec. 31, 1925, and with the passage of so much time, many people came through the house, from maids to soldiers to royalty. So many characters yield just as many actors, and catching up with those who have passed through the Abbey is the perfect way to wait for Season 6 to hit Amazon Prime. Here are what nine actors who left Downton Abbey over the course of its six seasons are up to now.
1. Zoe Boyle
Before Downton Abbey, Boyle had a busy career with a memorable spot on Sons Of Anarchy. After playing Matthew Crawley's love interest who succumbed to Spanish Influenza, she has landed roles on Breathless and The Astronaut Wives Club.
2. Rose Leslie
Rose Leslie's exit from Downton, unlike most others, was not tragic, but a positive moment for the character. Gwen moved on from her job as a maid to become a secretary with the help of Lady Sybil. Now, you probably recognize Leslie as Ygritte on Game Of Thrones.
3. Maria Doyle Kennedy
Ugh Vera Bates was kind of the worst. I can't be the only fan who was happy when this nightmare plot was finally behind us. But Maria Doyle Kennedy was a well-known actress before portraying the first Mrs. Bates. She was Catherine of Aragon on The Tudors and Sonya on Dexter, before entering the world of Downton. Post-Downton Abbey, you can see her as Mrs. S on Orphan Black.
4. Jessica Brown Findlay
Oh, sweet Lady Sybil. We know what happened. Let's just move past this. Jessica Brown Findlay has since appeared in the films The Riot Club and Victor Frankenstein.
5. Dan Stevens
Matthew Crawley, too?! Why God, why? Since that traumatic car accident, Dan Stevens has appeared in Night at the Museum: Secret of the Tomb as Sir Lancelot and will star opposite Emma Watson as the Beast in the live action Beauty and the Beast.
6. Lily James
Lily James' Lady Rose was a jumping off point for her career. Almost immediately after leaving Downton, she took on several new roles, playing Lizzie Bennett in Pride and Prejudice and Zombies, the titular role in the live-action Cinderella, and Natasha Rostova in the War & Peace miniseries. Whew, busy.
7. Theo James
Theo James may have only been in one episode of Downton Abbey, but his role was one of the most significant in setting the course for the series. He played Mary's Turkish lover Kemal Pamuk (you know, the guy who died on top of her) and is currently starring as Four in the Divergent series.
8. Iain Glen
Iain Glen played Mary's short-term fiancé and newspaper owner Richard Carlisle. When Matthew was with Lavinia, Mary took up with this guy. But she ultimately did not marry him because she was only engaged to him out of gratitude that his newspaper bought her Kemal Pamuk secret and never published it. He got over Lady Mary and has moved on to Khaleesi as Jorah Mormont on Game Of Thrones.
9. Siobhan Finneran
When O'Brien left Downton Abbey, I think fans across the world let out a collective sigh of relief. It also freed up Siobhan Finneran to play Clare Cartwright on Happy Valley.
If you spend the next few months watching the projects of all these former Downton Abbey stars, Season 6 will be on Amazon Prime before you know it.
Images: Nick Briggs/Carnival Film & Television Limited 2015 for MASTERPIECE, Film & Television Limited 2011 for Masterpiece, PBS; WhiteLaws, TheoJames/Tumblr; Giphy (5)