How To Strengthen Damaged Hair At Home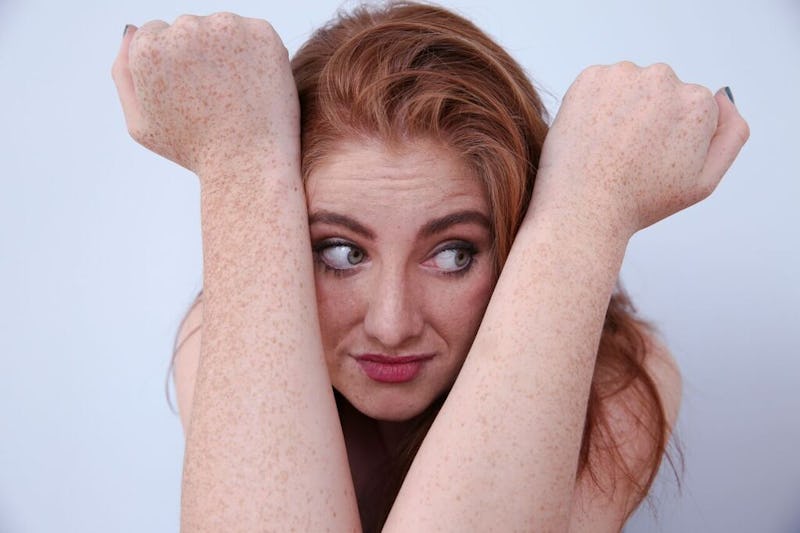 Let's be honest with ourselves: We don't always take the best care of our hair. However, that doesn't mean we have to live with lackluster locks. In fact, there are several ways to strengthen dry, damaged hair without completely changing your lifestyle. Whether it's skimping on heat protectant sprays or frying our ends with hot tools, there are plenty of ways that we contribute to the damage of our own hair and there are plenty of ways to fix the problem. You can still even reach for your hair dryer and curling iron. All you have to do is change up a key components of your hair care routine in order to restore the health of your strands.
According to the experts at L'Oreal Paris, damaged hair is usually the "result of environmental conditions like weather or pollution, overuse of products, heated styling tools, excessive handling and brushing, or using the wrong formulas." Basically, there is a lot that can ruin your locks. But don't fret just yet. With just a few small changes to your weekly hair care routine, you can bring your hair back from the brink of doom. Here are seven ways to strengthen dry, damaged hair without resorting to drastic measures.
1. Spruce Up Your Routine
Aveda Damage Remedy Restructuring Shampoo, $22, Amazon
When it comes to strengthening weaker strands, it's best to start with a fortified hair care routine. This means choosing a shampoo, conditioner, and styling products that help to restore your hair's health. The experts from Matrix suggest reaching for products that infuse protein and amino acids into the strands. However, they do recommend not to go overboard with these products. You can have too much of a good thing.
2. Take Your Vitamins
In an interview with The Huffington Post, dermatologist Dr. Melissa Piliang suggested that women with brittle, dull hair take daily vitamins to help supplement any lacking nutrients in their diet. Piliang recommended hair strengthening vitamins such as iron (promotes hair growth), vitamin D (follicle cycling), zinc (promotes hair growth), and B-complex vitamins (restores shine and thickeness).
3. Go Ionic
Hot Tools Ionic Hair Dryer, $44.99, Ulta
Heat overload can cause your damaged strands a world of trouble. Allure reported that switching your blow dryer to an ionic option can help lessen the damage. An ionic hair dryer not only cuts drying time in half, but it also help the hair cuticles to lie flat.
Also consider: Babyliss Pro Ionic Hair Dryer, $54.95, Amazon
4. Drink Like A Fish
As any medical expert can tell you, water is vital to your body functioning properly. Drinking at least eight cups of water a day can help with hair growth, and softening dehydrated strands, according to Livestrong.com.
5. Switch It Up
Not only is wearing the same hairstyle everyday a little boring, but it could also be damaging your hair. According to the hair care experts at Matrix, wearing the same styles every day can cause strain on your hair (think constant ponytails, tight braids, or loose ends). To avoid adding excess strain to weak strands, switch up your styles to keep your hair guessing.
6. Use A Deep Conditioner
Shea Moisture Castor Oil Hair Treatment, $11.96, Amazon
Think of deep conditioners as the ultimate healing balm for dry, damaged hair. Allure suggests applying a thick conditioner at least once a week to dehydrated strands. Once applied, leave in the product for five to ten minutes to let thoroughly soak in. If you want to go crazy, you can even leave the mask in overnight for intense hydration.
7. Choose The Right Brush
Hot N Silky Hair Brush, $4.99, S ally Beauty
Your hair brush may be the reason that your hair is shedding or looking limp. Good Housekeeping suggests to choose a hairbrush with soft, smooth bristles that are spaced out along the base. Avoid brushes with plastic balls on the ends or metal bristles. These can further damage your strands.
Also consider: GranNaturals Boar Bristle Paddle Brush, $12.99, Amazon
It's time to give your hair a workout. Make it stronger, healthier, and more vibrant by ensuring the health and vitality of the strands.
Images: Pixabay (1); Courtesy Brands; Bustle