'PLL' Season 7 Made A Huge Casting Announcement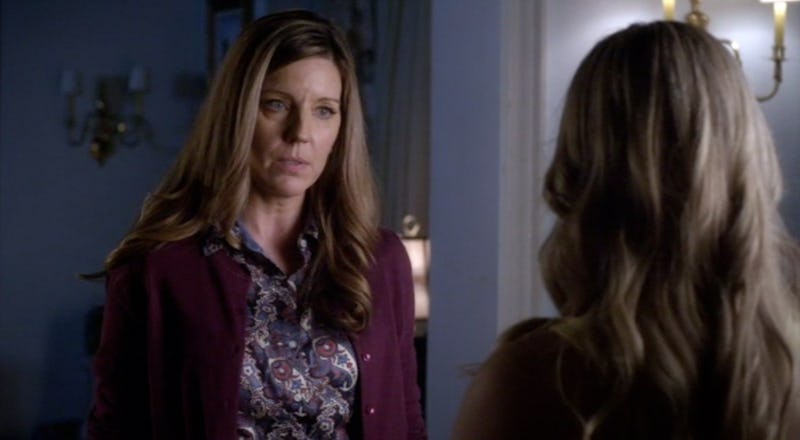 It looks like Alison and Jason weren't the only DiLaurentis family members with a secret sibling running around. Pretty Little Liars' Season 6B's finale was arguably the most jaw-dropping finale the series has ever seen, and — as with any good PLL finale — all roads lead back to Radley. The Season 6B finale revealed that the (probably) deceased Jessica DiLaurentis has a twin named Mary Drake, and while plenty of fans suspected that it was the ever-shady Jessica who had the double, few suspected the finale's biggest reveal. It turned out that Mary isn't just Jessica's identical twin: she's also Charlotte's biological mother, making Charlotte a cousin to the DiLaurentis kids. And now, it looks like the Season 6B finale isn't the only time we'll be seeing Mary: According to TVLine, actress Andrea Parker has joined Season 7 of Pretty Little Liars as a series regular, which means Mary will definitely be lurking around Rosewood. But, will it be as Mary, or as someone else?
Mary's presence is certainly bad news for the Liars, as she definitely isn't in town to get to know her niece Ali. The Season 6B finale revealed that Mary teamed up with Ali's new husband, Elliot, in order to gaslight Ali by making her think she was seeing visions of dead people. (The title of the episode, "Hush, Hush, Sweet Liars," now makes perfect sense, as the plot mirrors the 1964 Bette Davis movie Hush, Hush Sweet Charlotte .) It worked: Ali thought she was going crazy and decided to check herself in to the same mental institution that treated Charlotte. Elliot and Mary did so in order to get their hands on the Carissimi Group — which, now that Ali is in a mental institution, Elliot has a 51 percent share in.
Right now, it's unclear if Mary and Elliot are "Team Uber A," or if there's something entirely different going down. But, with Mary becoming a series regular, it does call into question how she's going to pull off hanging around Rosewood. Personally, I'm thinking the Pretty Little Liars TV series might borrow from Sara Shepard's book series in order to make this twist happen.
In the series, Ali has a twin named Courtney who is sent to a mental institution as a child. Later, Courtney has the opportunity to switch places with Ali, and lives her life assuming Ali's identity. Then, Ali murders Courtney out of revenge for stealing her life, and reassumes her identity, becoming "A" in the process. It's a storyline that showrunner I. Marlene King stated on Twitter March 10 was important to her while writing the TV series:
My theory? That Mary will assume Jessica's identity, and state that it was actually Mary who was murdered that night, possibly by the person who also killed Charlotte. It's the perfect way for Mary to get close to Alison and the Liars without revealing her sinister plan. With Parker as a series regular, we need plenty of time to get to know Mary and understand her motivations — and perhaps her posing as Jessica will give us time to do so.
For more on Pretty Little Liars, check out Bustle's very own PLL podcast, Taking This One To The Grave:
Images: Freeform; prettylittleliars/Tumblr