'Heathers' Is Back In A Whole New Way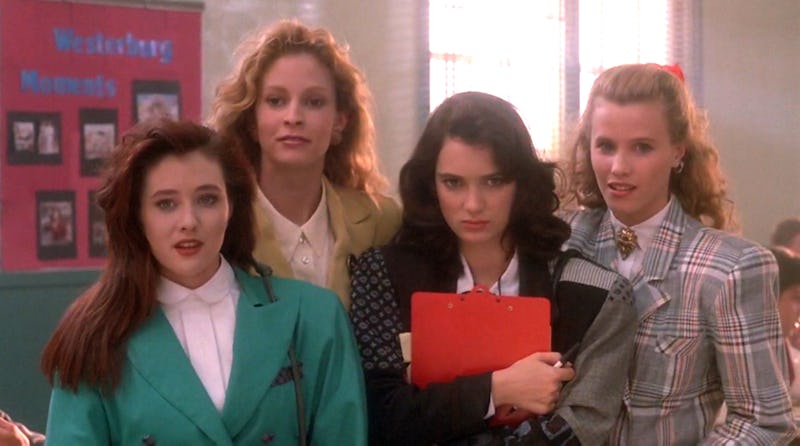 In 1988, the film Heathers came out and changed everything. It was searingly smart, funny, and, most importantly, mean. The heroine, Veronica Sawyer, although positioning herself as morally superior to her dead brained clique, still, y'know, killed kids at school with her evil genius boyfriend. Lines like "F*ck me gently with a chainsaw. Do I look like Mother Teresa?" have become so ingrained in our cultural consciousness that even people who haven't seen the movie quote it. And now '80s cult classic Heathers is becoming a TV show.
This is, of course, only to be expected. The film spawned a whole host of imitators: you can hear its influence in the razor-sharp back-and-forth of Scream, the popular but ruthless cliques of Popular, Mean Girls, and most recently, Scream Queens. We love cruelty — if it's camp enough. We love gore. Why else would Pretty Little Liars have lasted an unbelievable six seasons so far?
However, while it's nostalgia viewing, it'll be updated for our times. Which is to say, it's being described as TV Land's "first anthology series," which suggests it'll be structured more like American Horror Story than your average series, with a different cast per season. And those hoping for a character-for-character remake will be disappointed, since the clique Veronica will face will be a "very different but equally vicious group of Heathers."
Look, I get it. I can already feel the mass virtual wince. Yet another remake? How long are we going to continue to pick at the bones of '80s-'90s pop culture brilliance? Why not have some new ideas of our own?
But, the thing is, Heathers is more relevant now than ever. Now that high schools are dominated by selfies and social media, isn't the importance of being hip, hot, and thin even more relevant now than it ever was in the '80s? Veronica's description of her high school existence and her friends: "Well, it's like they're just people I work with, and our job is being popular and sh*t" sounds eerily close to how I would imagine going to high school now would be like. There are far too many eerily glossy teenage viral sensations on Instagram for being popular at high school to be anything that you could do without putting in some unpaid overtime downloading apps with extra filters.
So, in the words of the ever-wonderful Veronica Sawyer, "Lick it up, baby. Lick it all up."
Images: Cinemarque Entertainment (2)