Will Toula Come Back For A Third 'Greek Wedding'?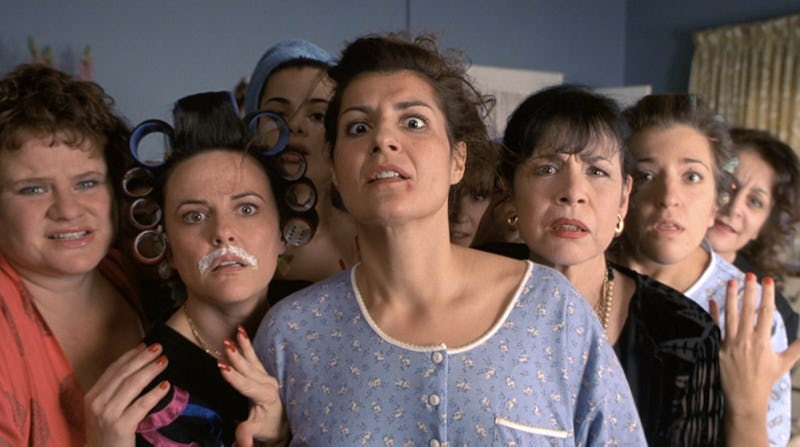 There was a mighty rumble of applause the day Nia Vardalos announced a sequel to 2002's surprise hit My Big Fat Greek Wedding , and I'm pretty sure that most of that noise came from my half-Greek mother down in Dallas. Fourteen years after the world learned about the endless uses for Windex and the difference between tigers and lambs, the enormous crew from the first film will gather together to celebrate a second wedding on March 25. There have been endless analyses of the trailer and reexaminations of the original movie as the world awaits the new addition; I personally hope for plenty of awkward and sweet mother-daughter conversations and shots of the fooooooooood. Big fans of the Big Fat series have patiently waited for this update to the story, but I doubt they'll await a another sequel with the same sort of endurance. So, will there be a My Big Fat Greek Wedding 3 ?
While nothing has been said on the matter, I have my own ideas about where the third movie could/should go. If you're reading this, Nia, here are 11 things I would love to see from My Big Fat Greek Wedding 3 should that be a thing. (Please, oh please. Let it be a thing.)
1. Round Three Can Tone Down The Slut-Shaming & Body Image Comments
OK, so I know that this series is about the pains of growing up in a conservative culture, but wouldn't it be nice if one of the older characters stood up for sexual exploration? Wouldn't it be cool if everyone were feeling OK about their bods? Eh?
2. Lesbian Lainie Kazan
In the spirit of Mallory Ortberg's "All I Want Is Lesbian Emily Gilmore," all I want is for Toula's mother to come out as pansexual after she is widowed and shack up with an equally sassy bookstore owner and Sunday school teacher who is fluent in five different languages, including Greek. Theirs is, of course, the third wedding in question
3. A Musical Number From Joey Fatone...
...complete with a Justin Timberlake cameo. What a wonderful world it would be if this happened.
4. A Chicago Teachers' Strike Led By Jon Corbett
As a resident of the Windy City, I can tell ya that the Chicago public school system isn't exactly flowing with rainbows and cupcakes, though the first movie might have you believe that. Here's hoping that Toula and Ian would get on board with organizing efforts and raise hell.
5. Dancing Zorba's Begins Offering Vegetarian & Vegan Options
Lamb doesn't count.
6. Toula's Brother Exhibits At The Art Institute of Chicago
Please don't write another tragic-artist plot. Let the dude catch his dreams.
7. Toula Gets That Ph.D
In my imagination, she studies computer science and dabbles in graphic design.
8. ALL THE DANCING
It just makes me happy.
9. A Character Dealing With Infertility
Nia Vardalos has discussed her own experiences with trying to conceive and adopting her child. Because this movie is about all the different ways families exist, it could be a really cool way of discussing the issue.
10. Toula's Sister Leaves Her Deadbeat Husband
I never liked him anyway.
11. The Portokalos Family Visits Athens
And starts a thorough discussion about Greek-American identities. They then go home and become huge advocates for pro-immigrant reform.
If the third movie took on any of these changes, I'd be as excited as this woman. Opa!