9 Ways To Brighten Your Eyes After A Long Night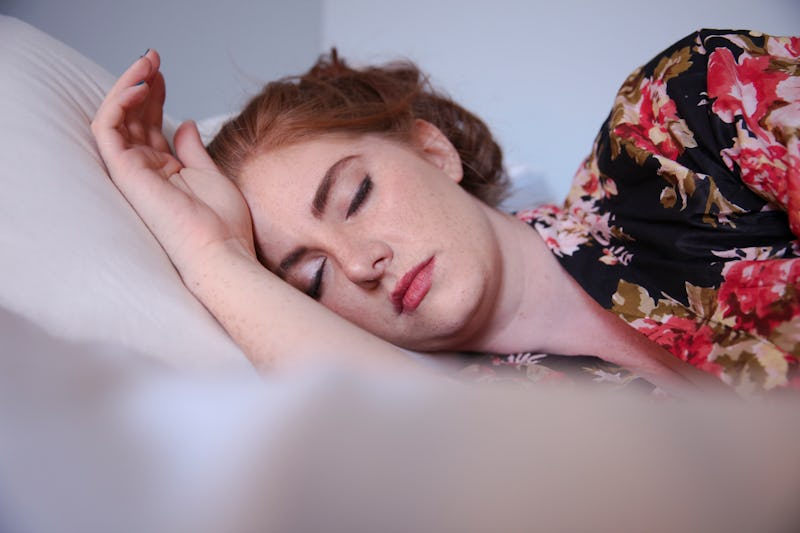 Whether you've pulled an all-nighter from work, studying, or something else entirely, morning does not have sympathy on your tired eyes! When you need to fake "awakeness" and greet the day, try out these ways to brighten your eyes after a late night. You might not feel any less tired after, but you'll certainly look it.
Full disclosure: I am leaning on these eye brightening hacks hard right now. I got about three hours of sleep last night after a sobfest break-up with a beautiful, beautiful human, so I'm not exactly radiating sunshine today. Luckily, I'm happy to report that all the tips below have been tested by yours truly and definitely work.
I've found that the most important thing when I'm in zombie sleep mode is to get out there, embrace the day, look as human as possible, and hope my emotional state will catch up with my physically pulled together appearance. If you're in the same sleepy-eyed boat for whatever reason today, know that you're not alone! You can count on all of these simple ways to brighten your eyes to give you the little boost you need to face whatever's ahead.
1. Line Your Water Line With White Eyeliner
This is a trick I use every single day to make my eyes look just a little bit bigger and awake. It's super easy once you get the hang of it!
2. Splash Cold Water On Your Face
It doesn't exactly feel amazing, but Popsugar advised splashing cold water on your skin to brighten and tighten pores. Those puffy eyes don't stand a chance!
3. Reach For Cooled Cucumber Slices
Yup, cucumber slices really do work to quell eye puffiness and brighten up your eyes. Try to leave slices over your eyes for five minutes and you'll notice a difference.
4. Curl Your Lashes
Pink Lash Curler, $10.22, Whiplash
Open up those gorgeous eyes with a lash curling wand. #Foolproof
5. Blend Away Dark Circles
Waterproof Concealer, $25, Tarte
For extra dark circles, grab that concealer! Allure recommended to "choose a shade that's slightly lighter and warmer than your skin to brighten and correct any blue or purple tones."
6. Apply Waterproof Mascara
Bare Minerals Flawless Definition Waterproof Mascara, $19, Sephora
Mascara instantly extends and lengthens your lashes to give your eyes a bright boost. I suggest waterproof so it stays put.
7. Use Brow Highlighter Shadow
A light shadow applied right under your brow arch, along with a dot on your inner eyes, can really expand and add instant perkiness.
8. Define Your Lid Crease
Urban Decay Eye Shadow, $19, Sephora
Allure advised swiping a bit of bronze to your natural eyelid crease to add depth to your eyes and open them up.
9. Add A Little Brow Drama
Anastasia Beverly Hills Brow Pencil, $23, Sephora
Oprah shared, "Full, softly arched brows make your eyelids look lifted, and draw attention up and away from undereye puffiness and dark circles. Use short, feathery strokes to fill in your brows with a pencil ... and then brush them up and out with a spoolie brush." So easy.
Want more fashion and beauty tips? Check out the video below and subscribe to Bustle on YouTube!
Images: Isla Murray/Bustle; Fotolia, Author's Own(1), Courtesy of Brands