Sookie Deserves Her Own 'Gilmore Girls' Episode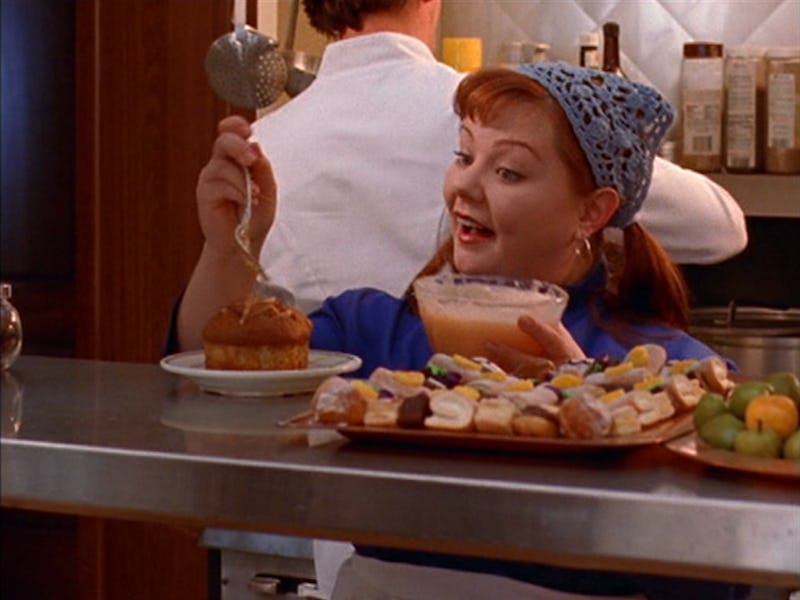 The majority of announcements about the Gilmore Girls revival have been positive and filled us all with excitement about seeing our favorite characters reunited. But there's one character that probably won't return to Stars Hollow, and that's Sookie. Melissa McCarthy won't be in the Gilmore Girls reboot, though, according to her, she'll be watching. And it makes sense. McCarthy is arguably the most famous actor to have appeared on Gilmore Girls, and has since forged an incredibly successful comedy career as a leading lady. Her star is constantly on the rise. So how will Gilmore Girls explain Sookie's absence? Surely it can't go unmentioned, as McCarthy deserves an entire episode dedicated to her character.
In an interview with E!, Melissa McCarthy explained why she wouldn't be in new Gilmore Girls episodes, saying, "I didn't actually get asked to do it. But I think they thought I was busy... I'm actually thrilled that it's happening. I loved that show, and I think the fans for that show are super loyal and great and I will watch every single one of them." While it's awesome to hear the Bridemaids actor support the Gilmore Girls revival, I can't help but feel a pang of sadness that Lorelai's bestie and chef extraordinaire Sookie won't be appearing.
Sookie was a Gilmore Girls staple for all seven seasons. As Lorelai's confidante, she gave the best advice, and was always hilarious as the chef in residence. It's so strange to think that Sookie won't be working at the Dragonfly Inn anymore. Maybe she's moved on to an even more high-flying job, or owns her own restaurant by now? There are lots of ways the revival might explain her evidence, but they certainly can't gloss over it altogether, as Sookie is one of the core characters on Gilmore Girls.
At the end of Season 7, Sookie was pregnant with her third child. She wasn't totally happy about it, as her husband had led her to believe he'd had a vasectomy. News that Sookie's husband Jackson will appear in the Gilmore Girls revival has made everyone wonder even more how McCarthy's absence will be explained. Perhaps this is a good sign, since it means that Sookie will be there in spirit if nothing else.
I still hope that Melissa McCarthy makes an appearance on the show, even if it's just a cameo. If Sookie is completely absent from the revival episodes, that will be totally sad. Each of the characters that were close to Sookie needs to react to her not being there, to truly explain what happened, and tell us why she's no longer in Stars Hollow. I'm crossing my fingers that they haven't killed McCarthy's character off. That would be miserable.
With rumors that there might be a Stars Hollow wedding, I have high hopes that McCarthy will put in an appearance, even if it's a brief one. If not, one of the new episodes should be dedicated to the actor, who is most definitely Gilmore Girls most successful export.
Images: Warner Bros. Television; Giphy (2)