Emma Watson Beatboxes For Gender Equality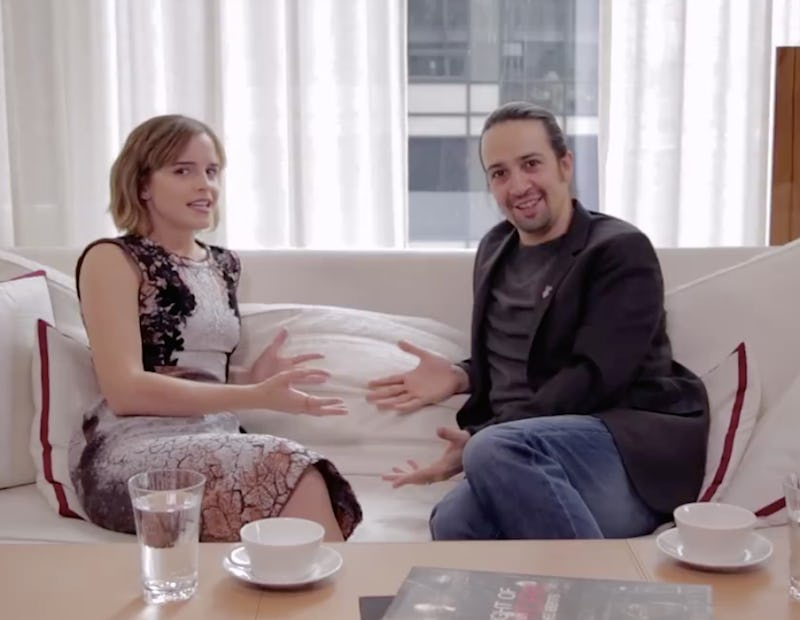 Here's a thing you never knew you needed to see, but will be so glad you took the time to watch: Emma Watson beatboxing to a rap about feminism. That's right, Lin-Manuel Miranda — you know, the Broadway musical writer behind the largely popular play Hamilton — and Watson sat down to talk gender equality, but ended up dropping sick beats instead. Since there's pretty much nothing that Emma Watson can't do, of course she's good at this. Homegirl lays down a solid foundation for Miranda's on-the-fly lyrics, and the results are better than you or I or anyone could have probably imagined. Even Watson herself.
After telling Watson that he is indeed a feminist ("love that!" she replies, adorably), Miranda freestyles about gender equality like it's his job — which, to be fair, it kind of is — spitting lines such as: "Women are like half of the people on Earth, and yes they should have been equal since birth," and "that means all day, every day, equal pay, every way, OK, are we really OK?" All right, first of all, FIRE. Second of all, valid points, Miranda. Where's the record deal? Around the corner, I hope.
Check out the duo's skills in the clip below.
In 2014, Watson stood up in front of the U.N. to discuss the importance of gender equality. Since then, she's focused on promoting her #HeForShe campaign — a "solitary movement for gender equality bringing together one half of humanity in support of the other half of humanity, for the benefit of all." Just recently, the actress and advocate held a live Q&A in celebration of International Woman's Day in Facebook's London offices. It seems like Watson is behind anything that supports her message, which is why, when given the chance to beatbox about something, it's no surprise she chose gender equality as the topic. I — like many others — are just happy that she's given a voice to the issue at all. As long as the ideas are being spread, she can beatbox about feminism forever. (Which would be both insanely difficult and commendable.)
Oh, and for the cherry on top of the sweet feminist sundae that is Watson and Miranda, the two wrap things up by sorting all the character's from Hamilton into Hogwarts houses.
We can all go home now, bye.
Image: LinManuelMiranda/Facebook