When Is The Sweet Peach Palette Coming To Ulta?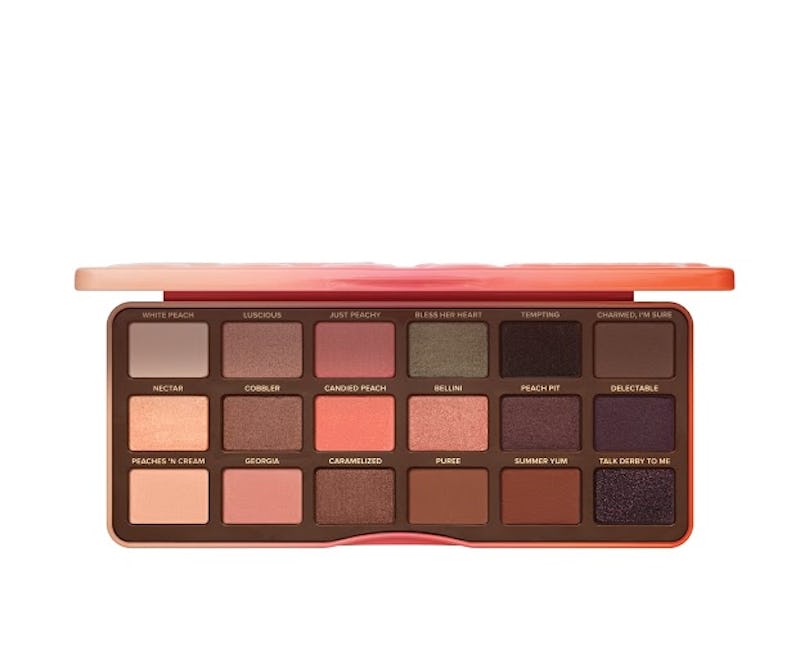 Beauty lovers had a resounding response to the most recent scented eye shadow palette to hit the Internet. And who could blame anyone for wanting to get this peachy goodness swept across their lids? I certainly couldn't! If you're not one of the lucky few who got this before it sold out, you're about to have another chance. Find out when Too Faced's Sweet Peach Palette is coming to Ulta online and in stores so you can finally snag this range of sweet-smelling colors.
UPDATE: A Too Faced representative has confirmed that the Sweet Peach Palette is coming to Ulta the week of Apr. 4.
EARLIER: Too Faced took to Instagram to thank its loyal supporters for the overwhelming success this palette had and to say they're working on getting it restocked on their own website as quickly as possible. But, the palette will also be available to shop online at Ulta's website, just in case you don't have a store near you. Fingers crossed you'll be able to add this item to your cart, one way or another!
The brand also announced that the range will be coming to retail stores in April. You may have a chance to shop these shadows at Ulta, IRL, too. I don't have an exact date for you, but still. "April" is coming soon enough, you know? There are plenty of opportunities left to wear your makeup and smell good, too, so don't fret. Sweet peach could be on you, yet!
This is such good news!
Bright colors that smell amazing? No wonder this is such a must-have.
This video gives you a look at swatches and shows how you can rock these bold colors all spring long. Set a reminder on your phone, and get ready to shop this palette online at Ulta on March 20.
Images: Courtesy Too Faced (1); YouTube (1)