Will Too Faced's Sweet Peach Palette Be Restocked?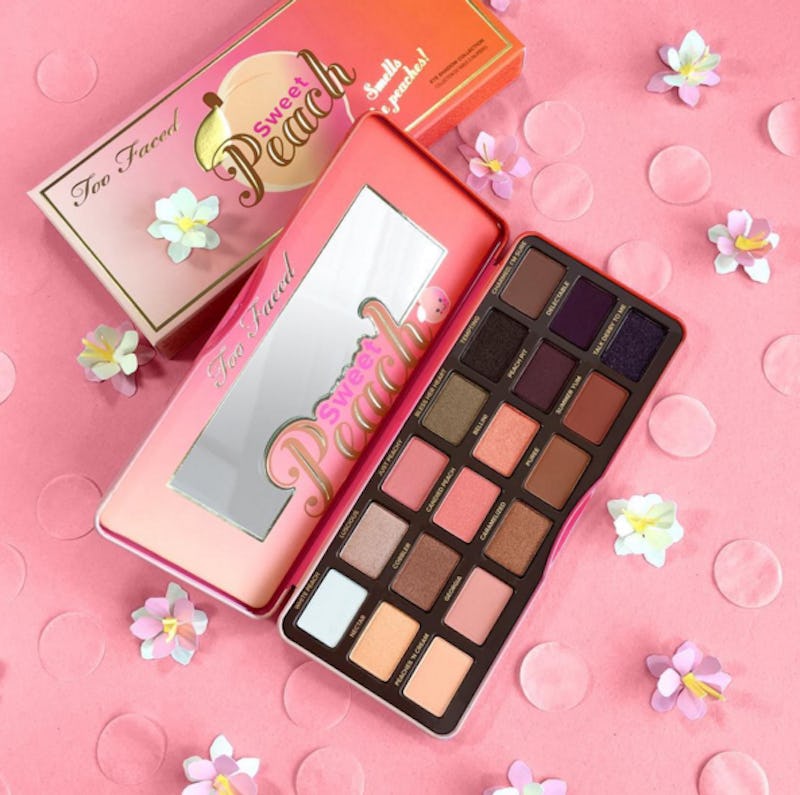 With 18 gorgeous eye shadow shades, adorable packaging, and the scent of peach extract, this new Too Faced palette was bound to be popular among makeup fans. If you're one of the lucky people who managed to snag this gorgeous palette before it sold out, congrats are in order! But for everyone else who's still lusting for a piece of that peachy goodness, you might be wondering: will the Too Faced Sweet Peach Palette be restocked?
Considering how quickly the palette sold out on the Too Faced website, there's a good chance the brand will restock it sooner rather than later, just like it has done with the recently released, and just as successful, Peanut Butter & Jelly Palette. Like Sweet Peach, the PB&J Palette is also limited-edition item. Those two hyphenated words can really toy with a makeup lover's emotions, so no wonder people have gone nuts over both products. The PB&J Palette sold out so quickly that it has been restocked quite a few times since the original release. The Sweet Peach palette seems to be taking the same course (Too Faced's founder Jerrod Blandino was obviously prepared because he started a #GonnaSellOut hashtag) so there's a definite possibility it will also be restocked.
Bustle has reached out to Too Faced for comment on whether the Sweet Peach palette will be restocked on the brand's
The palette has got 18 gorgeous peachy shades that range from light mattes to dark shimmers, so there's really something for everyone. On top of smelling like fresh peaches, the shadows are also infused with peach essence that are rich in antioxidants. The packaging is stunning, so you know this palette deserves an extra prominent spot on your vanity.
At $49, the palette's also quite a steal, too. There are lot's of eye shadow palettes out there that retail for even more than that price, with less variety and a smaller amount of colors. Too Faced has a reputation for producing super pigmented, long-lasting shadows, so this is guaranteed to be $49 well-spent.
Sweet Peach Eye Shadow Collection, $49, toofaced.com (SOLD OUT)
The brand hasn't confirmed whether the Sweet Peach palette will be restocked on the Too Faced site for sure, but a recent Instagram with the following caption offers some insight: "Our Sweet Peach Palette#broketheinternet! We are so sorry to everyone that stayed up late and didn't get the palette. We really can't believe the unbelievable response we got and can't thank you enough for being the most enthusiastic makeup lovers out there. We are still out of stock on the palette but are working with our inventory team to TRY and get more palettes for toofaced.com for Monday. We will make an announcement once it's available."
According to the same post, the palette will be launching on other makeup retailer's websites soon, including Ulta.com on Mar. 20, HSN.com on Mar. 23, and Sephora.com on Mar. 29. The palette will also be coming to stores sometime in April.
So if you have yet to cop one, keep your eyes peeled from news straight from the Too Faced Instagram and Twitter accounts. Because really, life's too short not to be peachy!
Want more fashion and beauty tips? Check out the video below and subscribe to Bustle on YouTube!
Images: toofaced/Instagram, Courtesy Too Faced