Tess Holliday's Clothing Collection Is Affordable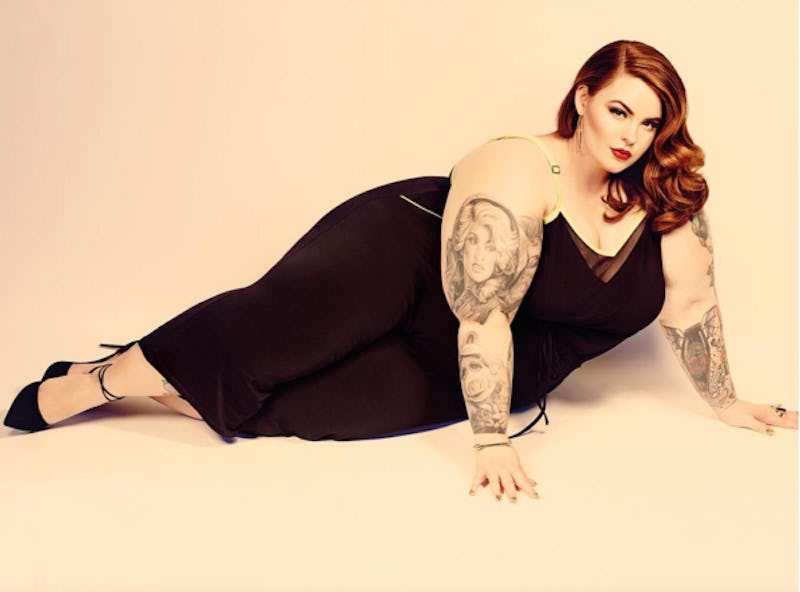 I come into any new plus size clothing line wary of disappointment. It's not often because of the designs (each to their own, after all) but rather, the price. The same fear came to mind when I heard of Tess Holliday's clothing collection with Canadian plus brand Penningtons: How much would the clothing collection actually cost? Although I support the plus size model and her role in giving mainstream visibility to women above a size 22, I still wouldn't want to remortgage my home just to order something designed by the star.
Luckily, the new collection MBLM by Tess Holliday comes in at a happily budget-friendly price range: One that won't break many a fatshionista's bank, and will help mega fans who want to own at least one item designed by Holliday be able to do so. The line ranges from $46 for basic tops to $95 for luxe dresses, nothing costing more than $100. With only 11 items in the entire range, emulating Holliday's personal style for less than an arm and a leg is surprisingly doable.
In fact, purchasing the entire collection would come in at under $600 ($581, to be precise) and I'm sure there's many a super fan of Holliday's who'd save up just to purchase the whole shebang. And why not? Finding gorgeous plus size clothing, particularly in the edgy aesthetic that the #EffYourBeautyStandards founder is known for, can be difficult. If you can get it all in one place for the upcoming season, it's definitely worth the investment.
Sleeveless High Low Dress, $60, penningtons.com
Available now both online and in stores at all 137 branches of Penningtons, the collection has been much anticipated since the announcement of the collaboration in January. Shipping to Canada as well as America, there's little reason not to get your hands on the stunning designs.
Sleeveless Printed Blouse, $46, penningtons.com
Sleeveless Sharkbite Dress, $95, penningtons.com
Although this collection is the ultimate collaboration of classic and rock star that Holliday is known for, the line also comes across as incredibly on trend for the upcoming seasons. Using neutrals and monochrome — as well as some glitter, of course — the line is chic enough for any plus size trend follower to keep stylish this spring and summer. Think Kim Kardashian neutral toned vibes, in fatshionista sizes.
Cropped Military Jacket, $90, penningtons.com
Want more fashion and beauty tips? Check out the playlist below and be sure to subscribe to Bustle's YouTube page for more hacks and tricks!
Images: Courtesy Penningtons