Is Tess Holliday's Clothing Collection Sold Out?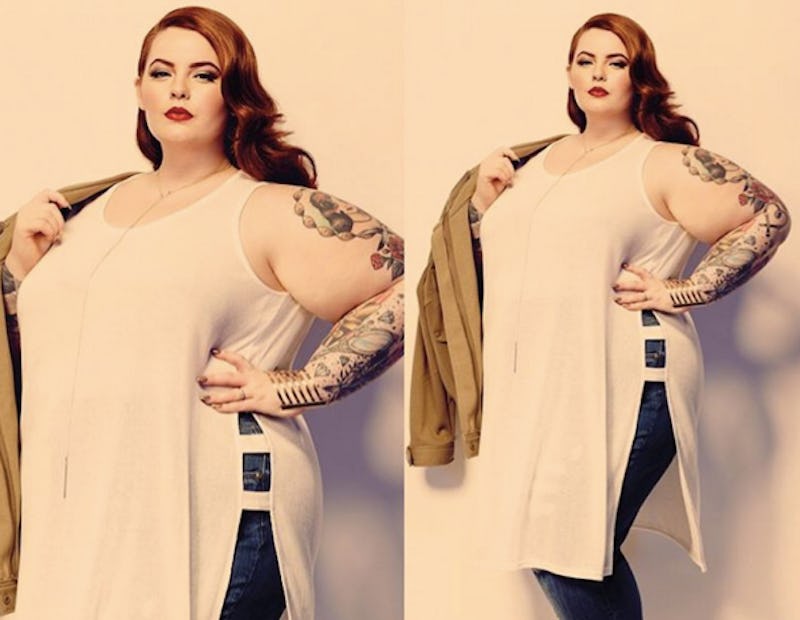 Model, blogger, and all around cool girl Tess Holliday launched her first full clothing line with Canadian plus size retailer Penningtons on March 20. Yep, that's right: The time has come to get your MBLM by Tess Holliday garb. That is, if it isn't already sold out.
With much deserved hype and many fashionable fans, Holliday's line has been highly anticipated since the announcement of its existence in January, so it wouldn't be surprising if the #EffYourBeautyStandards founder's line was already gone. Luckily, that is not the case. While Holliday's collection is still available online an in stores, I'm willing to bet that won't be the case for much longer. If you haven't shopped it already, I highly suggest that you jump on the Internet or head to your nearest Penningtons store soon, because this collection is really good.
Before the line's fruition, Holliday told Independent that she wanted to "give her fan base and plus women options that haven't been available before." And that she did. From zipper-front dresses to super sexy tunics to and asymmetric skirts, the model's collection is a rocker chick's dream.
Just when you thought it couldn't get any better, it did. Holliday's line is not only available in sizes 14 to 32, but it also includes shoes in sizes 7W to 11W — everything clocking in under $100. While I wouldn't have expected anything less from the street style maven, this collection is pretty fantastic and it most certainly lives up to the hype.
Holliday spoke to Independent about her inspiration behind her clothing line as well. She said, "My line doesn't have many prints or graphics. I wanted to keep it more about the design and aesthetic of the clothing instead of slapping a massive zebra print on a shirt and calling it a day. It's effortless and still very chic, easy to wear." Each and every piece is not only wearable for one's everyday, but also chic enough for a Holliday-inspired #ootd post on Instagram.
While the model's collection is well-rounded with a lot of range, what I love most is how it represents her personality and style. It's exceptionally creative, edgy, and chic, just like her.
If you want to capture even more of Holliday's unique sense of dress, you can head to Depop to buy some of her personal favorite pieces.
Holliday's collection might not have sold out yet, but due to the incredibly awesome clothes and pretty reasonable prices, I'm willing to bet it will be gone very soon. If you are looking to exude some extremely cool style or you just want a chic black leather LBD, check out Holliday's MBLM collection at Penningtons before it disappears.
Want more fashion and beauty inspo? Check out the playlist below, and be sure to subscribe to Bustle's YouTube page for more!
Images: Courtesy Penningtons