The Makeup Brush You Need For A Perfect Highlight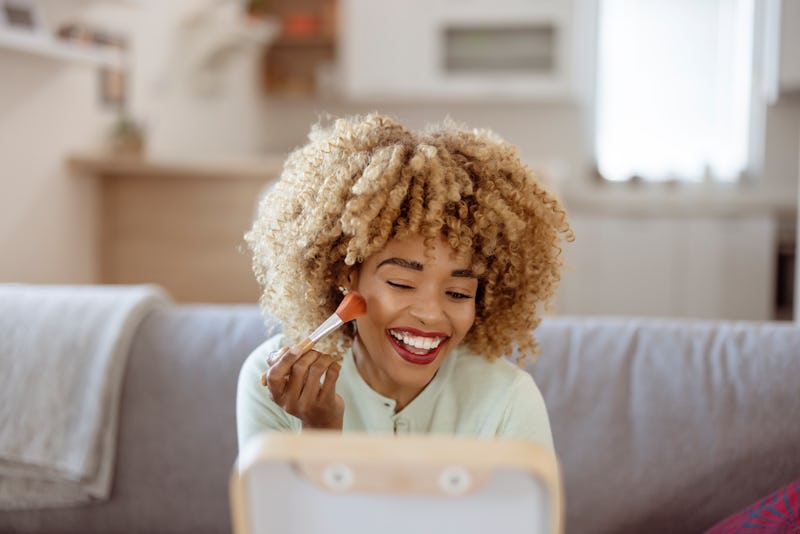 PixelsEffect/E+/Getty Images
Especially now that strobing and dewy-looking skin are all the rage, it's time to get that #highlightonfleek. But what are the best types of makeup brushes for applying highlighter? Depending on the type of highlighter you choose, and the intensity that you desire, the right brush (or sponge!) could make all the difference.
Whether you prefer a cream, powder or liquid highlighter, and whether you want a glow that can be seen from space, or a barely-there shine, it's almost more about how you choose to apply your illuminator than what type you pick. (Although if you want that intense, long-lasting highlight, try layering a powder over a liquid or cream.) And while there are some really great brushes out there made especially to perfect that glow, there are also some multitaskers that work just as well.
Because highlighter doesn't have to be as precise as, say, a blush or contour, there's free rein with how to apply it. So whether that means selecting a blush brush, eyeshadow brush, or even just using your fingers, it's relatively simple to get your glow on. But if you're looking for the best way to achieve a certain effect, here are five types of makeup brushes that will help you totally nail that highlight.
1. Fan Brush
Sigma F41 Fan Brush, $18, Amazon; Morphe G23 Soft Fan, $15 Amazon; EcoTools Deluxe Fan Brush, $30, Amazon
If you tend to be a little heavy-handed, or just want a sheerer application of a powder highlight, a fan brush is the way to go. These brushes pick up less product, making it easier to start small and build up intensity rather than depositing too much highlight at once.
2. Small Highlighting/Blush Brush
Anastasia Beverly Hills Brush #23, $25, Sephora; Sonia Kashuk Small Powder Brush, $9, Target; Real Techniques Setting Brush, $4, Amazon
If you're not afraid of that glow though, brushes made specifically for highlighter or smaller blush brushes, will help deposit a little more shine upon first application.
3. Eyeshadow Brush
Sigma E40 Tapered Blending Brush, $16, Amazon; MAC 234 Split Fibre Eye Blending Brush, $25, Nordstrom; NYX Pro Crease Brush, $12, Amazon
If you want a really concentrated highlight, or want to more easily highlight smaller areas like the nose or cupid's bow, try an eyeshadow blending brush. The smaller shape will help with those hard-to-reach places while also depositing more product.
4. Stippling Brush
E.l.f. Small Stipple Brush, $3, Amazon; It Brushes for Ulta, $26, Ulta; MAC 130 Short Duo Fibre Brush, $42, Nordstrom
Stippling brushes are great for powder, liquid, or cream highlighters. And it will give you a different application strength depending on the formula. For powders, a stippling brush will offer a sheerer application because the bristles won't pick up as much product as some other brush types. However, when using a liquid or cream highlight, a synthetic stippling brush will give a medium to intense application due to its ability to easily blend without absorbing the product.
5. Makeup Sponge
Beautyblender Royal, $20, Amazon; E.l.f. Reusable Blender, $5, Amazon; Real Techniques Miracle Complexion Sponge, $6, Amazon
If you still prefer a really light glow regardless of whether you choose a liquid, cream, or powder highlight, a makeup sponge is the way to go. These aren't able to pick up as much powder product, and any liquid or cream will be slightly absorbed during use. So while it will give you a flawlessly blended highlight, it may take more layers to build up a brighter luminosity.
Images: PixelsEffect/E+/Getty Images; Courtesy of Brands