Wonder Woman In 'BvS' Is Only The Beginning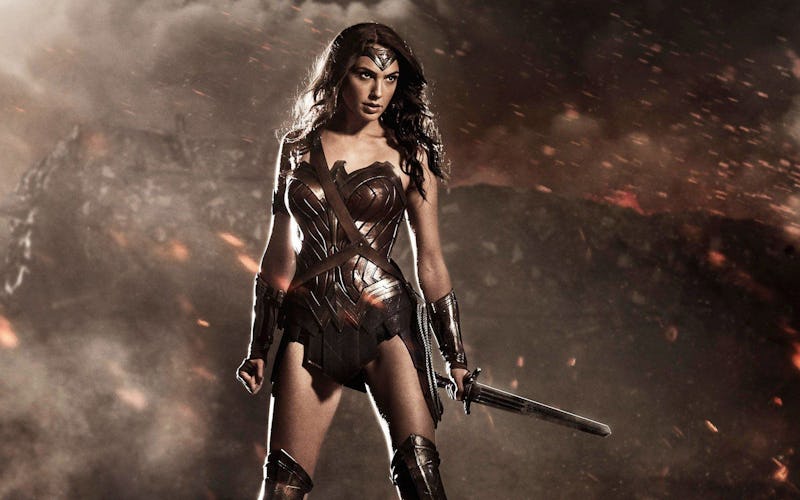 Although I'm typically pretty cynical about superhero movies, even my icy heart leapt when I saw Wonder Woman in the trailer for Batman v Superman: Dawn of Justice. In the past, the DC and Marvel franchises haven't featured many major woman heroes, so even just a quick clip of Wonder Woman in BvS brandishing a sword felt like major progress. Yet while the film featuring the Amazonian princess is a great thing, it's only just the start. There are so few woman superheroes seen in movies and on TV, and practically none who aren't white, straight, and cisgender.
Studios should be making movies and shows that feature characters who speak to the experiences of women, and not just one type of woman; there should be nonbinary folks, people of color, LGBTQIA+ individuals, and more included in the superhero mix. Though I am so pumped that Wonder Woman is in BvS, she's just one character — we need more. And it's definitely possible. More and more women are behind comics these days, and so it should be easy for directors, writers, and all of the other people behind the silver screen to diversify the projects they make. It's not just new characters, either; Marvel and DC have some really badass feminine heroes sitting right under their noses. Here are 17 amazing women superheroes who deserve their own time on-screen.
1. Pathway
Pathway, aka Laura Dean, is a superhero who manages dealing with her autism and providing major asskicking at the same time. A part of the Marvel universe, she comes out of the Alpha Flight series.
2. Bling!
The queer daughter of two hip-hop moguls, Bling! went by Roxy Washington before joining Xavier's institute and teaming up with the X-Men. As World of Black Superheroes writes, she's a mutant with spikes covering her body that can be used as projectiles, as well as super-strength and a resistance to injuries. Imagine the cosplay with this character!
3. Death's Daughter
In Kelly Sue DeConnick's supernatural western Pretty Deadly, Death's Daughter is just one of several anti-heroines. Beautifully drawn by Emma Ríos, the series' debut received mad praise from Melissa Grey at IGN, who wrote that "from the moment you crack open its pages, you're transported into a world as fantastical as any fairy tale and as haunting as any ghost story." I personally give this one 5/5.
4. Martha Washington
Frank Miller is hardly known for his feminist heroes, but Martha Washington stands out as one of his better characters. Washington grows up in the Cabrini-Green projects in Chicago and quietly blossoms into a computer programming prodigy. Her comics series spans from 1995-2095 and covers her career in the second American Civil War.
5. Huntress
Originally written as the daughter of Batman and Catwoman, Huntress received a more recent revamp and is now an Italian-American and devout Catholic. Not your average hero.
6. Alysia Yeoh
A member of the Batgirl universe, Yeoh is Barbara Gordon's best friend and former roommate. She is also the first transgender character in mainstream comics history, a pretty heroic role in of itself.
7. Rocket
Rocket chronicles the superlife of Raquel Ervin, who dreamed of being the next Toni Morrison when she was a child. As Comic Vine notes, "She's outspoken, liberal, and one of the first teenage mothers in comics." Read this one.
8. Miss America
Part of the Marvel universe, America Chavez is the daughter of two mothers and constantly battles Loki throughout her story line.
9. Mo
Alison Bechdel's heroine in Dykes to Watch Out For stands in for the author as she makes her way from the Reagan era to the first Obama administration. She's smart and opinionated, making her one of many rich characters in this series.
10. Black Orchid
Rumors have it that Rachel McAdams wants to play Black Orchid, a badass superhero created by Neil Gaiman. The character is both plant and human, a demigod out to avenger her own murder. Sounds awesome.
11. Vixen
While she has her own digital-only animated web series and makes cameos on other shows, Vixen, DC's first black female hero, totally needs a feature film.
12. Rat Queens
A killer series from Image Comics, Rat Queens tells the story of a gang of superheroines who drink, cuss, and fight. It regularly sells out and could make for a brilliant action comedy.
13. Kamau Kogo
One of the leading characters in Kelly Sue Deconnick's other totally badass comics series, Bitch Planet, Kogo lives on a planet devoted to the incarceration of "noncompliant" women, many of whom are women of color and LGBTQ. Dystopia has never sounded so fascinating.
14. Batwoman
Lesbian Batwoman, anyone? Make it happen, Hollywood.
15. Lumberjanes
The Mary Sue has described the characters in this series as "delightfully quirky with more-than-meets-the-eye attitudes." For those of you who went to summer camp and loved it, this might quickly become your favorite new series.
16. Heathen
Vikings, gender defiance, swords. Basically the coolest thing you'll ever read.
17. Minoo Shirazi
Produced by NBM, Persia Blues follows Minoo Shirazi between her two lives, one of which exists in fantasy, and the other in contemporary Iran.
There you go, Hollywood — the world is ready for some fully-developed superheroines, and I've got just the list to get you started.
Images: Warner Bros; Marvel; Dark Horse Comics; DC Comics; Image Comics; Literati Press