Can 2015 Be The Year Of Women In Comics?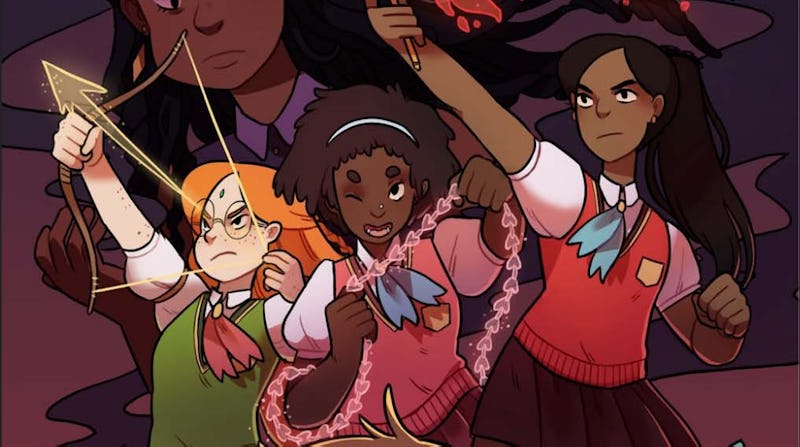 The Eisner Awards are the Academy Awards for American comic books. Since 1988, no woman has won in the Best Writer or Best Writer/Artist major categories. In 2012, the Comics Industry Person of the Year was Eric Stephenson; in 2013, the male Kim Thompson. And it's not that these people aren't deserving (they are), but it's that the comic and graphic novel industry has seemed to ignore a major section of its audience: women.
But this week the 2014 Comics Industry Person of the Year was announced, and it was (start jumping up and down now) the incredibly talented (and yes the female) Raina Telgemeier. It's this news and various other recent wins for female graphic novelists, artists, illustrations, and comics contributors that shows that maybe finally, finally we are entering the era of women shining brightest in the industry.
Women have always been creators and fans of comics and graphic novels, but they have been consistently under-recognized or even ignored. Female characters have been notoriously victims of objectification in male-created comics. Women have been routinely harassed at comic conventions. But with more women at the helm of new comics and graphic novels, we can have some hope that these things we have all grown accustomed to will change.
Recent market research into self-identified comic book fans, according to Facebook, shows that women account for nearly 47 percent of that population. In case you were never really all that good at math, that's nearly half. Half.
Anne Toole is one of the creators behind the female character-driven 2014 YA comic Crystal Cadets. The comic series brings together a group of multicultural female characters who use their smarts and confidence to work together. Toole told me that she had always been a fan of comics, since she was a little kid:
I read comics when I was a kid, and I was happy to be Batman and Sandman and people like that, but I probably would have been more happy and read more if it was directed at me.Sometimes it's something as simple as seeing some commonality between yourself and what's on the page that can make you feel better about yourself. It's nice to be acknowledged and to be recognized that you exist in the world.
But as 2014 has shown, both younger and grown-up women are seeing more of themselves reflected back from the pages of their graphic novels and comics.
G. Willow Wilson and Adrian Alphona pitted Kamala Khan, a Muslim-American teenage girl, as the new Ms. Marvel comic in 2014, and it became one of the most talked about releases last fall.
Cece Bell's graphic novel memoir El Deafo was not only fan and critically acclaimed, it was up for 2014's Kirkus Prize for Young People's Literature.
Roz Chast's graphic novel memoir about caring for her aging parents Can't We Talk About Something More Pleasant? took home the Kirkus Prize for Nonfiction and was a favorite for the 2014 National Book Award — it was also the only female-written book on the long list.
Saga is an absolutely massive hit with both fans and critics, and while it's written by Brian K. Vaughn, the stunning visuals were drawn by Fiona Staples, who is known as one of the best artists in the industry — man or woman. Then there was the awesome Through the Woods by Emily Carroll, This One Summer by Mariko and Jillian Tamaki, and both Bitch Planet and the experimental Pretty Deadly by Kelly Sue DeConnick. Alison Bechdel also received a MacArthur Foundation "genius award." Rainbow Rowell said she was going to create graphic novels. Margaret Atwood announced that she was working on a graphic-novel adaptation of The Handmaid's Tale, coming 2016. I could go on.
Then of course there's 2014's Comics Industry Person of the Year, Telgemeier. Telgemeier was the artist behind the comic book adaptations of the Baby-sitter's Club. She's behind the wildly popular young adult graphic novels Drama and Smile. In 2014, she released the sequel to Smile, Sisters which is just flat-out amazing according to basically everyone.
But, not to worry, this isn't a trend that's going away. In fact, it isn't a trend at all. It's (hopefully) finally a recognition that women can be both serious comic book fans and serious comic book creators. And there are plenty of graphic novels and comics on the horizon that can show that it's not just wishful thinking.
Fiona Staples is continuing her prolific career by illustrating the hugely anticipated relaunch of Archie comics this year and continuing her work on Saga.
We're all super-, super-excited for new releases (or first editions, depending where you're from) of the girl-centric series Lumberjanes, created by and worked on by the talented women Noelle Stevenson, Grace Ellis, Brooke Allen, Sharon Watters, and others.
New York Times-bestselling cartoonist Lucy Knisley will release the next edition of her graphic travelogue series.
We can also expect more Captain Marvel from DeConnick, who is known for taking on sexism in the industry.
And there are many more exciting female-led comics on the horizon, too. But that doesn't mean everything is all hunky dory. We are still lacking diversity among women in the comic book and graphic novel world, and while we are seeing finally some POC lead characters, we aren't necessarily seeing them as much behind the scenes. And still, female comic book fans and creators are harassed with rape threats and a constant barrage of mansplaining. Oh, and there was that whole sexist monstrosity that was Marvel's Spider Woman #1 illustration.
But with strong women like these artists and writers working tirelessly to put female-lead comics and characters on the pages, there is increased hope for the future. And with each success by women, people are going to have to play along or get left behind.