5 Feminist Hashtags That Impact Feminism Today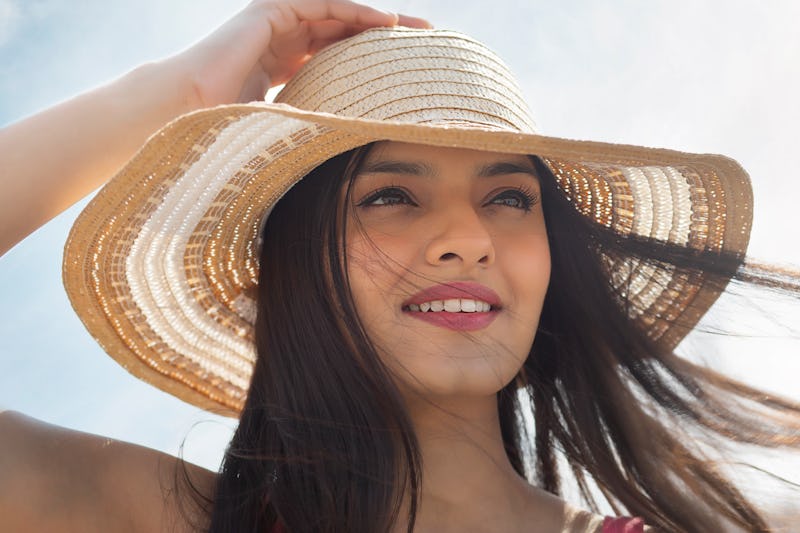 IndiaPix/IndiaPicture/IndiaPicture/Getty Images
This week marks the 10-year anniversary of Twitter, and since it's still Women's History Month, there's no time like the present to celebrate the magical trending tool of feminist hashtag activism. Even five or six years ago, the idea of political change being driven by social media was still dubbed dubious by many. But as we've seen through the groundbreaking power of viral hashtags (ahem, #blacklivesmatter), Twitter can be used to foment revolution through 140 characters or less.
Whether you believe we're in the third, fourth, or no wave of feminism, there's no denying that the internet has become the engine which shapes the discourse of the gender equality movement today. There is nothing to replace IRL action, but, to be fair, there's nothing to replace action at the URL level, either. Both spheres serve to galvanize folks in different ways, and at this point, there's no going back to flyers and consciousness raising groups alone.
Inspired by the intersections between digital and analogue feminism, feminist thought leaders have coined hashtags over the past few years that both caught the public's imagination and spoke to a vital feminist issue. From there on out, the hashtag became public property, and its message was and is either affirmed or perverted by willing participants around the globe. Here are five feminist hashtags to know and to remember, because today, this is how feminism gets done.
1. #EverydaySexism
This hashtag allows for women of all stripes to share their intimate encounters with sexism on a daily basis. No experience is too big or too small to express, which is what makes #EverydaySexism such a vital catch-all for the movement online.
2. #SolidarityIsForWhiteWomen
Creator of this game changing 2013 hashtag, writer and activist Mikki Kendall explained in The Guardian that "it was intended to be Twitter shorthand for how often feminists of color are told that the racism they experience 'isn't a feminist issue'." Three years later, #SolidarityIsForWhiteWomen continues to be used to reveal the ways #whitefeminism too often takes center stage and dominates the discussion at the expense of women of color.
3. #EffYourBeautyStandards
Started by plus size feminist and fashion icon Tess Holliday, #EffYourBeautyStandards encourages women to say eff off to patriarchal body control and embrace and celebrate their bodies in the face of societal stigma. This hashtag has its own Instagram with 270,000 followers and an ever broader reach across the feminist movement.
4. #FreeTheNipple
Named after a film directed by Lina Esco which explores how female bodies are censored in American media more than violence, the #FreeTheNipple campaign has spread like wild fire since 2014, addressing everything from posting breastfeeding pictures on social media to the gender bias in topless laws across the U.S.
5. #GirlsLikeUs
Highlighting the unique experiences and struggles that trans* women face, #GirlsLikeUs was started by author and TV host Janet Mock in 2012. In a tweet she explained that the hashtag "is for ALL trans women, regardless of color, but all who lend their voice to amplify ours knows that intersectionality matters."
Images: IndiaPix/IndiaPicture/IndiaPicture/Getty Images; Giphy