This 'Get A Job' Clip Will Make You Cringe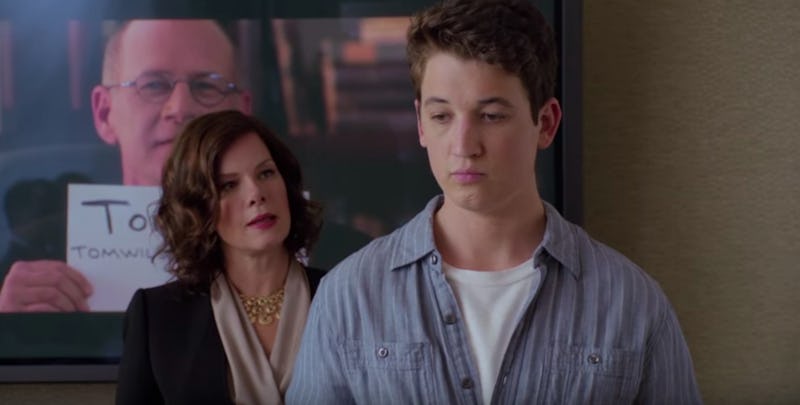 It's no secret that many millennials are struggling in today's not-so-hot job market. The post-graduate identity crisis is alive and well in the upcoming film Get A Job , which stars Miles Teller as Will, a recent grad who hasn't quite figured out how this whole "career" thing is supposed to go down. For Will, getting that first job out of the gate isn't the entire problem: it's also about keeping said job. That's a lot easier said than done, especially because Will's personality doesn't exactly mesh with the "suit and tie" vibe of his super strict office. Joking around with his co-workers seems to work for Will at first, but his goofing off is shut down when his super strict boss comes back to the office to lay down the law. Whether or not you're a tie-wearer, you'll totally cringe for Will.
Will's boss Katherine, played by Marcia Gay Harden, has seemingly borrowed her intimidation tactics from The Devil Wears Prada's Miranda Priestly. (Maybe they go to the same seminars?) Just like Miranda did with poor Andy, Katherine rips apart Will's wardrobe, criticizing his khakis, white tee, and sneakers. Should Will be wearing any of these things in his seemingly buttoned-up office environment? Likely not. Should he send "Reply All" emails with the words "birthday spanking" in them? Definitely not. But despite Will's obvious office faux pas, watching him get called out on these things in the middle of a meeting will make you want to shut your eyes and wait for the horror to be over.
Check out the exclusive clip from Get A Job below, and maybe think twice about hitting "Reply All" on that email chain...
Get A Job hits theaters and onDemand on March 25.
Image: Lionsgate Unlocked/YouTube