How To Get Free Guac At Chipotle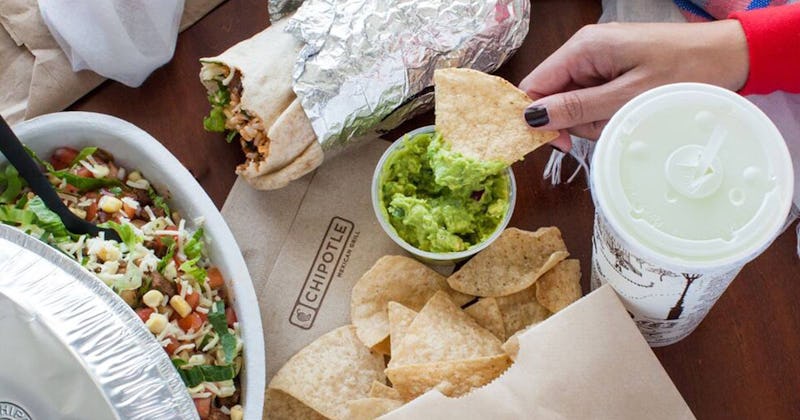 What's better than guac? Free guac. And hey, guess what? You can get free guacamole at Chipotle… if you're able to beat this wacky little browser game the burrito chain is currently hosting at GuacHunter.com. Fair warning, though: It's not easy. At all. Actually, it's really quite difficult. If you want free guac, you're going to have to work for it.
This promo comes right on the heels of last week's announcement that Chipotle is giving away free burritos again — but instead of arriving in the form of a coupon being acquired the old fashioned way (by which I mean the postal service), the free guac offer is a little more high tech. Remember that "Taste Invaders" game from last summer? The one that was basically Space Invaders, but with burritos? It's more like that. Because that's how we roll.
If the method is a little complicated, however, the directions, at least, are simple: For each of three rounds, you'll be presented with two seemingly identical photos. They are not identical, however — so your mission (should you choose to accept it) is to spot and click on the five differences between each pair of photos before time runs out. You've only got 45 seconds for each round, though, and you'll suffer a five-second penalty whenever you click on something that isn't actually a difference. The images in question might look a little something like this:
If you fail to win any of those three rounds, you'll be presented with a consolation prize of sorts:
If, however, you manage to score respectably, you'll be prompted to enter your phone number; right after doing so, you'll get a text that entitles you to free guac and chips on your next trip to Chipotle. It's only good until April 10, though, so make sure you claim your prize before then.
There's a veritable treasure trove of images stored away in Guac Hunter's database, so if you were hoping to be able to replay certain photos after spotting the difference once, you're out of luck — each time you play, you'll be presented with an entirely different set of images.
That said, though, it's not so difficult that you'll never, ever win — so just keep trying, my friends. Because free guac.
Images: Chipotle/Facebook; Guac Hunter (2)