Rumors Are Flying About This 'BvS' Cameo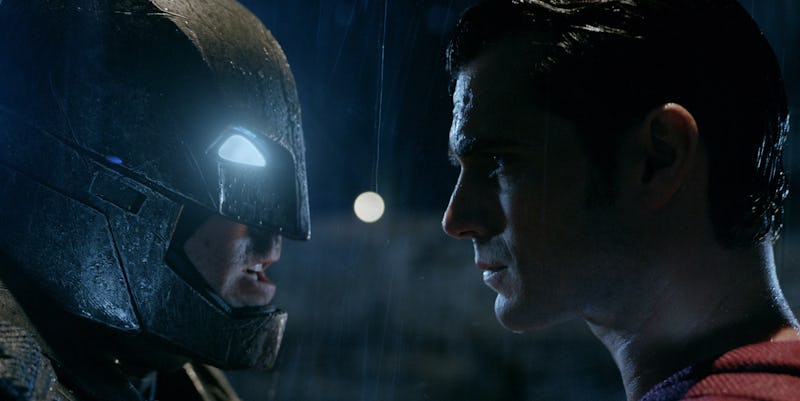 It's a given that the newest DC epic is holding back some surprise cameos. But even if it weren't, Batman v Superman: Dawn Of Justice is already a smorgasbord of superheroes. The Dark Knight takes on the Son Of Krypton in the sequel to director Zack Snyder's 2013 Superman story Man Of Steel. This time, Henry Cavill's Clark Kent is joined at the top of the credits by controversial choice Ben Affleck as Bruce Wayne and Gal Gadot as Diana Prince, aka Wonder Woman. DC fans are buzzing over all the other possible characters Batman v Superman could throw into the mix, including Hal Jordan, the alter-ego of the Green Lantern. Entertainment Weekly reported that this comic adaptation kicks off a series of a minimum of 10 films connected to the DC Extended Universe, including this year's Suicide Squad, a number of solo hero features, and a two-part Justice League adventure. Green Lantern is a founding member of the Justice League, so it's not out of the realm of possibility that he might be teased here. So is Green Lantern in Batman v Superman ?
Some of the gossip about the Green Lantern's possible appearance in Batman v Superman has been generated by some loaded comments made by one of the movie's actors. Dan Amboyer (who Younger fans will recognize as Thad) is listed on the BvS IMDB page simply as "Drone Pilot." However, Amboyer has been all too delighted to keep fans guessing about why his character hasn't been named. In an interview with Popsugar, the actor avoided specifically answering a question about the kind of scenes he filmed, saying "Um, I don't know what I can say that's not spoilery. So, let's just say, I filmed good ones." He also declined to confirm that his character's name is really "Lieutenant Christie," as it's listed on his official website. Amboyer said, "[His name] does appear, but it's kind of an undercover thing. The name appears on me at one point." It appears on the pilot's uniform, I assume.
Whoever Amboyer plays in the movie, he's having a great time trolling fans. (With only good intentions, I'm sure.) He posted this green-tinted Instagram a week ago, with the Batman v Superman logo and release date in the corner.
All these references and denials have advanced the theory that Dan Amboyer is actually playing Hal Jordan in Batman v Superman. That guess was supported two months ago by a Reddit user with the cheeky screenname "violatingNDA," who claimed to have seen a preview screening. The user told the messageboard that Amboyer appears in several scenes as Hal and eventually "reveals himself" as his superhero. Recently, a conversation on the SuperheroHype forum debunked the Reddit post. A user named Johnny wrote that Amboyer's pilot is only ever identified in the film by his callsign. That callsign is a clue in and of itself. "Highball" is one of Hal Jordan's nicknames.
So, will you see the Green Lantern in full hero capacity in Batman v Superman? It seems unlikely, though Dan Amboyer's character may be revealed in future films as much more than an anonymous pilot.
Images: Warner Bros. Pictures; Giphy