9 Books Matched To 90's TV Shows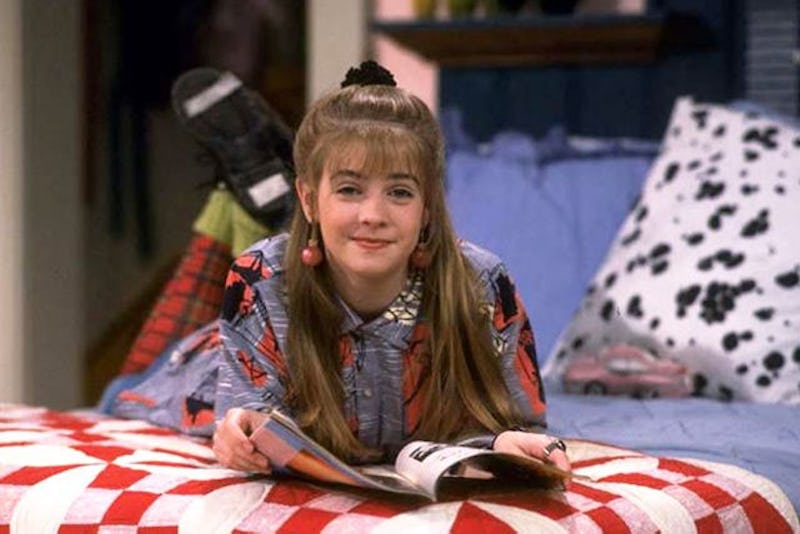 Who doesn't miss the '90s? From colorful clothing to coolio catchphrases, everything in the '90s was so much fun. As a child of the '90s, some of my strongest associations with the decade are linked to the books I read and the television shows I watched. It only makes sense to pick some books to match up with my fave shows from the decade.
Whether it was on Nick or Nite or The WB, there were so many great shows out there back in the day. Family sitcoms, teen dramas, weird paranormal adventures, pop culture was filled with all kinds of stories. As a kid growing up with these shows, I felt like I was half-raised by Cory Matthews, Sabrina Spellman, Buffy Summers, and all the other enigmatic characters on the silver screen.
But let's face it, there are only so many reruns you can watch before you go insane. So, ready your scrunchies, your slap bracelets, your crop tops and your choker necklaces. Put on some grunge music or some Backstreet Boys and settle into your inflatable chair. If you're feeling particularly nostalgic, here are 10 books to match your favorite '90s television shows:
1. If you loved Buffy the Vampire Slayer, read The Rest of Us Just Live Here by Patrick Ness
So what happens when you aren't the Chosen One? This book is set in a Sunnydale-like town, but the protagonist, Mikey, is just a normal kid trying to graduate from high school as the "Indie" kids attempt to save the world every other week. This vibrant read questions exactly what it is that makes a person remarkable.
2. If you loved Sabrina the Teenage Witch, read J inx by Meg Cabot
Misfortune seems to follow Jinx wherever she goes. She thinks all her problems are solved when she moves in with her aunt and uncle in New York City, and discovers that her cousin, Tory, is a practicing witch. This fun, chick-lit novel will delight you in the same quirky way that Sabrina did.
3. If you loved Full House, read The Turner House by Angela Flournoy
While not anywhere near as campy as Full House, this book is all about family. After living in the same house in Detroit for generations, the Turner family may have to sell their home — for a tenth of what its worth. In the midst of this crisis, the Turner siblings must confront their pasts and what ties them together.
4. If you loved Clarissa Explains It All, read The Schwa Was Here by Neal Shusterman
If you like Clarissa's spunky attitude and crazy shennanigans, you'll love Antsy's chronicle of his misadventures growing up in Brooklyn. From trying to destroy a plastic manakin to running experiments on his "functionally invisible" new friend, the Schwa, Antsy approaches everything with a fresh attitude, even as he learns about some of life's strange complications.
5. If you loved Pokemon, read The Golden Compass by Philip Pullman
In the world of the His Dark Materials trilogy, humans' souls naturally exist outside their bodies in the form of talking animal spirits called daemons. The books hero, Lyra, heads of on a vast expedition after her uncle's experiments with a mysterious particle called "Dust" go awry, uncovering a dark threat to children and their daemons.
6. If you loved Fresh Prince of Bel Air, read The Crossover by Kwame Alexander
This award-winning book is a quick read, told through hip hop verse. Twelve-year-old Josh Bell and his twin brother Jordan are both stars on the basketball court. As Josh tells their family's story, he and Jordan learn some of life's tough lessons. Smooth and original, this book has so much heart.
7. If you loved Friends, read Modern Lovers by Emma Straub
In this new book, a life-long friend group much like the Friends gang are now in their fifties, and their kids are becoming adults. Much like Monica, Rachel, Joey, Chandler, Ross, and Phoebe, the characters are all neighbors with each other, this time in Brooklyn. As they grapple with their new place in life, you'll be drawn completely in by their stories and struggles.
8. If you loved Boy Meets World, read That Summer by Sarah Dessen
Anything by Sarah Dessen is an instant classic, and this is her first published book. Just as with the characters in Boy Meets World, everything seems to be changing too fast for 15-year-old Haven. With her dad remarrying and her sister planning a wedding of her own, Haven is struggling to just figure out her own place in the world.
9. If you loved Rugrats, read Lumberjanes by Noelle Stevenson, Grace Ellis, Brooke A. Allen, and Maarta Laiho
Even though the girls in this graphic novel are much older than Tommy and his gang, the shennanigans they get into at Miss Qiunzilla Thiskwin Penniquiqul Thistle Crumpet's camp for hard-core lady-types will appeal to any Rugrats fan's sense of adventure. Their magical quest for supernatural critters promises to make this the best summer ever.
Images: Nickolodeon