Here's How Much Lisa Vanderpump's House Is Worth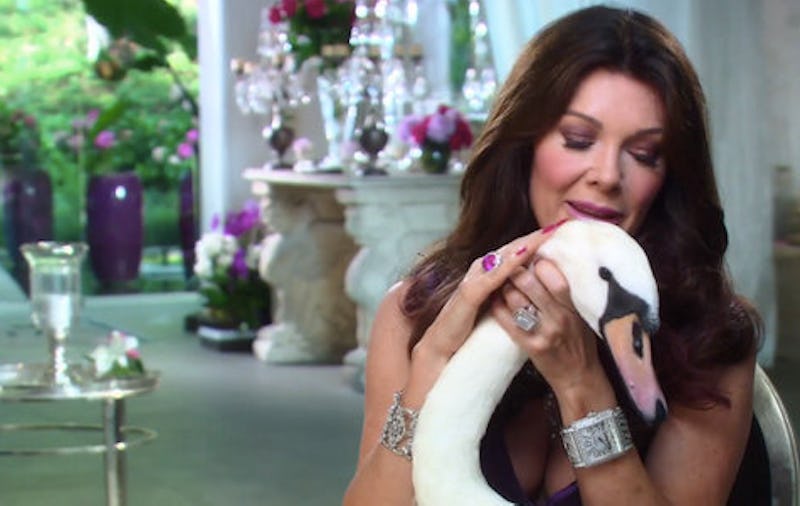 Bravo Housewives don't mess around when it comes to purchasing, building, and designing luxurious homes. One of the more fabulous ones is owned by Real Housewives of Beverly Hills star Lisa Vanderpump. So much so, that she and her husband Ken Todd have even dubbed their residence "Villa Rosa." I mean, a house with it's very own name? Can't you just hear her greeting guests by saying, "Welcome to Villa Rosa, darlings!" Yeah, that sounds about right. Seeing as her home is so grand, how much is Lisa Vanderpump's house worth?
In not-so-shocking news, Lisa takes creating the perfect home quite seriously. After all, Villa Rose is worth $10 million, according to a 2014 report from The Richest. When Lisa and Ken first purchased the home in 2011, Reality Tea reported their 8,800 square foot home had a $10.2 million value. And these reports seem to be accurate. After looking up similar homes on real estate site Trulia, the list prices are in a similar range.
As showcased on RHOBH, and as reported by The Richest, the mansion is spectacular and even includes, five bedrooms, eight bathrooms, a two story library, a master suite, a chef's kitchen, and a media room. That's only the inside! The outside consists of beautiful grounds, a large infinity swimming pool, and even an exterior guest house.
Before moving into Villa Rosa, Ken and Todd lived in a 17,000 square foot mansion, which was featured in Season 1 of RHOBH. Anyways, as Lisa told Radar Online in September 2011, she and Ken were ready to downsize (did they really downsize?), especially since it's just them now and their children, Pandora and Max, are moved out. "We had such a great offer on the house, one we couldn't refuse," she said. "It's 17,000 square feet and my daughter, Pandora and son, Max, already moved out of the nest. So it's just Ken and me and it's really too big for two people."
With that, let's check out the multi-million dollar Villa Rosa and see why it's worth so much.
The Entryway
The Infinity Pool
The Super Cute Gazebo
One Of The Bathrooms
The Grounds
Lisa's Closet
So... which bedroom is mine, Lisa?
Image: Bravo