The Kylie Lip Kit Empire Has Expanded Majorly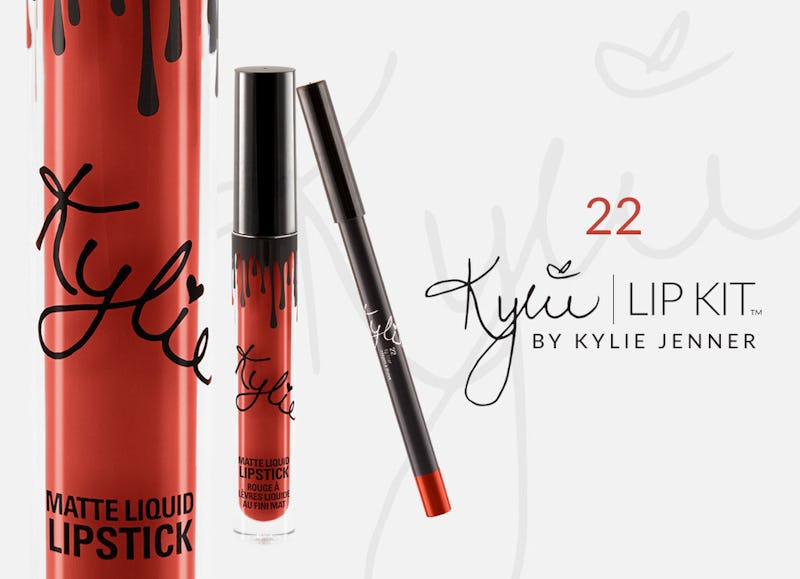 Kylie Jenner's Lip Kits inspire more online pandemonium than Cyber Monday. OK, maybe that's an exaggeration, but when Lip Kits sell out in mere minutes, and a social media frenzy occurs at the announcement of a new shade, it's definitely reached sensation level. But how many Kylie Lip Kits are there? The brand has truly expanded from its original launch. Beginning with matte nudes and pinks with Candy K, Dolce K, and True Brown K, the brand was a hit from it's beginning, and while Jenner was known for the matte '90s hues at the time, her reach has really expanded to include shades that suit a wide range of people and skin tones.
Most recently, Jenner released a shade that is arguably more popular than any others. Jenner's Kourt K Lip Kit is a gorgeous burgundy purple that is unlike anything she's released in the past. The hue made its first appearance on both Jenner's personal Instagram and the Kylie Cosmetics Instagram account, and Twitter practically went into a frenzy. While the reaction was huge, it wasn't the first time. Jenner's launch of her orange-coral shade 22 also made waves on social media, and it's definitely been one of the most sought-after hues. Basically, each release has been more successful than the last, but exactly how many releases have there been? How many Kylie Lip Kits are there?
The answer: There are eight Kylie Lip Kits, and each one of them is more perfect than the last. Even from Jenner's original three, the shades worked on a multitude of skin tones.
While the first three retained the neutral vibe that Jenner is known for with her next releases, she truly started to branch you. KoKo K stayed true to her natural palette, but hello, Mary Jo K and Posie K! The vibrant red of Mary Jo K and the true pink hue of Posie K were instant hits for Jenner's Valentine's Day collection.
Next up were Jenner's most popular shades. Jenner continued along with her more pigmented shades when she launched the insanely popular orange-coral 22.
For her eighth shade, though, Jenner departed totally from the vibrant colors everyone had been seeing. Kourt K — which has yet to be released — is a gorgeous burgundy purple, and I'm already about 99.9% convinced, it's going to sell out quicker than the rest of them.
All eight of Kylie Jenner's Lip Kits are unique, and it's no wonder they've been so successful. The real question, though: how many more can we expect? I can't wait to find out.
Want more fashion and beauty tips? Check out the video below and subscribe to Bustle on YouTube!