Where To Shop Pat McGrath's 003 Kits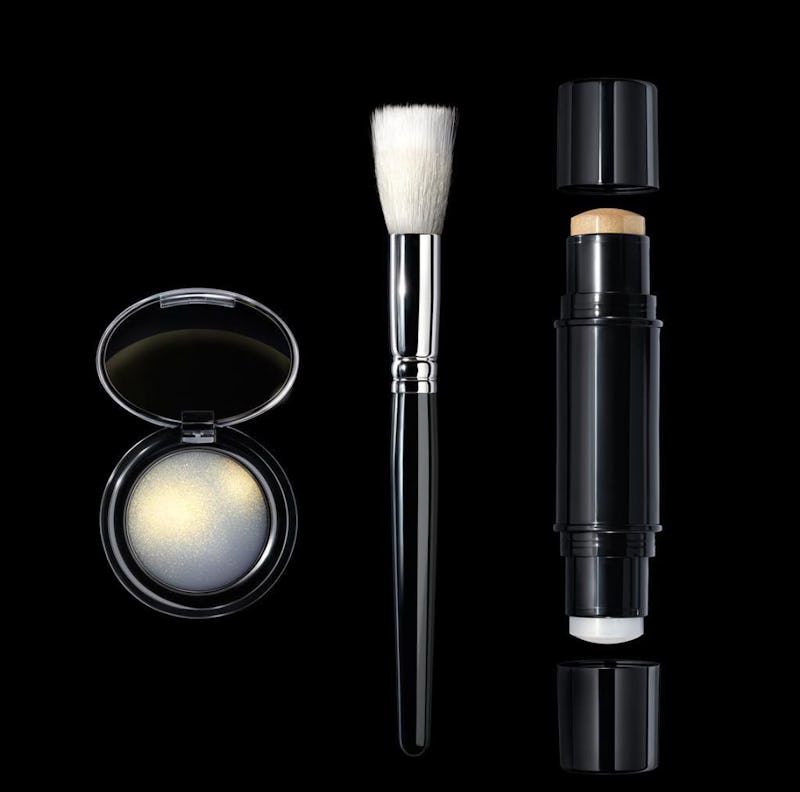 Makeup artist Pat McGrath works marquee brands, from COVERGIRL to Dolce & Gabbana Beauty. But it's McGrath's own makeup line that is changing the game. McGrath's Skin Fetish 003 Kits are on deck, following the launch of her first product, which was the stellar and stunning Gold 001 pigment. Last October, McGrath revealed her plans to do a full makeup line, noting she had the ability to bring new innovations to the public for purchase with minimal wait time. She's back with a new product — a kit featuring three pieces and coming in two colors. Where can you shop the Pat McGrath Skin Fetish 003 Kits?UPDATE: Bustle received confirmation of the dates and times from the brand's representation. Skin Fetish 003 products will retail for $72 and are limited edition.
The SF003 Kits will be available via McGrath's site as of 12 p.m. on April 26. Make sure you sign up for the waiting list... NOW! Also, select Sephora stores and the Sephora site will carry the Skin Fetish 003 Kits on May 10.
Now, about these utterly amazing Skin Fetish 003 Kits...
They come in two colors and boast three products, including one that does two things. The sleek and chic black packaging reminds me of MAC and NARS.
The "NUDE" version includes the following items: Iridescent Pink 003 pigment; Nude Shiny Stick highlighter + balm duo; and Buffer 003 brush. That's three pieces that work together for flawless, glowing skin.
The "GOLDEN" version has the same pieces, just with a different hue. This kit boasts the Fine Gold 003 pigment; the Golden Shiny Stick highlighter + balm duo; and the Buffer 003 brush.
The "Shiny Stick" is dual-ended, with the balm on one end and the highlighter on the other. Since this one product does two things, it's more bang for your buck.
This backstage teaser video hints at how to use the products and offers a look at the result.
SF003 Kit users are encouraged to experiment with the products, according to the application details in the product description on McGrath's site. You can accentuate, highlight, and/or layer to get a majorly dewy or luminescent glow.
The Skin Fetish 003 Kit is an equal opp product... meaning you can use it on the face, body, eyelids, lips, shoulders, brown bones, inner eye corners, or the décolletage. It's so multipurpose.
Get ready to shop the Skin Fetish 003 Kits on April 26 at Pat McGrath's site or point and click at Sephora's site to nab one on May 10.
Images: Pat McGrath/Instagram (1); Courtesy Pat McGrath (2)