This Marshmallow Will Bloom In Your Hot Chocolate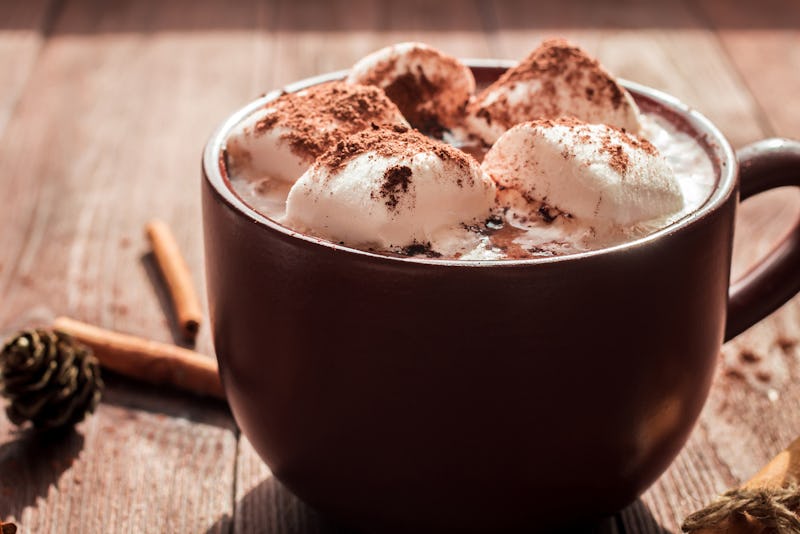 Dominique Ansel is making headlines again, this time with a marshmallow that blooms in your hot chocolate. Yes, blooms — like a flower. You probably recognize Ansel's name, by the way. He's not, like, a big deal or anything. He just invented the cronut.
HE INVENTED THE CRONUT.
Then he was presumably like, "Meh. Cronuts are all right, but how about I just take traditional hot chocolate and make it a billion times better?" And the blooming marshmallow flower was born. The cafe where it's available serves you a steaming mug of Varlhona dark chocolate (uh, yum) and drops the marshmallow flower in it. The flower blooms, and there's even a surprise in the middle: A small chocolate truffle. It's like your birthday, except better.
Here's the bad news: The creative, flowery beverage is only served in Ansel's Tokyo, Japan cafe. The good news is that if you book now, you can get a flight to Tokyo for about $1,000.
This certainly isn't the only treat the mastermind has concocted as of late. He's also got the Easter-themed "Peep-a-Boos" and his Bunny Fluff ice cream, made of roasted cocoa nib chocolate ice cream, malted caramel whipped cream, vanilla butter, and topped off with two bunny ear cookies. It'd be perfect washed down with a hot chocolate with a blooming marshmallow flower.
Here, take a look at it in action, courtesy of INSIDER Food's latest video:
If flying to Japan isn't quite in the budget right now, though, Ansel serves up plenty of delectable creations at his New York bakery, and you can even place orders for select items online. People actually line up outside his bakery sometimes an hour before it opens just so they can get a taste of his desserts, and they even have a two-cronut maximum per person for in-store purchases. The cronut king has changed the dessert game all over the world, and now he's doing it again with his blossoming 'mallows.
Image: Fotolia