Kirk Fogg & Olmec Are About To Reunite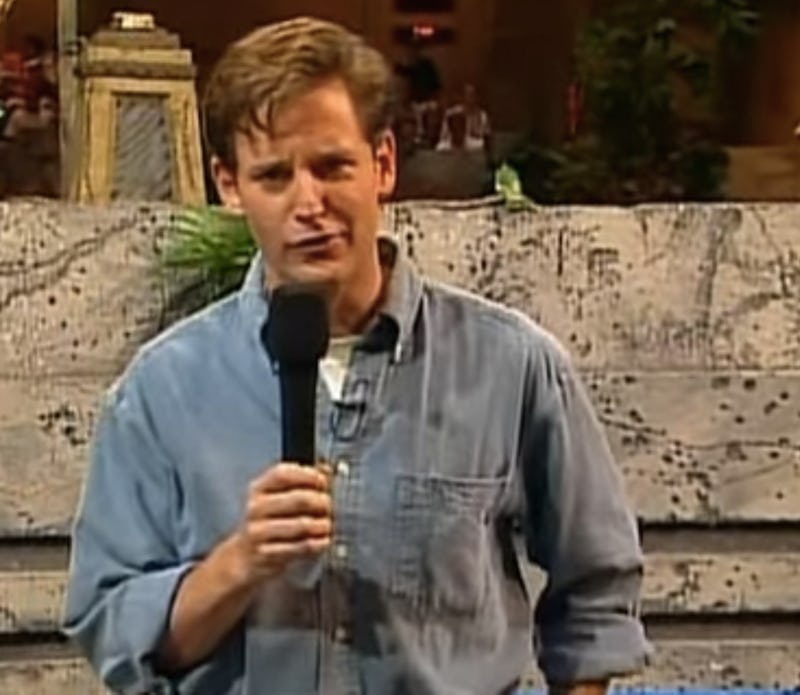 All fans of classic '90s children's game shows assemble, because your lives just got a little bit better. Nickelodeon has confirmed that Kirk Fogg will return to Legends of the Hidden Temple for the upcoming live-action TV movie inspired by the game show, which last aired in 1995. According to the network, Fogg's role will be, "A key figure in the new movie in a role that pays homage to his duties in the classic Nick series." Since he won't be hosting the show, it will be interesting to see how his skills are put to use in a film version.
The film will follow three siblings, who decide to leave a jungle tour and embark on their own adventure, only to find themselves stuck in a real-life obstacle course that they must make it out of alive. It's very similar to the spirit of the original game show, but, knowing Nickelodeon, it will probably have its fair share of intense death-defying moments to boast. Fogg will also be joined by newcomers Isabela Moner, Colin Critchley, and Jet Jurgensmeyer. Hopefully, the success of this film will mean that this '90s reboot trend may prove longer lasting then originally anticipated — which, to me, wouldn't be half bad.
While Fogg hasn't had many television and film roles to his name in the last decade, he has been steadily working in the entertainment industry. His work has taken him primarily behind the scenes, doing some producing, writing, directing, and even cinematography. However, this is his first major on-screen role since 2006's Distortion. Of his new role, Fogg said, "When Nickelodeon asked me to be a part of the Legends of the Hidden Temple movie, I immediately went to the closet and pulled out my blue denim shirt, which has been protected by a powerful golden force field since 1995."
To say he is pretty excited would be an understatement. He recently returned to the set of Legends of the Hidden Temple , and his reaction was priceless. If you enjoy a good reunion moment with just enough teasers to keep you wanting more, than you need to see his reaction to stepping on the updated 2016 set. It will be great to see Fogg back in his natural habitat once more, and I'm sure he's still got a few secrets to unveil when the movie is released later this year.
Image: Nickelodeon