What Might Be Happening On 'The Originals' Soon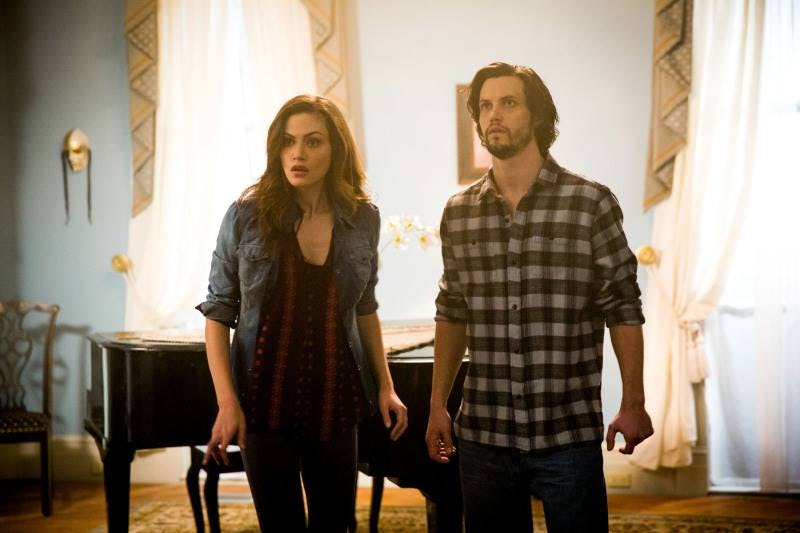 The Originals had another huge week with its most recent episode "Crescent City" on Tuesday night. They're taking no prisoners so far this season with their latest huge kill, Sophie Devereaux at the hands of her beloved niece Monique, and then there's the drama that Elijah chose Hayley over his family. So what are the implications of bringing such major twists and character turns so early on in the series? Show runner Julie Plec gave E! the scoop on what to expect for the rest of the The Originals' first season — but it's in between the lines of Plec's "scoop" that we're really interested in.
The witches are wreaking havoc on the French Quarter right now, Klaus and Rebekah are in a tight spot and in for a rude awakening, and things are about to get seriously complicated for Hayley (remember that arranged marriage?). So, more or less, we're scrambling to find out what the consequences of last week's episode are for the rest of The Originals' season. That's where Plec comes in —E! asked the show exec some pointed questions about where the season is going and we're going to dissect her answers so you don't have to.
ON WITCH DEATHS
"It seems so yes," Plec confirmed of Sophie's death being a permanent one. "I think that in this particular case, the witches having taken their vengeance against a non-believer, I don't think there's much of a hope for her to recover, given that more often than not, you need witch intervention to have a second chance at life," she explained. "So I think that this may be the end of Miss Sophie."
What This Means:
So Sophie is definitely gone. Monique branded her a non-believer and judging by how damn evil and bent on Quarter-domination that Celeste is, she's probably not the forgiving type. But Plec didn't say anything about Davina — which means that she could still come back! Yay, Davina! By saying "in this particular case" Plec isolated Sophie's death from Davina's earlier in the season. If we take that and run with it, the show runner might be implying that there's hope for Davina to return. I mean, Celeste did bring Monique back — the rest of the Harvest girls could be next.
ON KLAUS & REBEKAH'S FATE
"We go outside of the Quarter and we put Rebekah and Klaus into a trap situation in a creepy, horrible, messed up sanitarium from back in the day, and Genevieve, just basically working between the two of them, enacts her revenge," she says. "We'll learn why Genevieve's revenge is so specifically targeted towards Rebekah and what exactly she's going to do to make Rebekah suffer as much as possible."
What This Means:
Klaus knows something that can hurt Rebekah. If Genevieve's true target it Rebekah why would she bother wasting her time between the two? Is there no one else Celeste could spare to torture Klaus exclusively? And speaking of Celeste, she's the one that really wants Klaus to feel pain so she should be the one tormenting him. The only logical reason for Genevieve to be "working between the two of them" is if Klaus knows the way to break Rebekah.
ON ELIJAH'S GUILT
"There's a guilt attached to that, there's a shame attached to that," Plec says. "There's a logic attached to it, of course—when in doubt, save the baby. But it definitely drives him very hard to rescue his siblings in the next episode and to try and pull the family back together, even as it's under assault."
What This Means:
He's probably going to get daggered — or at the very least, he's going to face a hell of a lot of trouble once Klaus and Rebekah are safe again. We all know how Klaus feels about trust and as far as this season's shown, Rebekah has a serious issue with trust as well. They're not going to take kindly to being left to the witches so he could save Hayley. We get the baby motive, but there's going to be a huge family rift.
ON HAYLEY'S FAMILY TIES
"I don't think he's going to be very happy about it. Like I said, we've got another few episodes before we return to the werewolf world, but just this idea of her attention falling towards these people and her sense of family unity and family bond drawing her towards them and away from the Originals is a lot for Elijah to handle," Plec explains. "And then once, ultimately, if he's ever able to stand face to face with Jackson, he might be like, 'Wait a second, who's this guy? I'm not so sure I like this guy.'"
What This Means:
Hayley's going to hit a wall with her feelings. Her and Elijah have been entertaining the idea of taking their relationship further for a long time — but now she's got the fate of her family to consider. She'll also grapple with the idea that she was essentially held prisoner when this all started by Klaus. Hayley's also going to rebel against Elijah if he tries to stop her from breaking the curse on her family. She made it clear when she rushed to stop the vampires from massacring the werewolves in the Bayou that she's siding with her real family no matter what. Arranged marriage or not, her and Elijah are going to be as good as over if he tries to interfere with her werewolf family.
Images: The CW