The History Of Marshmallow Peeps In Brief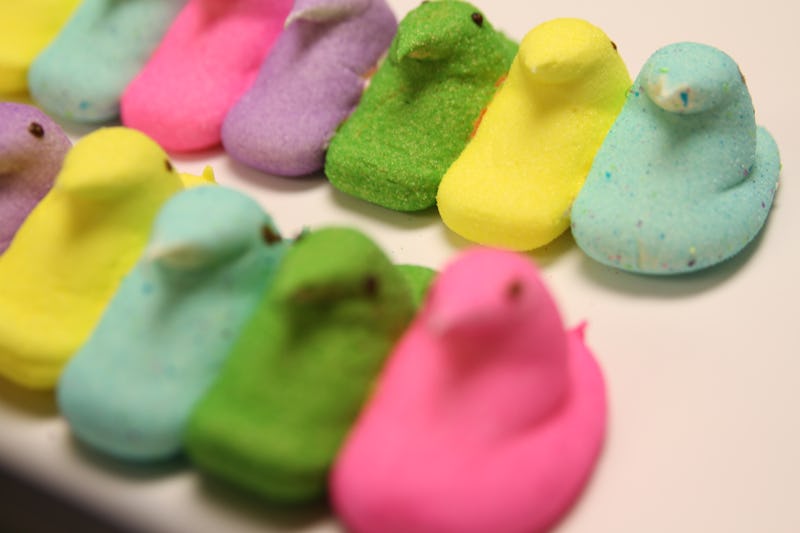 Easter candy — especially Peeps — is kind of polarizing, isn't it? I think it comes down to being a person who loves chocolate, or one who has a straight-up need for sugar. Whichever camp you're loyal to, we can all agree that Peeps are a longstanding Easter mascot. But, whether you love the stuff or hate it, chances are you might be wondering, where did Peeps come from?
Even though it's pretty much besides the point of this religious holiday to argue about whether a confection stamped into the shape of a baby bird is either the best or worst thing to happen to your annual basket of goodies, everyone has an opinion on these sugar-dusted marshmallows. One thing that you can't deny? This candy has serious staying power, and I'm not just talking shelf life.
Just Born, Inc., a family company based in Bethlehem, Penn., has been in the confection business since 1923. Maybe its most famous gastronomic invention, Peeps has a surprising history behind those innocently dotted-on eyeballs that's worth checking out. With 5.5 million of those sweet chicks and bunnies being churned out on a daily basis, you'd better believe Just Born had to break a few eggs to make that proverbial omelet.
Follow along as we discover a little bit about the ubiquitous Easter favorite, Peeps.
1. If you aren't buying chocolate for Easter, chances are you're buying Peeps
That's right. For over 20 years, Peeps have been the go-to non-chocolate Easter candy for anyone shopping for Easter basket goodies, beating out jellybeans and anything else you might find in your basket. These days, Peeps aren't just popular at Easter, all it takes is a quick Pinterest search for "Peeps recipes" and you'll find 100 or so inventive, colorful ways to rethink the lovable pastel-colored creatures. Peeps popcorn, anyone?
2. Original Peeps had wings
In the late 1950s, Just Born decided these chicks needed an upgrade to take their design into the future. Little "wings" were clipped into the Peeps' bodies to give them a modern look. This experiment would be abandoned a few years later. It's a reminder that sometimes there's no need to reinvent the wheel — don't mess with a classic!
3. The legend goes, Peeps are indestructible...
In 1999, Emory University conducted a somewhat tongue-in-cheek study on Peeps and found that the little guys can survive the harshest of chemical conditions. Peeps Investigators, as the school dubbed them, discovered the marshmallows held up to tap water, boiling water, acetone, and sulfuric acid. Though their eyes disappeared when Phenol was added to the mix, these famous tests solidified Peeps' status as one of the most indestructible candies of all time.
4. Peeps got so popular they were given their own store
The first Peeps-themed store was opened in 2009 outside of Washington, D.C. in Oxon Hill, Md. In addition to the flagship location, there are brick-and-mortar shops in Peeps' hometown of Bethlehem, Penn. as well as at the Mall of America in Bloomington, Minn. These stores sell all kinds of Peeps memorabilia, including shirts, plush toys, and every color Peeps available. (Pick me up a 10-pack of lavender bunnies, would you?)
5. Production time on a single Peep used to be 27 hours
Talk about the wonders of technology. Once Sam Born acquired the company in 1953, production quickly turned toward automation and away from the painstaking process of handmaking each Marshmallow Chick with a pastry tube. From 27 hours, production time was cut to a staggering six minutes.
6. 8,300 Peeps Bunnies stacked on end would be as tall as the Willis Tower
Yes, 8,300 Peeps Bunnies stacked in a vertical line would reach the top of the Willis Tower, formally the Sears Tower, in Chicago. This is actually a fun fact that you might want to pull out during an awkward silence at Easter dinner. You know there will be one, but instead of prepping to field another "So, how's the dating game these days?" inquiry, you're coming in hot with a random factoid that guests will find interesting and distracting. See? Peeps are more than candy, they can sometimes save Easter.
The Easter holiday may only come around once a year, but Peeps somehow remain at the forefront of the American consciousness all the time. There are Facebook groups dedicated to them, diorama competitions held in their honor, and even talk of entire movie franchises based on them.
So, the next time idle Easter chatter turns to these sugar-dusted spring babies, rest assured that you will certainly have something interesting to add to the conversation.