The IRL Eggplant Emoji Site Is Now For Sale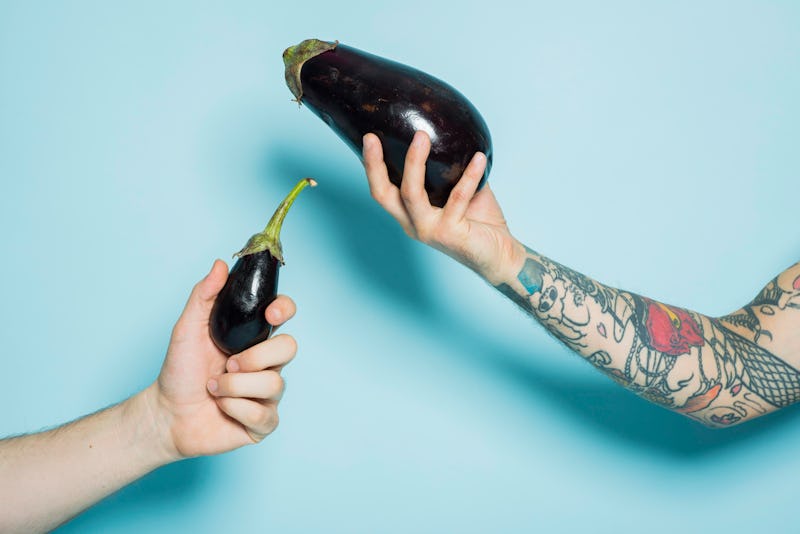 If you were planning on breaking up with someone or proposing via an IRL eggplant emoji today or tomorrow, you may have to wait a couple of days before you buy one because the real life penis emoji website is now for sale. Last week, Eggplant Mail launched, bringing us the opportunity (FINALLY) to send personalized eggplant emoji to friends, lovers, and enemies worldwide, and demands went through the roof. So much so that Founder Jack Kenyon, who launched the service on a dare, can't keep up with the demand for phallic fruit by mail. "My expectations were to sell one or two eggplants to friends," Kenyon tells Bustle. "That was it. Those were blown out of the water and my friend is now eating his hat."
After launching March 17, the website received over 60 orders, generating more than $570.00. And now, he's announced he's selling the viral site through a public auction.
"Demand was overwhelming," Kenyon says. "I did not think this business was going to work but after the first few pieces of press were published I've been swamped with orders and interviews from journalists. If you Google 'eggplantmail.com' it comes up with 15,100 results. Five days ago this didn't exist!"
So, if you're determined to send someone a message on an eggplant ASAP or you're looking for a hilarious side gig, you may want to even consider buying his site and sending out penis emoji to all in need. The site is going for $110 and there are currently five bids.
"Most people love emojis," Kenyon says. "The business tapped into that love in a unique way: it brought one particularly significant emoji into real life. It's a disturbing and hilarious item to receive in the mail, but if emojis didn't exist this would never have happened. "
How It All Began
"A good friend recently had a birthday and I sent him an eggplant as joke. It really freaked him out because he didn't know who it was from. His reaction was priceless so I suggested that this might be a good business idea. He said it would be awful and no one would ever pay money for it. He then dared me to try..." Kenyon says.
As for the message he sent his friend? "Happy Birthday Conor, You've Been A Filthy Little Boy."
What Messages Are People Sending?
"Most common are eggplants for birthdays, with messages like 'Happy Birthday Tucker, You Sick F*CK!', Kenyon says. "My favorite and most bizarre was a proposal, 'Will You Marry Me Tom?' I doubt it's serious, but still, that's a crazy thing to send via eggplant."
While Kenyon says this was all an accident, he does think the future remains extremely bright for penis emoji mail. "After the 10 day auction, the new owner will have the potential to grow this business into something wonderful," he says. "Bringing other emojis into the real world is a distinct possibility."
If you want to talk about the business, shoot him an email at eggplantmail.com.
Want more of Bustle's Sex and Relationships coverage? Check out our video on sex positions for small penises:

<img alt="" src="https://ssl.gstatic.com/ui/v1/icons/mail/images/cleardot.gif" class="article-body-image" style="font-size: 16.8px; line-height: 24.36px;"/>Images: Andrew Zaeh/Bustle; Courtsey of Eggplant Mail