Is Jaime King x ColourPop Still Available?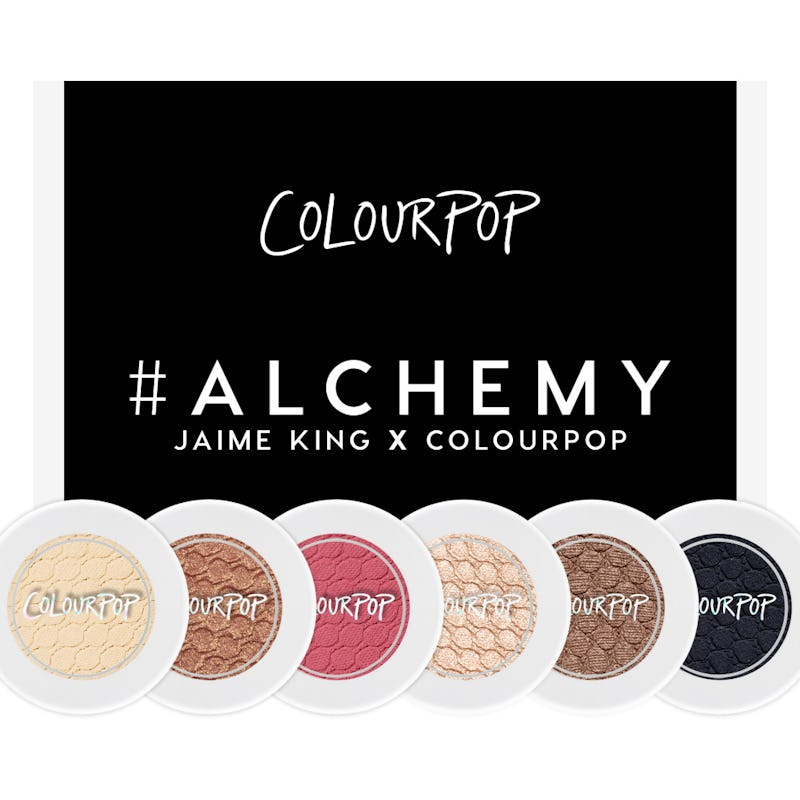 This is the collection for which indie makeup brand lovers have been waiting. Model and actor Jaime King has finally released her #Alchemy Jaime King x ColourPop collection and it's full of soft neutral lip and eye products, as well as unforgettable matte red lipstick, dubbed "Juju Rouge," and a rocker chick chick black eye shadow, named "Knight." There are highlighter sticks, lip liners, blush, and more shadows in a variety of finishes. I know this gets said a lot, but there truly is something for everyone in this 12-piece range. All of the products are just $5, save for the blushes, which come with an $8 price tag. The #Alchemy collection is affordable, it's high quality, and it's manufactured in downtown L.A. Now that is finally here and on sale, is the Jaime King x ColourPop collection sold out? What's still available?
Well, the collection went live this morning and as of 11 a.m. EDT, all of the pieces are still shoppable and available for purchase. Don't delay, though. ColourPop's just-launched brow products sold out and #Alchemy could do the same. If you have to wait for a restock, your patience can wear thin. So why not just scoop up some of King's still-avail products now, while you can?
Don't waste time and take chances of being shut out of owning such beautiful offerings.
Lippie Stix in Polite Society, $5, Colour Pop
The rundown of products is two Lippie Stix with two matching lip pencils; two Sculpting Stix; three Super Shock Shadows, which is a new finish; two highlighters, and a new blush.
Lippie Stix in JujuRouge, $5, ColourPop
It's insane that ColourPop can offer such quality formulas at drugstore prices! I won't question it, though! I just accept the awesome.
Super Shock Eye Shadow in Knight, $5, ColourPop
The color payoff is straight up killer.
Super Shock Eye Shadow in Vanity Fair, $5, ColourPop
Don't you want to pop this in your inner corners or dot along the lower lash line?
Blush in Thames, $8, ColourPop
What rosy awesomeness! It's like the color of your cheek when you smooch your crush... but in a blush pan.
As of right now, #Alchemy Jaime King x ColourPop is still there for the taking. So shop, shop, shop away. It won't break your bank account either.
Images: Courtesy ColourPop Cosmetics (7)