Here's What's in Jaime King's New Colourpop Line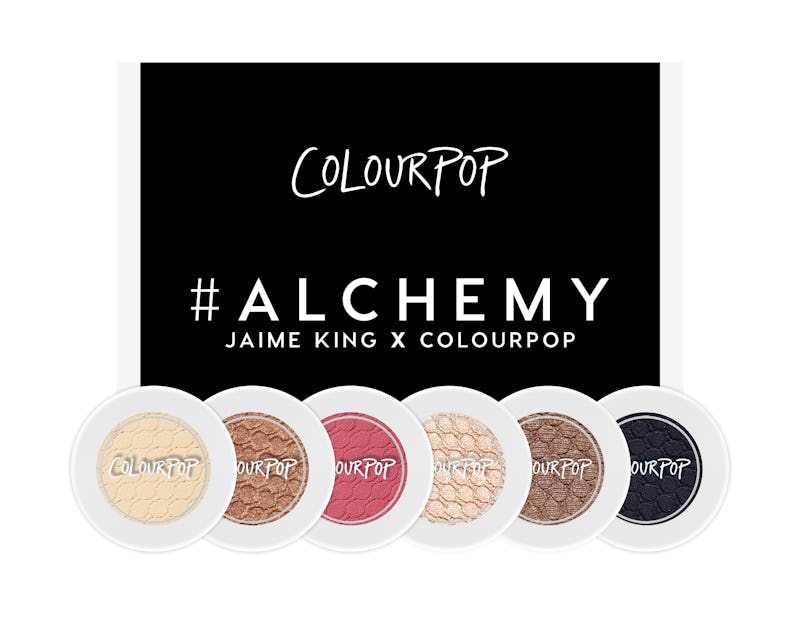 Hold onto your wallets, because another celebrity is collaborating with a killer makeup line to create gorgeous beauty products. If you're wondering what's in the Jaime King x Colourpop collaboration, I've got some exciting news for you.
If you're not familiar, Colourpop is an LA-based cosmetic company known for its incredible lip and cheek product formulations at insane drugstore pricing. They've collaborated with stars, like Karrueche Tran, and YouTube beauty vloggers, like KathleenLights, in the past, but now, they're teaming up with actress Jaime King. Together, they created Alchemy, a 12-piece set that includes three eyeshadows, two highlighters, two lip products with matching lip liners, a blush, and two sculpting sticks — a new product category for the company.
According to her personal Instagram account, King had a real motivation behind the new line, which she created with her sister, Bethany McCarty.
"We created this line because I saw a gap in the "beauty" market. I was tired of seeing very few care about what beauty means for women," she said. "For some, that means no makeup, for others, they cannot afford it, nor do companies actually consider the color of their skin and that it's not only unfair but radically gross that most do not create something that makes all women and men feel beautiful. Yes, men, who want to wear makeup as that is why I made this as well. I want to celebrate the inner beauty that we all innately carry and create that which celebrates that which radiates from within."
Here's everything in the collection. The Super Shock Shadow and Super Shock Cheet set is $30, while the Lippie Stix, Lippie Pencils and Sculpting Stix are all $5. Every item in the collection also sells separately, and will be available March 24.
Shadows
1. Vanity Fair
Vanity Fair is a shimmering, mid-tone shade that works for every skin tone.
2. Knight
Blacker-than-black shadows should have superior blendability, because who wants to look like they have a black eye? This Colourpop shadow will definitely deliver.
3. Alchemy
Use a shimmering highlight on the center or inner corner of your lid, or apply it to the tops of your cheekbones for a highlight.
Sculpting Stix
1. Highlighter in Releve
This is a creamy, ivory highlight for fair skin tones.
2. Contour in New Renaissance
This is a warm, saddle brown that works best on light to medium skin tones.
Lippie Stix
1. Polite Society
Nothing says "summer" like bubblegum pink!
2. Juju Rouge
The secret to white teeth? A bold, cool-toned red lip.
Cheek Blushes
1. Thames
Pair this with the Polite Society Lippie Stix for a monochromatic look.
2. The Golden Child
Depending on your skin tone, this can be a blush or bronzer.
3. Pretty Bonnes
Hooray for more creamy shades for fair-skinned girls. King knows your struggle!
Want more fashion and beauty tips? Check out the video below and subscribe to Bustle on YouTube!