Elizabeth Olsen Reveals The Perils Of Fame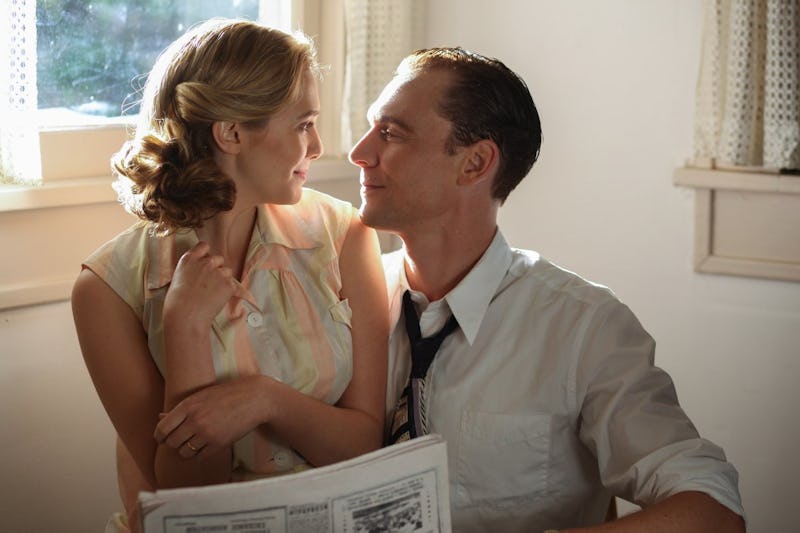 When I knock on the door of Elizabeth Olsen's Beverly Hills hotel room for our interview, she's surprised to see me. "Oh! Are we doing this now?" she says. "Let me just put on a jacket." I wait at the front door while she secures an oversized black blazer around her shoulders, somehow making her already flawless ensemble more stylish. We settle in on a long, L-shaped couch to talk about her role as Audrey Williams in Marc Abraham's Hank Williams biopic, I Saw The Light. But when I bring up her impeccable fashion sense (my olive green sweater is embarrassingly uncool compared to her V-neck cut-out dress and large statement necklace), she laughs. "I've made so many mistakes dressing for myself. I'm not proud of everything I wear," she assures.
But it's hard to imagine it's true. After all, Olsen has been on a multitude of best dressed lists ever since she broke out in 2011's indie drama Martha Marcy May Marlene. The actor, who yes, is the little sister of Mary-Kate and Ashley, is undeniably stylish. It's something she shares with the real life Audrey Williams, wife of country singing legend Hank Williams played by Tom Hiddleston). "Audrey created the image they became so famous for," Olsen says. "It was popular to be in your everyday wear — overalls and denim — and she wanted them to be in suits. As they became more famous and got more money, everything she wore had an 'A' for Audrey embroidered on it. There was something about branding she was trying to figure out. It had something to do with status."
Status, according to Olsen, was of paramount concern for Audrey. Not only did she want Hank to rise to the top of the country charts, she wanted to rise up with him. But despite this, it was Olsen's premier goal to give Audrey a fully-fleshed out character. "We are all so flawed," the 27-year-old says. "I felt so sorry for her. I understood why she was historically known to be difficult, manipulative, vindictive, jealous, insecure... But I had a lot of compassion for her. I wanted to defend her and be her lawyer."
Just like her on screen character, Olsen has also attempted to break away from the shadow of her family. While it's hard to forget what family Olsen belongs to — those high cheekbones and huge doe-eyes are a dead giveaway — her professional life couldn't be more different from her sisters. Mary-Kate and Ashley grew up in the spotlight, churning out television shows and sing-a-long home videos for more than a decade. But Elizabeth, two years younger than her twin siblings, took a dramatically different approach.
Aside from one very small cameo playing "Girl in Car" in her sisters' 1994 movie, How The West Was Fun, the younger Olsen didn't step in front of a camera until she was 22. And when she did finally make moves in Hollywood, the roles she took on were decidedly darker. She played Edie Parker in 2013's Kill Your Darlings, she portrayed a murderous lover in 2013's In Secret, and even starred in the dark (so dark) remake of Oldboy, co-starring Josh Brolin. Unlike her sisters, she's more likely to be nominated for an Academy Award than overcrowding the bargain bin at a Blockbuster Video. But at the same time, she is following the lead of her fashion-forward siblings in some sense. The twins have acknowledged they don't want to act anymore, committing themselves fully to the fashion world, and killing it. Both women have received some of the most prestigious awards in fashion — the CFDA Fashion Award just being one. Little sis Lizzie could be next.
And while she doesn't reference her own family or history, Olsen acknowledges the perils of gaining an excess of wealth and fame at a young age. After all, Hank Williams died at only 29 after selling more than 70 million albums in his short-lived
. "It's an incredibly modern story," Olsen says of Williams' young demise. "He had all this success, and no one genuinely looking out for him. Hank was in a lot of pain, and he was losing money because he couldn't show up to these gigs because he was genuinely sick. So they started shooting him up with shit. It ended up causing a heart attack."
According to IMDB, Williams died in his sleep on New Years day of 1953, while traveling in the back seat of his Cadillac limousine, on his way to a show in Canton, Ohio.
Hank's career began in the 1940s, but his story of being too famous, too young is something Olsen relates to modern singers, too. "It's what happened with Amy Winehouse," she says. "If you watch the documentary [Amy], she has a tantrum on stage in Serbia where she refuses to sing. She shouldn't have been there. She shouldn't have been forced to go to that show. Other people were going to lose money if she wasn't going to show up," she said, recalling a scene from the documentary by Asif Kapadia.
Thankfully, an excess of fame at a young age is something Olsen's avoided, at least, directly. And unlike Audrey Williams, who attempted to remain in the spotlight with a flailing singing career long after Hank's death, Olsen has clearly made a name for herself in her own right.
She's shared the spotlight with her family, just as Audrey did, for years, but as MK & A make appearances at the front row of fashion week, Elizabeth is headed down her own runway — that might one day be lined in Oscar gold.
Images: Sony Pictures Classics