'The Bachelorette's Ex Has Some Shocking Claims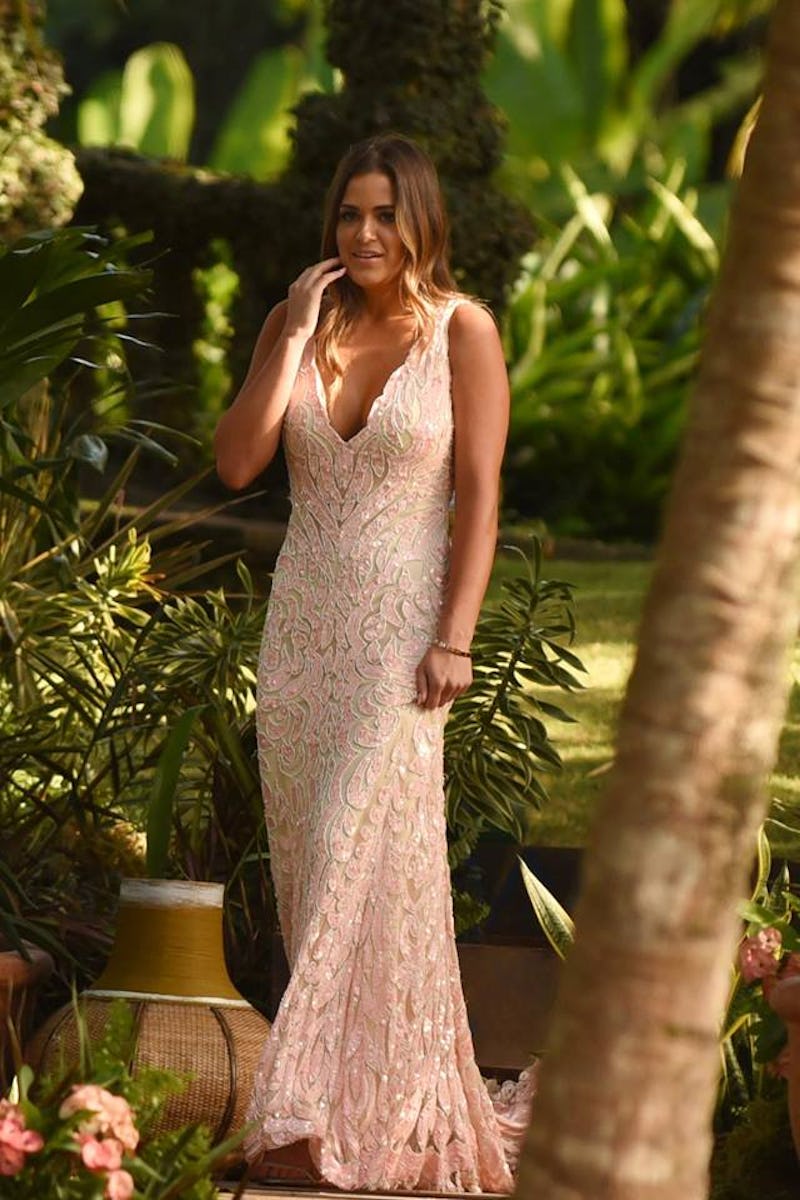 Well, I suppose when you are one of the stars of the biggest reality shows on television, people from your past are bound to want to latch on to your fame. Unfortunately for our new Bachelorette, JoJo Fletcher, her ex is already trying to ruin the experience for her. Chad Rookstool, he ex-boyfriend gave a tell-all interview to In Touch magazine in which he made a number of shocking claims about the actions of our Bachelorette and why she went on the show in the first place. (Hint: He claims it wasn't for the right reasons.) But, if you ask me, we shouldn't lose faith in JoJo, despite Chad's claims. Bustle reached out to him regarding the validity of accusations, but has not yet received a response.
There are a myriad of accusations that Chad made in his interview about JoJo, including that she allegedly went running back to him post-Bachelor, then dumped him for the fame:
As soon as she got home, we started hanging out every day and being intimate again. We were sneaking around the whole time The Bachelor was airing because she wasn't allowed to be seen with me ... JoJo said, "I don't know if I'm the next Bachelorette, but let's just have a conversation as if I am." She tried to tell me she wasn't saying goodbye forever — but I told her that I'm not going to sit around and wait for her [this time], and that was it.
Chad also alleged that the reason JoJo even went on The Bachelor was for the exposure and wasn't really in love with Ben. "JoJo thought the show would help branch out her career," Chad claimed. "She said it was a once-in-a-lifetime opportunity."
Honestly, to me, the entire thing reads a bit like a jealous ex who wanted his own time in the limelight. I think it's really sad that someone would sell out a person that they spent years dating, especially when he knows she's filming right now and can't defend herself. Bustle reached out to ABC for JoJo's response, but the network declined to comment on her behalf.
But, here is why we should still have faith in JoJo and her ability to helm the show no matter what Chad says:
1. He's Shown His Colors Before
This is the same ex that left JoJo roses and a sappy letter on her door when she was introducing Ben to her family during the hometown dates episode of The Bachelor. Anyone who chooses that particular time to attempt to rekindle a relationship gives me reason to doubt their sincerity. There is no reason that he couldn't express his feelings to her off camera. Or, you know, not do it at all.
2. JoJo Isn't Meryl Streep
In the In Touch article, Chad claimed, "I think she just got sucked up in the show rather than actually trying to have legit feelings." But, if JoJo was faking all of her feelings for Ben throughout the duration of The Bachelor, then she needs to be handed an Oscar immediately. It's pretty obvious that she had real feelings for Ben. I just don't think all of those tears and feelings could be manufactured.
3. The Bathroom Scene
If there were any doubts that JoJo fell hard for Ben, the bathroom scene during the finale episode should have made those doubts dissipate completely. When Ben told her that he also loved Lauren, she completely lost it. It was the most heart-wrenching audio I've ever heard. This is not a woman who is there for the fame only.
4. He Is Hitting Below The Belt
In the interview with In Touch, Chad claimed that he and JoJo were "intimate" when she returned from being eliminated by Ben. I don't even care about the validity of that claim, I am just really grossed out that he would even offer that detail to a nationally circulated media outlet about someone that he claimed to care about.
5. JoJo Is A Sweetheart
She just is. She doesn't deserve to have someone who claimed to care about her exposing details to magazines, no matter the validity. If Chad wanted to win her back, then he could have just done it like an adult and spoken to her directly.
Luckily, JoJo will get the last laugh and hopefully find true love during her time as The Bachelorette. After all, haters are gonna hate, and right now it seems like Chad is one of the haters.
Images: Matt Dunn/ABC