9 Mistakes That Cost You Extra Time in the Morning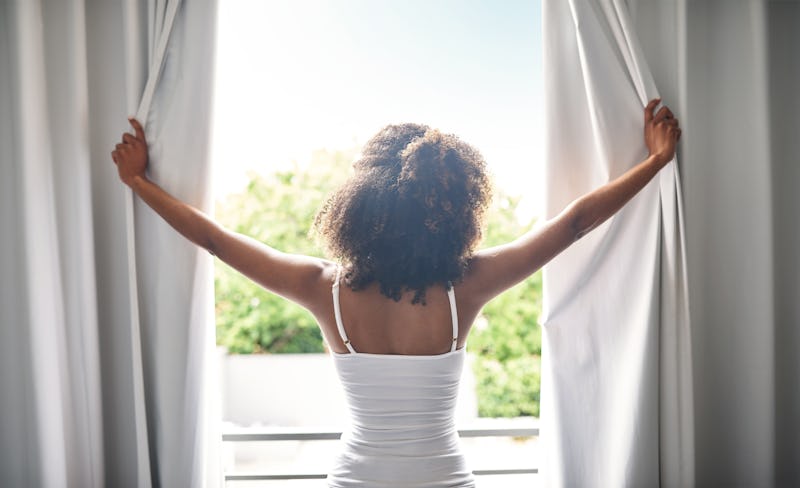 PeopleImages/E+/Getty Images
Do you feel like you're constantly rushing out the door and like your makeup, hair or outfit never seems quite right when you get to your desk? As someone who works in the TV industry, I've become accustomed to setting my alarm for as early as 2:30 a.m. and I quickly learned how to avoid getting ready mistakes that cost me extra time in the morning.
Even if you're not waking up practically in the middle of the night like me, maybe you like to get ready in the gym locker room after a workout class before work, or maybe you have a long commute. No matter what the reason, most of us are pressed for time in the morning and every second counts! The good news is that there are plenty of small changes you can make that will take your primping time from an hour to thirty minutes or less.
So instead of running out the door with wet hair and your makeup half done, avoid these common time wasters that are gumming up your beauty routine. I promise you'll cut your getting ready time in half.
1. Doing Your Hair In The Morning
Believe it or not, according to Elle, even model Lilly Aldridge styles her hair at night. Not only is it a huge time saver, but she claims that it also helps give her the perfect "no-fuss waves." No matter your preferred 'do, it might be a good idea to focus on hair before you go to sleep at night.
2. Not Laying Out Your Clothes The Night Before
When I say lay out your clothes, I mean everything from your shoes and accessories to the bag you're going to carry. Not only are you less likely to pick a killer outfit before we've had your coffee, but choosing clothes the night before can also save you a lot of time in the morning!
3. Saving Your Shower For the Morning
If you've ever fallen asleep in the shower, you know I'm right about this one! But if skipping your morning rinse is completely out of the question, I'd recommend at least washing your hair at night. Consider using a dry shampoo to freshen up.
4. Not Keeping Your Bathroom Tidy
As obvious as it seems, when you're rooting through your drawers trying to remember where you put that new eyeliner pencil, you are wasting time! Keeping your bathroom tidy and every one of your go-to beauty items in its place is huge.
5. Having Too Many Products
Besides a disorganized bathroom, having too many products is the next worst thing. If you have eyeshadow palettes that you haven't worn since 2007 in your drawers, it might be time for a clean out!
6. Using Foundation, Bronzer & Concealer
Olay CC Cream, Totall Effects Tone Correcting Facial Moisturizer, walmart.com, $19.42
If you find yourself concealing, applying foundation and then bronzing each and every morning, it might be time to simplify. This three-step process could be trimmed down into just one with the use of a CC cream. Substitute all those products for something like the Olay Total Effects CC Cream, which moisturizes, provides coverage, bronzes, and helps diminish the signs of aging all at once.
7. Not Having A Daily Look
Ever decided that you wanted to master the winged cat eye on a Monday morning only to look up already running 20 minutes late? While you may have been inspired by the beautiful curls or cool eyeshadow looks you saw Pinterest the night before, save it for the weekend! You want to give new trends a practice run before trying to master them in real time. It's probably best to have something of a makeup uniform for busy mornings, that way you don't have to think about what you're doing.
8. Having Only Trendy Clothes In Your Closet
While a few trendy items are great to have, you'll get more use out of the basics. If you're feeling like you have nothing to wear, it may be time for a closet edit. Olivia Palermo is the queen of basics and if you watch her style closely, you'll notice she often incorporates the same pieces into multiple outfits. Lucky for us, Vogue wrote an article about her closet, so you can learn from the master.
9. Pressing Snooze One Too Many Times
While this may seem obvious, the reason why you can't seem to fit in your whole beauty routine may have to do with the amount of times you're pressing snooze! To fix this, try going to bed earlier, or, as Sleep Junkies recommends, set your alarm for the actual time when you should be getting out of bed and don't start the cycle of snoozing.
Images: Getty Images (8); Courtesy Brands