Your Star Sign Can Tell You Which Movie To Watch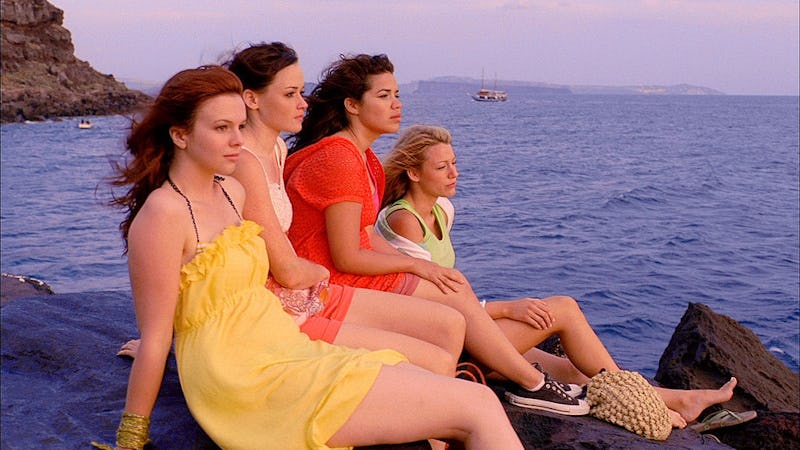 Whether you call them your crew, your squad, your BFFs, or your besties, your female friends are likely some of the most important people in your life. They are the ones you can tell anything to, the ones who will hug you when your heart has been broken, and the ones who will push you to be your best self. Female friendships are so vital for women and so rare on the big screen that any movie that puts female friendships first is important to pay attention to. Seeing a movie focus on the friendships between women instead of their romantic entanglements is a guaranteed instant boost of happiness — but choosing which one to watch for your next movie night isn't always easy. So, why not let your zodiac sign decide? I mean, no matter what happens, you are going to be watching a movie with an amazing female cast, so it's going to be a win for you either way.
You don't have to read your horoscope everyday to have a little fun with your zodiac sign. Each sign has a particular temperament, so I have tried to match each sign with a movie that puts women and their friendships with each other first. Some of these movies are heartwarming, some will make you cry, and others will make you laugh until you sides hurt — but each one of them revels in the awesomeness of having an amazing woman by your side.
Now, sit back and let the stars decide your next movie night... and don't forget to invite your BFF!
Aries (March 21 — April 19): The Sisterhood Of The Traveling Pants
It's OK to admit it, Aries: You constantly have a case of wanderlust. That's because it is in your nature to crave adventure, which makes The Sisterhood of the Traveling Pants perfect for you. This movie involves four young women who stay in touch via letters and a magical pair of pants during their summer apart. While each character has her own adventure and story, the unbreakable bond between them is what holds the movie together.
Taurus (April 20 — May 20): Fried Green Tomatoes
Idgie has the stubborn spirit and imagination of a Taurus, making her a character you will instantly relate to. The devoted love between Idgie and Ruth would have been romantic love had the movie not been made in the early '90s, but the strong bond that forms between an elderly Idgie and Evelyn is the kind of female friendship that can reinvigorate and inspire change in someone's life.
Gemini (May 21 — June 20): Thelma & Louise
Geminis need a movie to satisfy the duality inherent in their personalities, and Thelma & Louise will get the job done. Louise is snarkier and more worldly than the sheltered Louise, but they balance each other out. Likewise, the movie can be both funny and completely devastating at any given moment, which will keep Geminis enthralled in the epic friendship from beginning to haunting end.
Cancer (June 21 — July 22): Now & Then
You want your heart to be warmed? This movie is on it, Cancers. The story of four young women reflecting on coming of age in the south is going to hit you directly in the feels and make you nostalgic all at the same time. Just sit back and appreciate how sometimes the bonds of friendship really do endure a lifetime.
Leo (July 23 — August 22): Bridesmaids
Bridesmaids has a personality just as big as yours, Leos. It is hilarious and raucous, but it will also appeal to the side of your personality that isn't always as confident as you want it to be. This story is all about how friendships evolve and how scary it can be when it feels like your life and your best friend's life are no longer in sync. Come for the laughs and stay for the message that you and your bestie can make things work no matter how much your lives change.
Virgo (August 23 — September 22): Ghost World
The intellectual and observant Virgo will love Enid and Rebecca, two recent high school graduates who are witty, smart, and completely unsure of what comes next. The movie chronicles their lives in the summer after graduation and how only they truly seem to understand what makes each other so unique. By turns sardonic and somber, Ghost World is bound to be your new favorite movie.
Libra (September 23 — October 22): The Divine Secrets Of The Ya-Ya Sisterhood
Libras love balance and this is the story of how three friends restore the balance of the mother/daughter relationship of one of their dearest friends after misunderstandings tear it apart. The Ya-Ya Sisterhood has some truly upsetting moments, but at its core it is about the power women derive from each other. It also happens to have an outstanding cast including Ellen Burstyn, Sandra Bullock, and Dame Maggie Smith.
Scorpio (October 23 — November 21): Waiting To Exhale
As a Scorpio, you are as passionate and driven as the four women at the center of Waiting to Exhale. Their love lives are forever complicated, but when they come together they find a sense of happiness, strength, and peace that no other part of their lives provide. Again, you have a cast of amazing women (including Angela Bassett and Whitney Houston!) and a story of strong women growing stronger thanks to each other's influence.
Sagittarius (November 22 — December 21): Bend It Like Beckham
If you are a Sagittarius, then you are no doubt funny and rebellious, which is why you need Bend It Like Beckham in your life. Jess wants to play soccer even though it is not the path her Indian parents have envisioned for her — but when she meets Jules, she begins to believe her dream can be a reality, as long as her new best friend is by her side.
Capricorn (December 22 — January 19): Mona Lisa Smile
With your serious work ethic, a movie is going to have to work extra hard to hold your attention, Capricorns — but Mona Lisa Smile might just be the movie to do it. Set at an all-girls college in the '50s, the story revolves around a class of young women and the teacher who wants to prove to them there is more to life than finding a husband. Female friendship and mentorship are equally important in this story that will speak to your professional soul.
Aquarius (January 20 — February 18): Frances Ha
Frances is destined to be your movie soulmate, Aquariuses of the world. An aimless, free spirit, Frances and her more grounded friend Sophie prove that even vastly different people can find a home in each other. Their friendship provides the movie with a beautiful, searing soul that will speak to your own unique view of the world.
Pisces (February 19 — March 20): The Babysitter's Club
The Pisces is one of the most sensitive and caring signs out there, and there is no better way to celebrate your gentle spirit than with a classic from your childhood. The bonds between Kristy, Claudia, Maryann, Dawn, and the rest of The Babysitter's Club will never be broken. Like you, they value friendship above all else and aren't afraid to show it.
Gather up your best lady friends and enjoy an evening of awesome female bonding with one of these amazing movies.
Images: Warner Bros. Pictures; Giphy (11); emmagoodalls/Tumblr